Dementia Diaries
Maria Jastrzebska
LLL Productions
Rosemary Branch Theatre
(2011)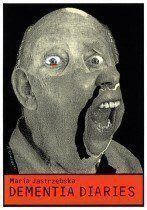 Drama for me is essentially a matter of interaction. I am not at my happiest with plays that are really one person addressing an audience. Being buttonholed by a stranger is rarely welcome in ordinary life, unless the character has something very interesting to say. The same goes in the theatre, probably more so because it is even more difficult to escape when it gets tedious, so the idea of a series of monologues about dementia did not exactly thrill me with enthusiasm, serious though the subject is (sometimes I wonder just what level I myself have reached when struck by that occasional 'senior moment'). However, since schooldays, when I first encountered them, I have always have a great affection for Robert Browning's dramatic monologues: they so cleverly recreate a sense of a period and of an actual conversation.
Dementia Diaries is the work of a contemporary poet and grew from a set of prose poems she wrote. Its characters are a Polish immigrant family: an aging woman with Alzheimer's and her husband who seems to be also suffering from memory loss, their children and the mother's carer. The production has been researched with the assistance of doctors, nurses, therapists and clinicians at the Memory Assessment and Research Centre (MARC) at Plymouth with the support of the Wellcome Trust Arts Award. It draws not only on the study of dementia but also on the experience and memories of those who experienced the Second World War in Poland which seems to predominate in the memories of the older couple, while the carer, who is also Polish, is a recent economic immigrant.
The presentation of Mama (Anna Korin), with her sudden shifts from clarity to confusion and delusions which often draw on past experiences, seems very real and Tim Barlow's Tata (father) in his harping on the past and memory lapses with strike a chord for anyone with elderly relations. Their daughter (Daisy Whyte) is typical of those children struggling with a sense of duty that takes up so much of her time and energy. Typically, as she remarks, employers and colleagues understand having to take time of to look after your children but are much less supportive when it is a parent that has to be cared for, while the parent is often accusing rather than appreciative.
Mrs Alicia (Agnieszka Korzuszek), seems to be a private live-in carer rather than one provided by the local authority, though they too are often foreign nationals working here and sending money home and she seems truly caring, although having to put up with complaints and accusations and worried that she really ought to be back in Poland caring after her own parents, a situation frequently encountered.
What we get is a picture of a situation but, though to some extent it is possible to construct a back story of wartime experience and imagine a family where Edzio (Al Gregg) , the younger child, has been favoured, despite his claims of not being given attention by his mother, but we see only his sister's exasperation with him. We are never given any actual confrontation with characters talking to each other.
Edzio's mania for cleanliness and belief in bleach, along with what seems to be a persecution complex, make the son seem decidedly psychotic which I thought tipped the picture too far from the everyday and weakened its effectiveness without adding any real dramatic value. The character is awkwardly written using literary expressions that rarely occur in normal speech and, though this may be intended to emphasise the child brought up in an immigrant household, I found both the writing and the playing too unreal to fit the situation, only in his memories of his childhood bond with his St Bernard did Edzio become believable.
In fact the "diaries of" the title is a misnomer; these monologues are largely direct speech addressed to people, real or imagined. The text is sometimes difficult to understand with strong accents and speech distortions for some of the characters. Although described as monologues by the producers these are not five separate scenes but many shorter pieces interwoven with each other and framed, separated and sometimes supported by specially composed music which is largely intended to reflect the characters' inner life. This music, spiky disquieting sections giving way to rich melody, is beautifully played by its composer Peter Copley on cello and Anne Hodgson on flute, but it adds a further separation between successive character's speeches rather than binding the work together. Such fragmentation makes things even less dramatic, though presumably director Mark C. Hewitt intends it to emphasise the desperate isolation that dementia can bring. The long postlude that ends the work pushed the music entirely to the fore leaving the idea of a conventional play entirely behind.
"Dementia Diaries" is at the Rosemary Branch Theatre until 14th July 2011.
Reviewer: Howard Loxton