The Demolition Man
Aelish Michael
Octagon Theatre, Bolton
–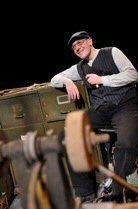 As we enter spring, the Octagon gives birth to a brand new play with local significance that tells the story of the Bolton steeplejack who became an unlikely TV celebrity Fred Dibnah.
Framed by Fred's discussions with—presumably—the ghost of his engineering hero Isambard Kingdom Brunel who tries to persuade him he will remembered as a great engineer and not just "the demolition man", the play tells the story of Dibnah's life from just before he met his third wife Sheila, whom he married in 1998, up to his death in 2004 from prostate cancer.
Fred was already well-known on TV when Sheila, a former magician's assistant on cruise ships, arrived as a visitor to his workshop. Before long they were married and Sheila took over all the admin for his TV appearances, after-dinner speaking and other work, improving both his organisation and his income considerably. However one of Fred's mates, Malc, who helps him out in the workshop, takes a dislike to Sheila after he makes a pass at her and she rebuffs him and he tries to turn the others, including Fred, against her. As Fred's illness progresses, he becomes more selfish and forgetful and more influenced by Malc.
The play falls between two stools: on the one hand playing fast and loose with the facts by changing a lot of the real events and creating fictional versions of all of the characters apart from Fred and Sheila, whilst on the other not being inventive enough to shape the events into an interesting narrative. As result, very little happens at all in act one, and in the second act there is about twenty minutes of soap-style drama as Malc and Sheila battle for Fred's attention and affection. Other than that there is very little to sustain the audience's attention over nearly three hours, and a lot of it comes across as an over-extended heritage piece, especially with the pointless inclusion of the dialogues with Brunel.
At the centre of the production, however, is an extremely impressive reincarnation of Dibnah from Colin Connor, whose physicality, gestures and voice are spot on and perfectly sustained for the whole play. The other characters are rather thinly drawn in the script, but Michelle Collins gets across the frustration of Sheila in looking after this difficult man, Mike Burnside gives a beautifully subtle performance as the peacemaker Bert and John McArdle has a good stab at making a believable character out of the pantomime villain Malc.
James Cotterill's set design is a very good recreation of a cluttered workshop filled with old tools and scrap metal, backed with three projection screens showing evocative black and white images designed by Joe Stathers-Tracey to cover the frequent, long breaks between short scenes.
But however much it is dressed up, The Demolition Man is not a play that is ready to be put before the public in a major regional theatre as it has far too many problems in the writing and too little to keep an audience interested for nearly three hours.
To 7th May, 2011
Reviewer: David Chadderton