Demon Dentist
David Walliams adapted by Neal Foster
Birmingham Stage Company
Sunderland Empire
–

Listing details and ticket info...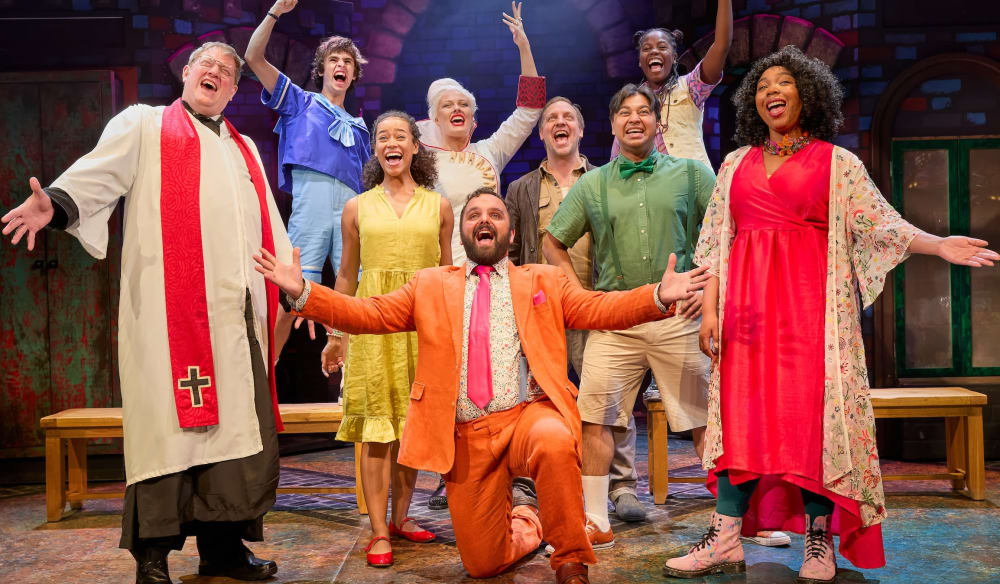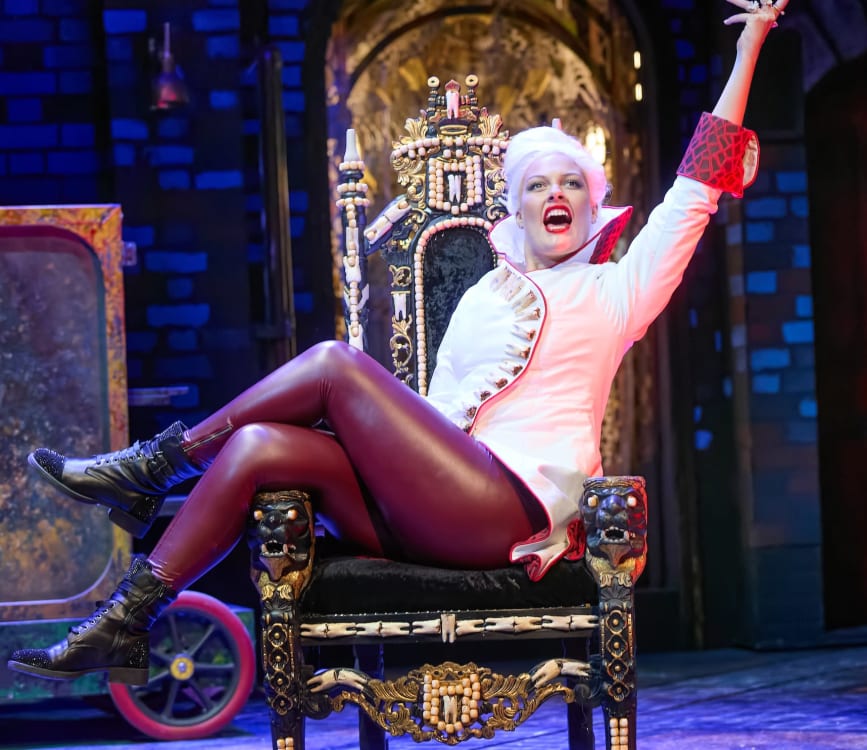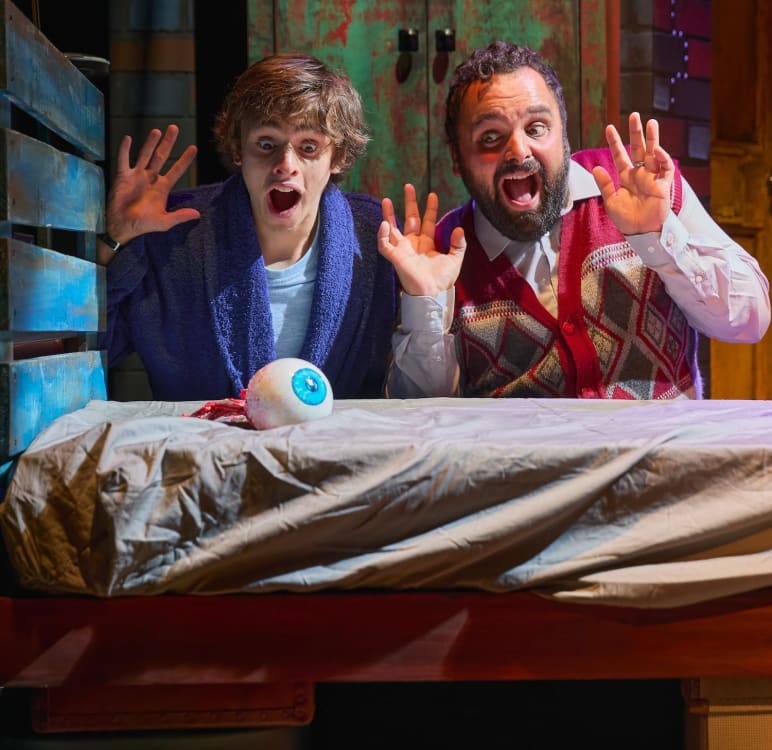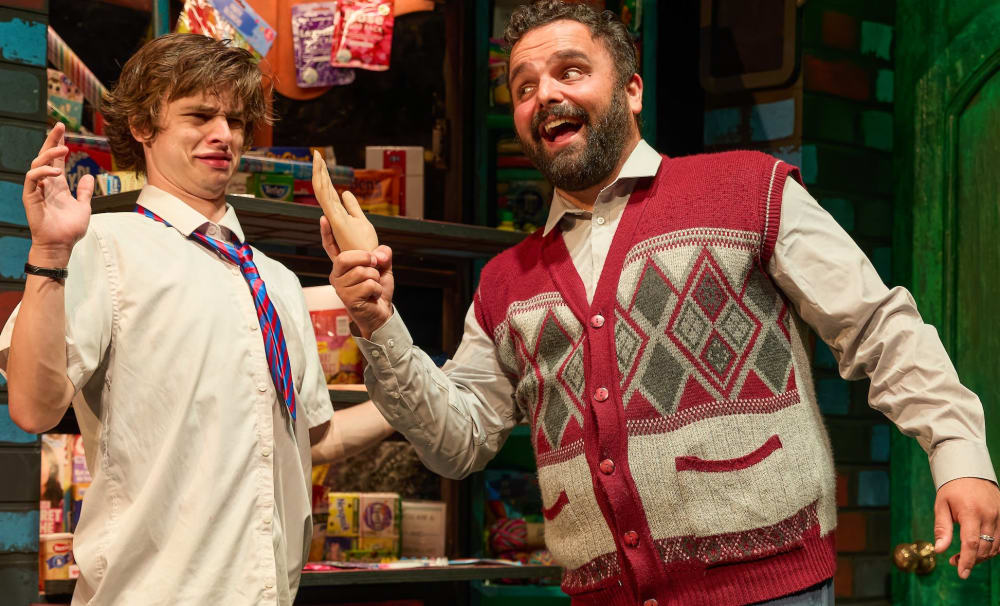 Four beds with pillows under where your tooth goes. Four children put their tooth under the pillow for the tooth fairy, but what they discover in the morning is definitely not what they were expecting. Alfie, played by Sam Varley, relates his horrific dentist experiences and determines never to visit another. He and his friend, no NOT his girlfriend, Gabz, played by Georgia Grant-Anderson, are determined to get to the bottom of the mystery surrounding the new dentist, Miss Root, played by Emily Harrigan.
The adapter and director, Neal Foster, has remained very true to the book. Foster, actor / manager of The Birmingham Stage Company, who produced this show, is no stranger to this theatre genre. He had worked on Walliams shows before, also written and directed the latest Horrible Histories. The overall production has a hint of pantomime in its presentation, various multicoloured sets, music, songs, plenty of 'rude' naughty noises and body functions to the great delight of the younger audience members. This is to be expected as it is directed at those from five.
While there are bright colours, the overall muted tunes are reminiscent of a period, almost Dickens-like set. It has clever design features, like a shop hidden in a wall and surprisingly sensational sparkling selection of vehicles, a scintillating spectacle, thoroughly enjoyed by the audience.
Miss Root is a great success as kids love a baddie, and she certainly is. There is Alfie's dad, played by James Mitchell, the funny, over-the-top social worker Winnie, played by Misha Malcom, PC Plank, played by Ben Eagle, and the delightful shopkeeper Raj, played by Zain Abrahams; so a good selection of characters to keep the children involved.
All the songs move the story along and multiple set changes keep you on your toes. Jacqueline Trousdale's set constantly changes, mainly with trucks on wheels and various doors leading in and out of buildings. In keeping with a young audience, the set is colourful and somewhat stylised, but maybe could work just as well with less. Jason Taylor's excellent lighting design centres acting areas well.
Amusing street names like Drill Drive and Plaque Place may have been over many heads. While action generally tells the story, the clarity of speech hinders comprehension. I have acute hearing but found it difficult to follow a lot of what was said, especially when actors raised their voices; this may be due to it being the first performance and some sound refinements needed.
The book Demon Dentist was first published in 2013 and premièred as a stage play in December 2022. The writer, comedian, actor and TV personality David Walliams, of Little Britain, has written 39 books published in 55 languages, selling over 50 million copies worldwide. His favourite author is Ronald Dahl, who amazed him creating different characters with every book, inspiring him to write himself. His first book, The Boy in the Dress, about how it was OK to be different was a huge success. He began writing books in 2008 and never looked back since.
The engaged audience obviously thought it to be definitely a disarmingly delightful demon of a show. Many were buying Walliams books on sale, and one could see how many devoted fans he has. As dad said, "close your eyes and believe," because that is what magic is all about and this show has magic.
A great family production and, certainly for any Walliams fan, not to be missed.
Reviewer: Anna Ambelez