Departure Lounge
Dougal Irvine
Waterloo East Theatre
(2010)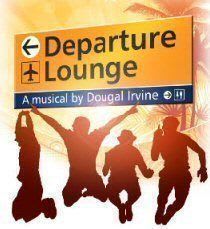 While they slouch about waiting for a perpetually delayed Ryanair flight home, four lads reminisce and recriminate about what they can remember of their Costa del Sol holiday. The best bits of Dougal Irvine's new musical call to mind a sort of booze-hazy Rashomon: the natural disparities between the four lads' perspectives are compounded by alcohol-induced memory distortion.
Comparing Departure Lounge to Rashomon makes it sound much more pretentious than it is. It rarely feels heavier than watching a bunch of mates larking about. But Irvine does have noteworthy things to say about laddism in general, and the idea of the lads' holiday in particular.
What, for instance, is the difference between a lad, a guy, and a hooligan? And if the measure of a good night out is how little of it you remember, what's the point of shelling out extra to have your nights out abroad? One particularly enjoyable number, 'Spanish Hospitality', suggests cheekily that entertaining raucous British holidaymakers is Spain's ongoing penance for sending the Spanish Armada in 1588.
The book, minimalistically scored for two acoustic guitars, references the boyband pop subgenre with its catchy choruses, close-harmony singing and slightly self-conscious white boy rap interludes.
The dialogue between numbers is less well judged. We're force-fed, not drip-fed, the characters' backstories; the phrase "I mean" is used a few times too, often to execute handbrake turns in the flow of conversation; and the closeted character's self-realisation and coming out is perfunctory and unconvincing - all of which are admittedly minor, but nevertheless disappointing, detractions from an otherwise enjoyable show.
Until 31 October
Reviewer: Matt Boothman