Der Freischütz
Carl Maria von Weber, libretto by Johann Friedrich Kind, based on a short story by Johannes August Apel
Hamburg State Opera
Released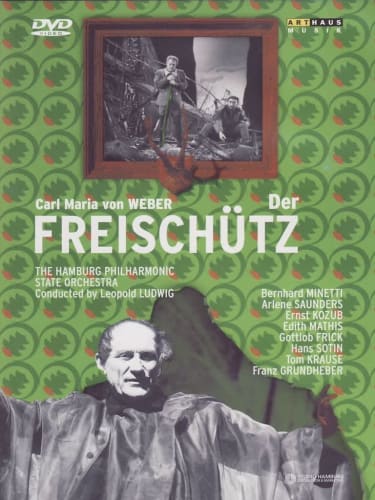 Carl Maria von Weber had a key role in the development of German romantic opera and Der Freischütz, which premièred in Berlin in 1821, was hugely popular and remains popular in Germany. The score is a delight.
The story is set in a Bohemian village shortly after the end of the Thirty Years War. Max, a forester, wants to marry Agathe; but he will only be able to do so if his marksmanship improves and he wins a shooting competition. Corrupted by Caspar, a forester who has made a pact with the Devil, he cheats with a magic bullet and very nearly kills Agathe.
Ernest Kozub is a bit on the dull side as Max. However, there is some lovely singing by Arlene Saunders as Agathe and Edith Mathis as her effervescent companion. Hans Sotin makes a big impression as the Hermit who saves Max's life. Tom Krause stands out as the Prince. Gottlob Frick is perfect for Kaspar, a larger-than-life pantomime villain.
Joachim Hess's production, conducted by Leopold Ludwig, which premièred at Hamburg State Opera, was filmed for television in 1968 and directed by Rolf Liebermann. The soundtrack was pre-recorded.
There is a toy theatre puppet show during the overture which sets the tone. The staging, with its pristine clean costumes, looks as pretty and as wooden and as artificial as the illustrations in a children's fairy tale picture book, and this is precisely part of the production's old-fashioned charm.
The libretto plugs a strong religious message about righteousness and duty, confessing one's sins, and putting one's faith in a merciful God who will triumph over evil.
Hamburg State Opera's 1968 TV production of Der Freischütz is published on video by Arthaus Musik.
Reviewer: Robert Tanitch