Der Rosenkavalier
Richard Strauss, Reduced Orchestration by Eberhard Kloke, Libretto by Hugo Von Hofmannsthal
Garsington Opera
Garsington Opera, Wormsley, Buckinghamshire
–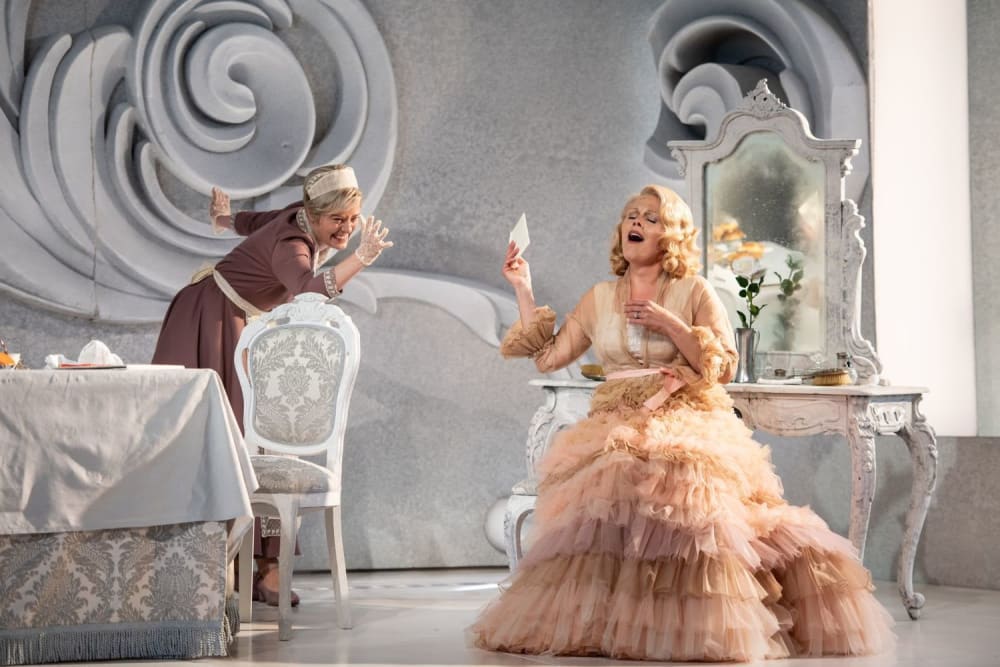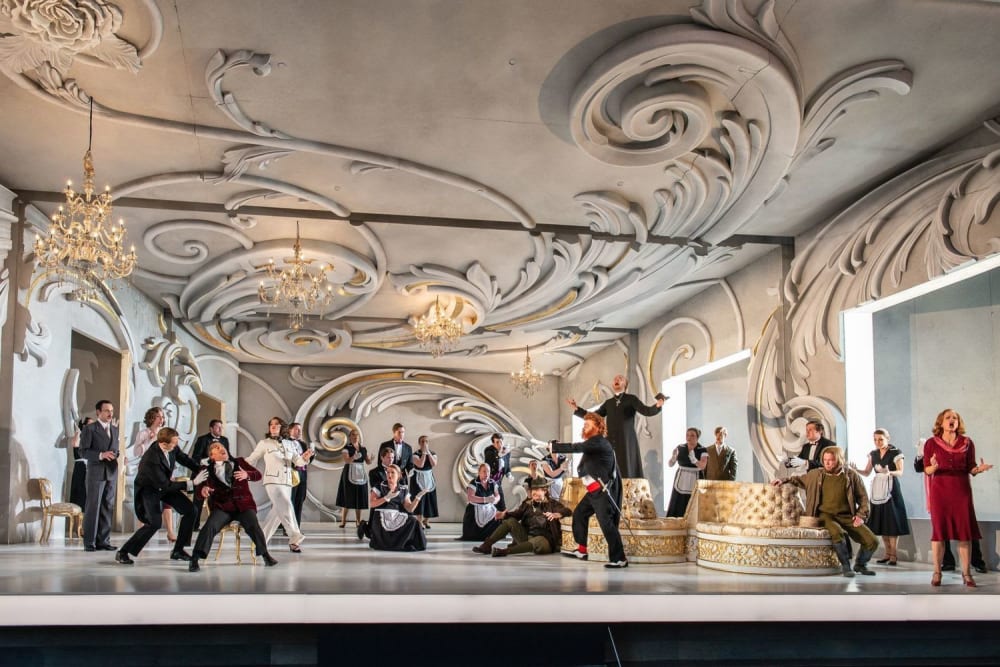 Richard Strauss's bitter-sweet opera is directed by Bruno Ravella and designed by Gary McCann. The Philharmonia Orchestra is conducted by Jordan de Souza. The score is lyrical. The libretto is both comic and sad.
The performance, a co-production between Irish National Opera and Santa Fe Opera, opened in June 2021 and, now streamed, is an oral and an elegant visual delight.
The comedy is set in 18th century Vienna but has been updated to the 1950s and the Marschallin's pageboy has been turned into Cupid.
The Marschallin (Miah Persson) and her 17-year-old lover Count Octavian (Hannah Hipp) are discovered in bed. (Many years ago, a couple sitting behind me, new to Der Rosenkavalier and unaware of the convention, presumed that they were witnessing a lesbian relationship and left in the interval.)
The couple are interrupted by the arrival of the vulgar Baron Ochs (Derrick Ballard) who asks the Marschallin to recommend a young nobleman to present the traditional silver rose—the Rosenkavalier—to his fiancée, Sophia. She recommends Octavian.
The Marschallin is 33 years old and knows passion does not last and that Octavian will soon be wanting to leave her. But even she must have been amazed how quickly he falls in love with Sophia (Madison Leonard). The intensity of their emotions is beautifully scored, beautifully sung and subtly acted.
The opera lasts three hours and thirty-five minutes with two five-minute intervals. Strauss does go on and on.
Miah Persson's absence after the opening scenes is much missed. Operagoers have to wait until the very end for her re-entry and the sublime trio, which is well worth the wait.
But first they have to sit through a farcical masquerade in a tavern to scare the living daylights out of the vulgar Ochs, a prank which takes its inspiration from Shakespeare's The Merry Wives of Windsor and which is not funny,
Garsington's Der Rosenkavalier can be viewed free on the OperaVision channel.
Reviewer: Robert Tanitch