Der Rosenkavalier
Richard Strauss; libretto by Hugo von Hofmannsthal
Opera North
Leeds Grand Theatre
–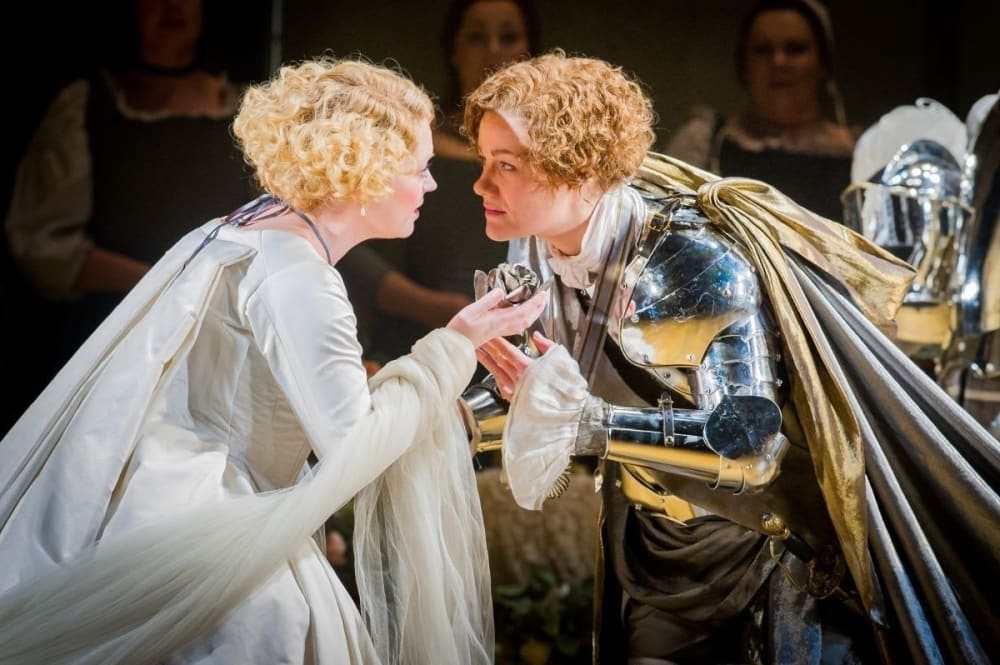 As part of its autumn season, Opera North has chosen to revive David McVicar's 1999 production of Der Rosenkavalier (1911). Last performed by Opera North in 2002, this three-act opera is widely regarded as the greatest collaboration between the composer Richard Strauss and the librettist Hugo von Hofmannsthal.
Set in mid-18th century Vienna during the early reign of Empress Maria Theresa (1740-80), Der Rosenkavalier is a potent blend of comedy and drama, combining farcical scenes with moments of poignant beauty and introspection.
The Marschallin (Ylva Kihlberg), a beautiful aristocrat in her early thirties, is having an affair with the 17-year-old Count Octavian (Helen Sherman), known affectionately as Quinquin. Although they care for each other deeply, the Marschallin is afraid that her teenage beau will soon desert her for a younger woman.
When the Marschallin's boorish cousin, Baron Ochs of Lerchenau (Henry Waddington), asks for her help in finding someone suitable to present a silver rose to his young fiancée as part of a family tradition, the Marschallin suggests her young lover as a possible rose-bearer. Unsurprisingly, when Octavian presents this token to Ochs' intended, the lovely Sophie (Fflur Wyn), it is love at first sight for both of them.
This production represents an auspicious debut for Opera North's newly-installed music director Aleksandar Markovic. The score for Der Rosenkavalier is particularly complex and sophisticated, but the orchestra rises to the challenge with aplomb. That said, there are times when the orchestra's loud playing threatens to overwhelm the singers on stage.
The central performances of the four main cast members do not disappoint. Henry Waddington is excellent as the lecherous baron who brags about his libido whilst trying to ensnare himself a virtuous young wife. Helen Sherman cuts a dashing figure as the young Octavian and Fflur Wyn sings beautifully as Sophie: they are every inch the fairytale couple.
Although the Marschallin is not allocated as much stage time as the two male protagonists, she is the character who lingers longest in the mind. The Swedish soprano Ylva Kihlberg gives a heart-rending performance as a woman who mourns her fading youth and stops the clocks in a vain attempt to halt the passing of time.
There are severable memorable performances from the supporting cast. Aled Hall and Helen Évora are suitably dastardly as the intriguers Valzacchi and Annina. Jung Soo Yun impresses in his small role as an Italian tenor. Mark Burghagen is highly amusing as Ochs' mute servant/illegitimate son Leopold, particularly when he waltzes with his employer/father.
One of the most spectacular scenes in the production occurs when the Marschallin is visited by a disorderly crowd of tradesmen and oddballs. The profusion of people on stage is truly a sight to behold.
This sumptuous production delights the eye as well as the ear. The golden stage and lavish costumes effectively recreate the grandeur of Viennese court life in the 18th century. Paule Constable's lighting design is highly atmospheric, with the candle-shaped footlights and chandeliers adding greater texture and depth.
I was greatly moved by this production, particularly the final scene in which the Marschallin, Octavian and Sophie sing a trio about their complex love affairs. Der Rosenkavalier has certainly whetted my appetite for Opera North's upcoming productions of Puccini and Britten.
Reviewer: James Ballands