Der Rosenkavalier
Richard Strauss, Libretto by Hugo von Hofmannsthal
Met Opera on Demand
Metropolitan Opera House, New York
From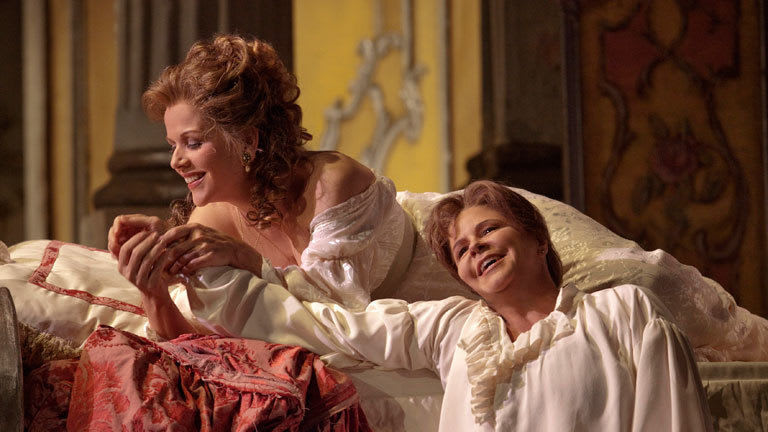 Richard Strauss's Rosenkavalier premièred in Dresden in 1911 and was a great success and has remained in the repertoire of every major opera house ever since.
This sumptuous production, directed by Nathaniel Merrill and designed by Robert Ohearn, was seen at The Met in 2010, starring Renée Fleming, Christine Schäfer, Susan Graham, and Kristinn Sigmundsson. The conductor was Edo de Waart.
The comedy is set in 18th century Vienna. The score is lyrical and the libretto is both comic and melancholy. The waltzes are intoxicating.
The Marschallin (Renee Fleming) and her 17-year-old lover Count Octavian (Susan Graham) are discovered in bed. They are interrupted by the arrival of Baron Ochs (Kristinn Sigmundssen).
Octavian quickly disguises himself as a chambermaid and then has to ward off Ochs's crude advances. No woman is safe from Ochs's groping hands. Outrageously indecent, his approach to women is Trumpian.
He asks the Marschallin to recommend a young noble to present the traditional silver rose—the Rosenkavalier—to his fiancée, Sophia (Christine Schafer). She recommends Octavian. The Marschallin and Octavian take their inspiration form the Countess and Cherubin in Mozart's The Marriage of Figaro.
The Marschallin is one of opera's great roles. Gorgeously costumed, Fleming looks as if she has stepped out of a painting by Fragonard; and, like so many aristocratic women of that period, she has a little black pageboy to accompany her and show off her beauty. The inspiration for her overcrowded morning levee is William Hogarth's painting Marriage a la Mode.
The Marschallin is 32. Tme is passing and like Miss Havisham she wants stop all the clocks. She knows passion does not last and that Octavian will soon be wanting to leave her. Her sadness, beautifully scored, beautifully sung, beautifully acted, is very real.
Fleming is a great interpreter of Strauss—the Marchellin is her signature role—and she so dominates the first act that she is much missed in the scenes which immediately follow. Operagoers have to wait until the very end for Fleming's re-entry (ravishingly costumed) and a sublime trio with Graham and Schafer.
Breeches roles were popular with 18th century male audiences because they allowed actresses to show their legs. Strauss gives Octavian a wonderful build-up when he comes to present the silver rose to Sophia and instantly falls in love with her. Octavian is Graham's signature role.
Sophia's dad is a good example of the bourgeoisie grovelling to the aristocracy. He insists his daughter shall marry Ochs: "you will marry him and if he dies you will marry his corpse." Ochs had just suffered the minutest cut in a duel. The commotion he and the ensemble make together make for a splendid comic climax to act 2.
The masquerade in a tavern, organised by Octavian (disguised again as a chambermaid) in order to scare the living daylights out of Ochs, is a prank which takes its inspiration from Shakespeare's The Merry Wives of Windsor. But Ochs is only Falstaffian in size. He lacks Falstaff's wit. He's just a pompous, vulgar oaf and the scene is dreadfully unfunny.
Nathaniel Merrill's enjoyable production is on a grand scale. Robert O'Hearn's handsome designs are palatia. The décor has always played a major role in Der Rosenkavalier's popularity ever since its première in 1911.
There are a number of ways of tapping into this opera and others at will. The Met Opera On Demand service offers annual ($149.99) and monthly ($14.99) subscriptions as well as a one-off payment ($4.99) for those who have limited time or only want to watch the occasional opera.
Reviewer: Robert Tanitch