Der Rosenkavalier
Music by Richard Strauss, libretto by Hugo von Hofmannstahl
Opera North
The Lyric Theatre at The Lowry
–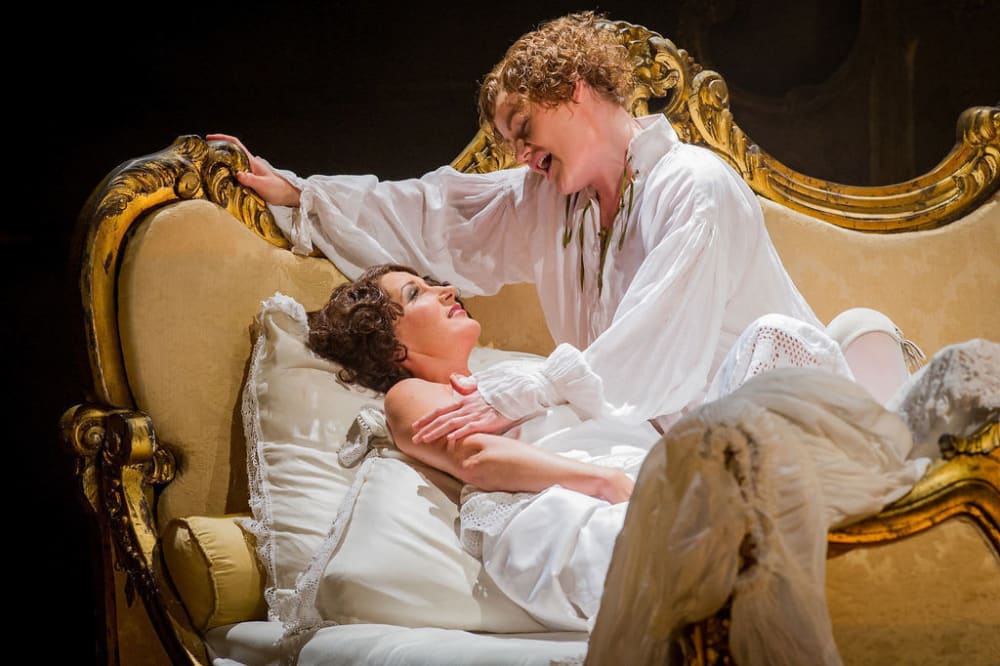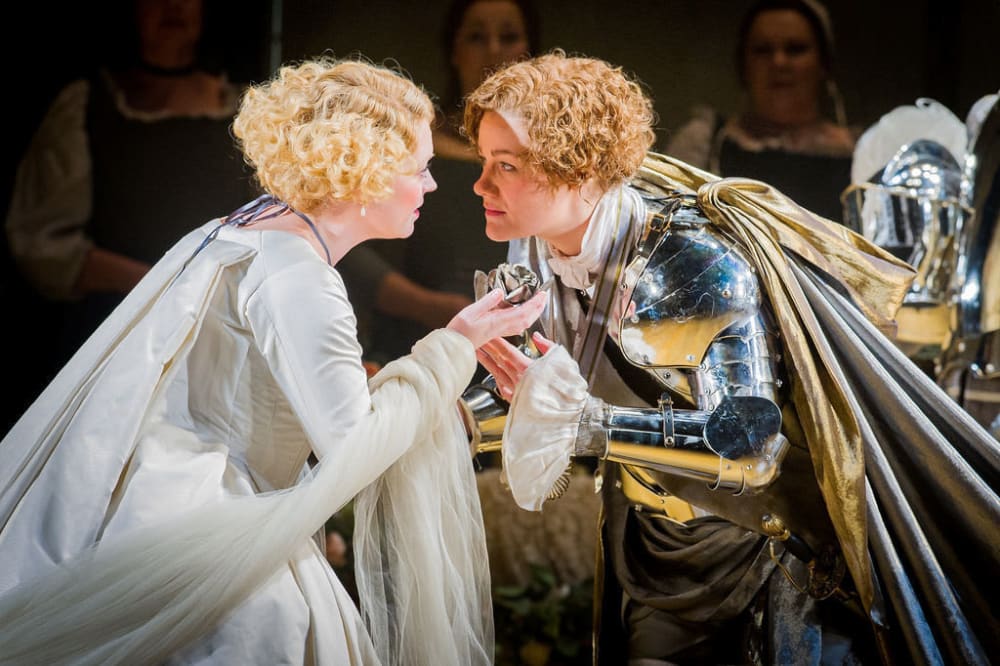 Strauss's popular romantic comedy, Der Rosenkavalier, returns in this revived production by Opera North. It's a strange but nevertheless important piece, mixing elements of farce and pantomime with some of the most subtle and profound psychological insights in opera.
The beautiful, thirty-something Marschallin (the title given to a Field Marshall's wife) has a seventeen-year-old lover, Count Octavian. The opening of act one sees them frolicking (in a pleasantly risqué manner) in bed one morning, when Baron Orchs von Lerchenau (the Marschallin's boorish cousin) arrives unexpectedly.
To evade detection, Octavian disguises himself as a gawky, foolish maid, Mariandel. The Baron, who seems to believe that a rich, powerful man like himself can do whatever he wants with young women (where have we heard that recently?), alternates between groping and dry humping the hapless "maid" and asking his cousin for a favour.
For primarily financial motives, the Baron intends to marry the beautiful young daughter of a rich bourgeois, Faninal. Tradition (as invented by Strauss's librettist, Hugo von Hofmannstahl) demands the suitor sends an emissary, bearing a silver rose as a gift to his intended.
When the Marschallin recommends Octavian for the task, wheels are set in motion. In the very act of presenting the silver rose, Octavian falls for Sophie (Faninal's daughter and the object of Baron Ochs's ambitions). The attraction is mutual.
The path of true love will not, of course, run smooth but, via a little swordplay (no real harm done), a private supper date between the Baron and Mariandel (involving a sting the News of the World would have envied) and the intervention of the Marschallin herself, this youthful romance will have a happy ending (kind of).
The profundity and power (and, in large part, the enduring appeal) of the opera emanates from the Marschallin. Even in act one, although still at the height of her powers (ask the President-elect), she is painfully aware of the passage of time and that, because of the age gap and the general inconstancy of men, her young lover will one day leave her for a younger woman.
She tells us how, on sleepless nights, she rises and goes around the house, stopping all the clocks. Time, she knows and laments, is her insuperable enemy. However, she is a noble woman in character as well as status, so it will be by her own actions that Octavian passes out of her arms and into the arms of Sophie.
In the climactic trio of act three (tense, complex and lyrical), the older woman facilitates the union of the young couple. Octavian is pulled this way and that by his feelings for each woman, while Sophie becomes suddenly aware that he, even at seventeen, is already a man with a past. The psychological complexity of this situation is played with great insight and emotional truth.
As the Marschallin quits the scene, Octavian, for a moment, runs after her—an impulse not unnoticed by Sophie. As a result, their closing duet takes on a hint of desperate hope rather than resolute optimism about the 'eternity' of their future together. Splendid direction by David McVicar (or perhaps Elaine Tyler-Hall, who directed this revival).
Henry Waddington has great fun as Baron von Trump… sorry, von Lerchenau (his waltz with his illegitimate son—played by Mark Burghagen—to close act two, is one of the funniest moments of the night).
William Dazely is by turns pompous and obsequious as Faninal, the socially-ambitious bourgeois.
Marianne Leitmetzerin squeezes every ounce of meaning out of the role of Sophie's duenna.
Fflur Wyn is a charming, feisty Sophie, holding her own in a great trio.
Ylva Kihlberg is all intelligence, dignity and suppressed heartbreak as the Marschallin—an outstanding performance.
Not for the first time (she was a fine Cherubino for ON, recently), Helen Sherman cross-dresses to perfection as Octavian. Sherman gives us ardent young lover, gawky maid, hot-blooded knight-in-silver-armour and emotionally tormented seventeen-year-old boy all beautifullly sung and portrayed with panache.
There is much here to enjoy and celebrate—and, indeed, the audience does. The finale (trio and duet) is one of those Opera North moments to remind us this is a company to treasure.
Reviewer: Martin Thomasson