Der Rosenkavalier
Music by Richard Strauss, libretto by Hugo von Hofmannsthal
Opera North
Theatre Royal, Newcastle
–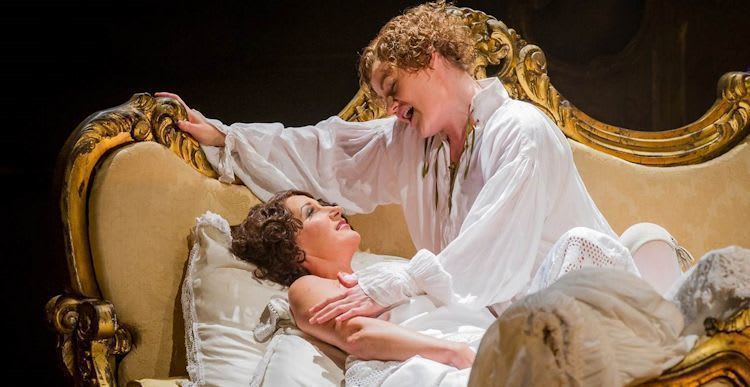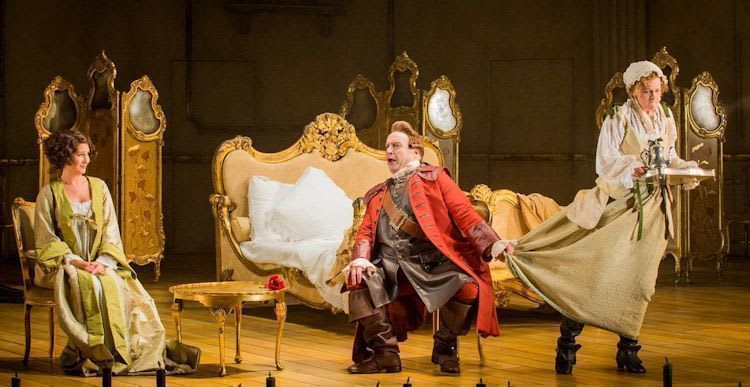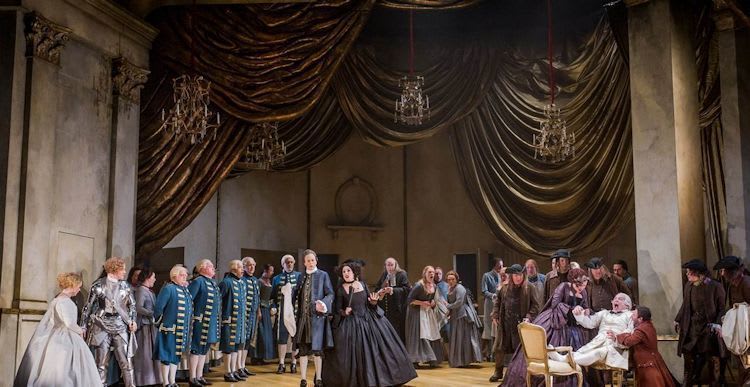 It's a deceptive piece, Der Rosenkavalier. Set in mid-18th century Vienna, its plot is immediately reminiscent of that other Strauss, he of Die Fledermaus and the waltzes, and indeed there's a lushness to the music and a blend of the serious and the comic in the story-telling which recalls Johann and his operettas but there is also a depth, a darker side, which is very much of its time—it premièred in 1911.
It's a simple story—a colleague joked that you could write the plot on a postage stamp, but that would require very small writing!
Very simply (and omitting some rather important sub-plot elements), teenage Count Octavian (he's actually 17) and older (around 32) married woman (The Marschallin) are having an affair. On a mission for his lover's cousin (Baron Ochs auf Lerchenau), Octavian meets and falls in love with the Baron's fiancée (Sophie von Faninal). She reciprocates; they overcome obstacles and live… well, ever after. Whether it's happily ever after would seem a tad doubtful, given the underlying theme, which is about time and change, constancy and inconstancy, and the character of men.
The Marschallin is very conscious of the passing of time; in one of the (for me) saddest moments of the opera she tells how she gets up during the night and goes round the house stopping the clocks. And she knows that Octavian will, sooner or later, find a girl of his own age and leave her. That, she says, is the way life is. And, of course, it is just what does happen and she sends him on his way with her blessing but also with regret.
But…
The other man who looms large in this story is Baron Ochs (Ochs is German for ox—very appropriate), a womaniser who will go from the home of the lovely Sophie to seduce the "girl" (you need to see it) he believes to be his cousin's chambermaid from the country. And, in fact, he is ready to seduce anything in skirts—his valet is his illegitimate son—and his crowd of hangers-on will quite happily follow his lead.
It's a long performance, running for four hours including two intervals, but the only passage of time of which we are conscious is that which so concerns The Marschallin. The sweep of the music, the compelling nature of the performances and the contrasting moments of romantic stillness and hectic busyness, of angry confrontation and deep introspection carry us along.
Ylva Kihlberg as The Marschallin captivates. Both a leading character in the story and, effectively, a kind of Greek chorus commenting on what it all means, she creates an indelible impression on us, making us conscious of her presence even when she is off-stage. As her young lover Octavian, Helen Sherman, in what must be one of the most complex of breeches roles (on a couple of occasions the plot has her, a female singer, playing a boy pretending to be a girl), effectively conveys that complex mixture of emotions (and hormones!) which come to a teenage boy who is out of his emotional depth.
Fflur Wyn's Sophie is both edgy and winsome. She has the emotional softness of the young girl facing marriage but also the strength of character of someone who will not be manipulated or used.
Henry Waddington's Baron is everything one would expect: obnoxious, bullying and totally self-obsessed—very definitely the man everyone loves to hate whose come-uppance is welcomed by everyone in the audience.
The whole cast—including the always excellent Opera North Chorus—contribute to the success of the production, with many effective small cameos, especially the delightfully funny Italian Tenor (Jung Soo Yun) and the mercenary organisers of trouble Valzacchi and Annina (Aled Hall and Helen Évora).
This is a revival of David McVicar's 1999 production and it certainly has not dated; the revival director, Elaine Tyler-Hall, has made an excellent job of bringing back to life a production which was performed by Opera North in 2002. And it is the first production for the company's new Director of Music Aleksandar Markovic who conducts with great sensitivity.
There is one more Newcastle performance on Saturday 5 November and then the production moves to The Lowry, Salford Quays (9 to 12 November) and the Theatre Royal Nottingham (16 to 19 November).
Reviewer: Peter Lathan