Derailed
Created by the Company and Thomas Abela
Little Soldier Productions
The Drum, Theatre Royal Plymouth
–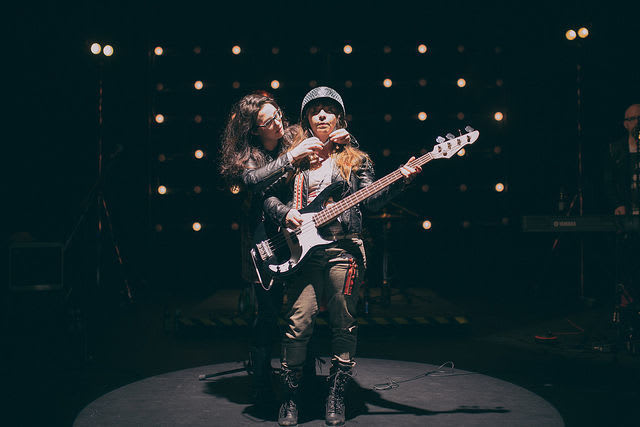 Unfortunately the title says it all.
Heralded as a farewell party and political polemic, the at-times talented (moments of brilliance recalled from The Ingenious Gentleman Don Quixote of La Mancha rather than here) feisty but amiable senoritas (and co-artistic directors) Patricia Rodriguez and Merce Ribot's self-indulgent piece appears just a lot of mucking about with clown Dan Lees.
Sure, there's cava and freshly-made gazpacho, rock divas and party poppers, audience and parental participation but seemingly no point and no purpose. Any Brexit commentary and activist achievements are lost in the silliness, wigs and general muddled thinking. Although the glitterball helmet is a must-have.
A nugget or two of interest is as short-lived as a Twitter petition and, although good-humoured, there is little of note or interest other than superb musicianship from guitarist Keir Cooper while the fight between a bra-clad piggy bank and the Dalai Lama is somewhat etched on the memory but not necessarily for the right reasons.
Disappointing.
Reviewer: Karen Bussell