Derren Brown: Underground
Andy Nyman, Andrew O'Connor & Derren Brown
Michael Vine, Andrew O'Connor, Derren Brown and Paul Sandler presentation for Vaudeville Productions Ltd
Grand Theatre, Blackpool
–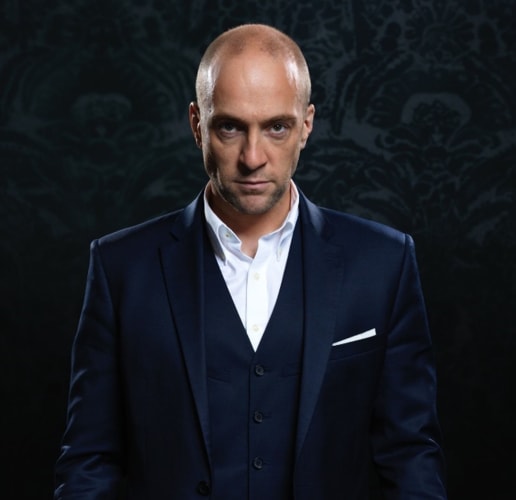 There will be some convinced Derren Brown has a direct line to the Devil—especially given this show's title.
Instead this splendid compilation of some of his best work simply convinces the more level headed that he simply remains in close contact with some of the oldest and highest forms of pure entertainment.
It's the usual heady brew of magic and mystery, cloaked in the finest traditions of vaudeville and variety and with an added dash of Victorian gothic.
So back on stage at Matcham's little gem of a 19th century venue is pretty well the perfect setting for the first of three nights of some of his classic greatest hits. It's actually the resort theatre where he started his touring career in 2003.
There's some extra red plush about the stage set while his props are little more than period style tables and chairs. Skilful on-stage filming barely intrudes into this time-slip setting and opens up the whole stage show, and its audience, to a close encounter with its star.
Two of the stage 'demons' who have helped hone his act down the years are no strangers to Blackpool's own brand of magic. Producers Michael Vine and Andrew O'Connor conjured up their own early careers in the resort and the slickness and style they lend to the performance is again evident.
Because when all is said and done this is a magic show, albeit one where its star can singlehandedly hold the stage for more than two hours and become, apparently, a master manipulator of the thoughts, deeds and even inate skills of randomly selected audience members.
The Oracle sequence that takes up a major part of the second act remains one of his most audacious party tricks, alighting indiscriminately on the innermost secrets of theatregoers, and revealing intimate details that Marilyn, Laura, Chris, and others, probably never expected on their night out. It guarantees a unique entertainment every time.
Reviewer: David Upton