Desire Under the Elms
Eugene O'Neill
Sheffield Theatres
Crucible Theatre
–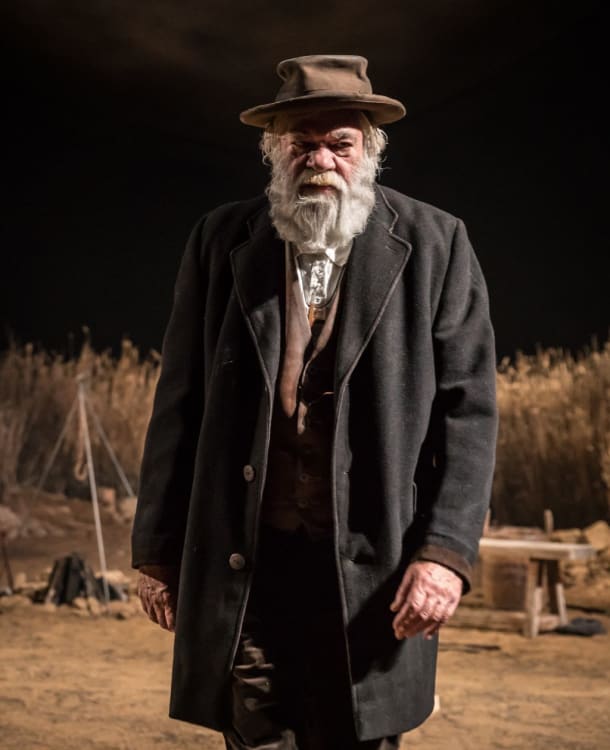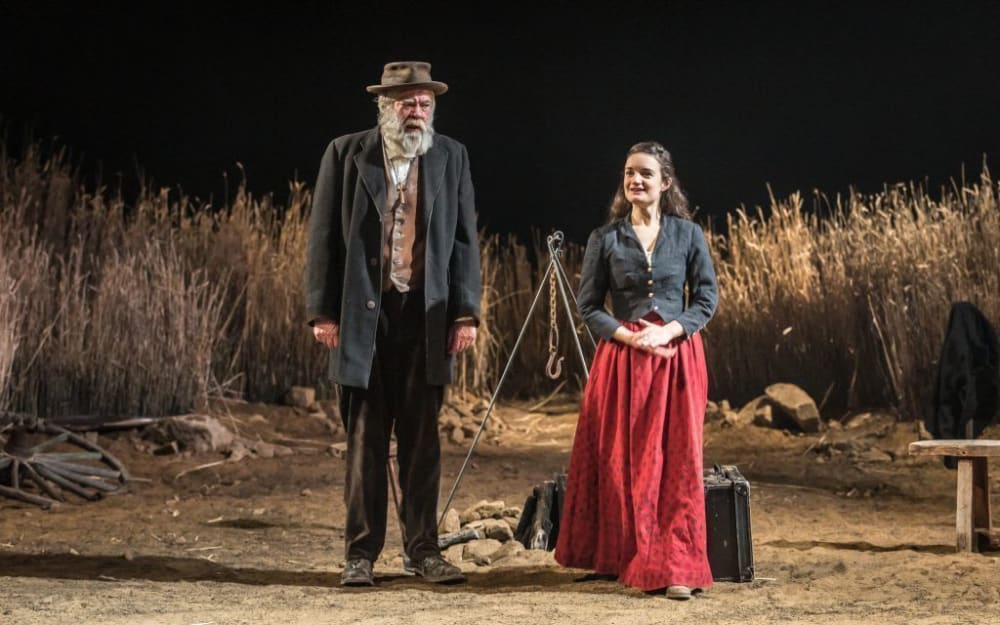 The most striking thing on entering the theatre is Chiara Stephenson's magnificent set. She has opened up the theatrical space to suggest a small, isolated farm dominated by flat cornfields as far as the eye can see and set beneath the overarching bowl of a sky with slowly moving clouds.
The dominant feature of the set is the earth that covers the ground and binds the characters to their 'hum' (home). They sit and lie on it, handle it, make mounds and burrow into it and sweep it into different configurations to represent different areas of the farmhouse.
The earth is always close to them, which explains why ownership of the farm and who will inherit it are such vital issues in the play. What we don't see are the overhanging lime trees which "brood oppressively over the house" but these are well represented by the prevailing mood of impending doom and the language of the play.
The farm is owned by 76-year-old bearded patriarch Ephraim Cabot (Matthew Kelly), whose three sons, two by a first marriage and one by a second, are bullied into providing unpaid labour on stony land which is hard to work. All three sons are conflicted. The two older men dream of escaping to the Californian gold fields and Ethan, the youngest, makes this possible by stealing the money which will buy them out. When it looks as if Ethan's inheritance is secure, Cabot returns home after an absence with a young wife, Abbie, who persuades him to name her as beneficiary in his will.
The stage is set for a family tragedy of Greek proportions and, since O'Neill was strongly influenced by Greek Theatre, themes of incest and infanticide drawn from Euripides dominate the action.
There are powerful performances from the principal actors and strong support from those in secondary roles who represent the wider community. Matthew Kelly is a dominating presence as the surly, growling, self-centred Cabot who addresses himself to an "Appolonian" as well as Puritan God. His treatment of his youngest son is particularly harsh since he sees him as a weakling who has inherited his traits from a weak mother who died young from overwork.
The two older brothers, Theo Ogundipe and Sue Rimi, are, by contrast, strong, hard-working and apparently submissive, though simmering with resentment under the surface. They are more like their father in that they enjoy and are concerned for the welfare of the livestock rather than being fixated on ownership. Both actors give convincing performances and Ogundipe adds fine detail to the interpretation of his part and an excellent display of dancing in the party scene.
As the youngest son, Eben, Michael Shea does justice to the huge emotional range of the role, which includes bitter resentment, outbursts of furious anger, passionate love and moments of tenderness. Aoife Duffin's role as Abbie makes similar demands, she is consistently strong throughout and particularly moving in the later scenes when she desperately attempts to win back Eben's love. Both actors grow in stature as the action develops.
Sam Yates's production is powerful and coherent and he is ably supported by an outstanding production team, which in addition to Stephenson's design provides stunning lighting and video effects from Jon Clark and Luke Halls, live music from Emma Darlow, and a sensitive soundscape from Nick Greenhill. A thrilling theatrical experience.
Reviewer: Velda Harris