Desperate To Be Doris
Sue Ryding and Maggie Fox
Lip Service
Library Theatre, Manchester, and touring
(2009)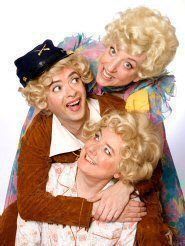 For their new show, popular local comedy duo Sue Ryding and Maggie Fox, aka Lip Service, have recruited Darren Southworth, whose recent credits vary from Spamalot in the West End to Cinderella in Southend, as Doris Day-obsessed Dean.
Dean works in the office of The Pyjama Game, a nightwear retailer with quite an odd collection of employees, all played by Ryding and Fox. However new manager Candida Pryce, who learned everything she knows from self-help books, wants to get rid of clutter like desks and Post-It notes, replace their whole product line with a lounge-wear product called Let's Play – described quite accurately by neurotic employee Joy as a 'baby-grow' – and change the name of the company to 'Sshh!'. Worse still, the local amateur operatic society Out Of My Range (based in Whalley Range) where Joy goes to relax and persuades Dean to come along to, has employed a certain local female manager with 'fresh' ideas to direct its new production of Calamity Jane.
Most of the parts are played, as always, by the duo, with Ryding as Candida Pryce, office Romeo Roger, chatty, package holiday-obsessed receptionist Valma and amdram stalwart Gerald who has played the juvenile lead for over fifty years, and Fox as Joy, anoracked IT man Ian, BO-troubled delivery man Sam and feared Evening News critic Kenneth Blood. Southworth is not the only new member of Lip Service for this show, as it features a choir of over sixty local amateur singers who make an impressive entrance for the first number and also fill in a few smaller parts.
The plot is slight and predictable and the jokes are not all of particularly recent vintage, but this is closer to the Morecambe and Wise school of playwriting where deficiencies in the set, inadequacies in the casting and the ludicrous storyline are drawn attention to rather than concealed and are more the point of the show than the serious drama that the characters are pretending to bring to us. Fox and Ryding are superb at this kind of humour, helped here by Richard Foxton's ingenious set and Mark Whitelaw's smooth, pacy direction, and this is a worthy addition to their canon. Southworth also turns in a very good performance at the heart of the show and has a very pleasant voice, leading many of the handful of Doris Day numbers in the show.
If you have seen a Lip Service show before, you know exactly what to expect: old-fashioned knockabout comedy and gags with touches of mild satire performed extremely well and with great energy, imagination and bags of fun by Fox, Ryding and guests.
Reviewer: David Chadderton