Desperately Seeking the Exit
Peter Michael Marino
KPS Productions
Leicester Square Theatre
–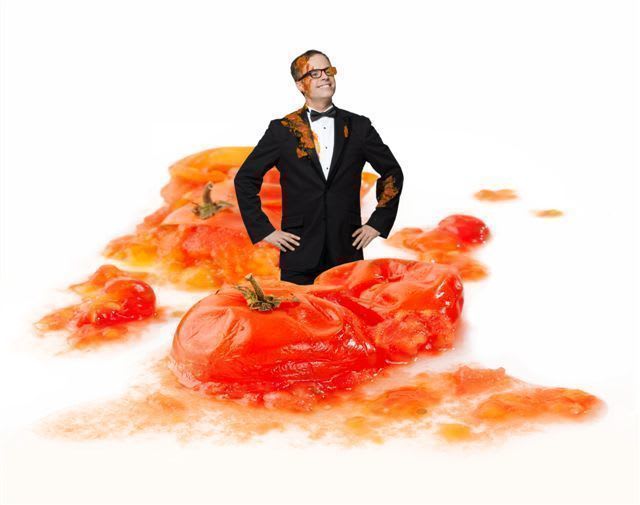 Take the plot of a film musical and the Blondie songbook and stir. That's pretty well what performer and writer Peter Michael Marino did after a few pot-filled puffs from the bong he was sharing.
That is what happens when you are relaxing after years on the road appearing in Stomp. Marino even got Deborah Harry and Blondie's approval and backing for a series of workshops, and then production in the West End. One of the producers was Old Vic Productions and it opened at the Novello in 2007.
Of course you remember it? If not, this is the story of why. Though the first night appeared to go down well, it got mauled by the reviewers and was off after only a fortnight. In other words a disaster that lost the three and a half million invested in its lavish production.
But every cloud has a silver lining, and out of that mess Marino fashioned this one-man show, seen last year on the Edinburgh Fringe, that Marino has been extensively touring.
Closer in form to stand-up than dramatic monologue, it is just Marino telling his own story, how surprisingly easily things took off and, after months of workshops and development, he began rehearsals in London—though by then he had already lost some of the original team that signed up for it.
That is when things started to go seriously wrong for passionately anglophile Marino—though he calls himself angloholic (he claims to have never heard the word anglophile)—blaming things on the refusal of anyone to believe that the audience could understand anything American such as pot, Port Authority, New Jersey, that no one would know where Queens is. Who the hell do these people think make up their audience?
Marino can laugh at it all now but I am not sure that he really thinks it's funny, even now, though that doesn't stop the audience from laughing. Of course, taking it seriously is one key to making comedy successful. Another is to have a totally engaging personality and in that he is lucky.
I'm tempted to call him a cheeky little chappie. That sounds far too English but "cute" seems too dismissive. He has that eager, little boy quality that quite a few gay young men seem to retain well past boyhood and can't help but like him. Whether demonstrating the choreographer's robotic inventions or describing his own stress-induced ailments, he is always engaging and, I may add, totally understandable, but then many live Americans, unlike too many voices on movies and video soundtracks, do still have consonants.
In London, Desperately Seeking Susan—the Musical may have been a disaster but that didn't stop Japanese company Toho from putting on a production not much more than a year later. It didn't create the show that Moreno had imagined but found an approach that worked with the audience, so that's one happy ending—and this one-man show is another.
Quite a lot of Marino's jokes are based on our idiosyncrasies and expressions; he's getting laughs by stomping on the Brits as hard as he used to bang dustbins, but we still like him.
If you have ever been in a show that rapidly folded, never finished the tour or, like one I was intimately acquainted with, closed even before it opened, your laughs may have a bitter tinge, but hey—that's show business! Whatever director John Clancy has done is not obvious, which means he must have done it well—that's show business too.
By the way, that tuxedo image may illustrate the story but this show is much more informal.
Reviewer: Howard Loxton