The Devil Is an Ass
Ben Jonson
Spartan Dogs
White Bear Theatre
(2010)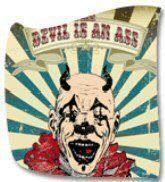 It is not often that you get the chance to see Jonson's 1616 play The Devil Is an Ass; in fact, I never had so one must be grateful to this new young company for the opportunity. It is a London comedy about greed and gullibility that sends Pug, an unskilled minor devil, there to try his hand at temptation. In a prologue Satan (here female: Kitty Chapman in a jaunty hat) assigns him to squire Fitzdotrell from Norfolk, a man eager to get everything he can for nothing who gets gulled by conmen. This foolish gentleman even fancies dabbling in the occult to find wealth so he is looking for a satanic connection.
London in 1616, as in our own time, was a city of money and speculation which might have suggested a modern dress production but director Kate McGregor and designer Carla Goodman have gone for another period when speculation was rife and Newgate Prison, where some of the action is set, was still in operation (though not the one that Jonson knew). There is also a circus element introduced with juggling, and plate spinning between scenes, bags of cash and other props that bounce, some white-face make-ups, some very modest legerdemain for devil Pug, and would-be speculator Fitzdotrell even dons clown suit and red nose when he puts on a pretence of madness.
Circus, however, does not influence the style of playing which takes its cue from the Dickensian setting and rather suggests the whole show is a period piece performed by Vincent Crummles' travelling troupe from Nicholas Nickleby. Deft-digited Davin Eadie, as con-man Merecraft, matches his every statement with fidgety finger flourishes. It is dazzlingly stylish, long sustained and matches the lightning speed of his delivery without making it any easier to take in what he is saying.
Oliver Lavery adopts an equally florid style for Fitzdotrell to match the lace-edged cloak he gains in exchange of allowing an admirer a quarter hour in the presence of Frances his dutiful and lovely wife. Susan Moisan, playing Frances, and Janie Partridge, as moralistic Manly, make them much more straightforward: clearly spoken and free of the affectations that mark the deviousness of so many of the other characters which echo the artificial flounces with which actors thought it necessary to decorate restoration comedy half a century or more ago. This over-egging pays off in terms of laughs in a double act from Lizzy Dive and Emily White as a pair of extravagantly arch society ladies but too often style swamps content and a tendency to over stress individual words (especially when they are conjunctions) does not help to clarify the sense of Jonson's verse, which offers quite a challenge to the modern actor..
This large and hard-working cast giveThe Devil Is an Ass considerable vitality but take things at such a lick that you hardly know what's going on. The frantic gormlessness of Phil Bishop's Pug seems to set the pace. There is more clarity in the second half, when Sean Turner as Frances's admirer Wittipol keeps his female impersonation of a Spanish lady well within bounds and the company give themselves the chance to think as well as speak what they are saying.
At the White Bear until 5th December 2010
Reviewer: Howard Loxton