Devils Festival

The Print Room
(2011)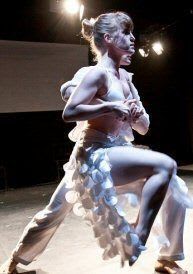 This is a programme of work by four young artists who have been developing work at the Print Room. This work is being presented in repertoire in pairs until 1st July with all four being seen in a single programme on 2nd July. They reflect the variety of what goes on at this venue with a modern dance piece, an old play by a classic dramatist, a relatively recent one by a writer who does not follow conventional forms and an installation using light and music for therapeutical purposes.
Kanaval
Choreographer Hubert Essakow
This is a work for four dancers presented with the audience on three sides with the fourth used for a wide video projection designed by the composer Charles Webber that is liked to his music and adds to the atmosphere. It is inspired by Haitian carnival and voodoo ritual, as recorded in the photographs of Leah Gordon and an earlier version with different dancers was seen last February at The Place.
Essakow's use of the space makes the piece work effectively from all three directions. He opens with a line up of all four posing masked on chairs changing position as lights flash on from blackness and that staccato is reflected in halting moments that punctuate his swirling barefoot choreography with spiralling arms and bodies that often suggest transference to some ecstatic state.
Both individual and group movement is fast and fluid from lifts to floor work which is particularly interesting with balances on the body and there is an intriguing pas de deux for the girls Fukiko Takase and Hannah Rudd, who are partnered at other times by Benjamin Ord and Benny Maslov.
It is a technically accomplished cast with expressive faces each of whom seems to get carried away and then recover to stillness in its various sections. Visually it makes use of flames, masks and a costume change from the purity of white to metallically silvered skirts and fur and feather adornments so that Anda Winter's design offers another kind of transformation - which is what this work seems to be about.
Swan Song
By Anton Chekhov, adapted and translated by Michael Frayn
Chekhov's adaptation of one of his own short stories presents an aging actor who wakes from alcohol-induced sleep to find himself still in his dressing room in the middle of the night and makes his way onto the darkened stage. He is 68 and has been on the stage since he was 23. With no wife or children and feeling alone in the world he is feeling his mortality.
Director Jeff James opens his production with Vasili Svetlovidov taking a curtain call wreathed and with an Imperial mantle. It is all happening after a successful performance (in the original his benefit night) but the audience that gave him rapturous applause has gone home. It is played in modern dress - he is wearing an untied formal black dickie bow and there is very much a sense of him being part of an old school of playing who does not feel part of contemporary things.
There is a very contemporary looking crate on the stage and a clutter of take-away food containers, dropped bouquets and other junk surrounding a chaise longue. The rubbish is there in Chekov's script. I suppose it represents the rubbish that he feels is all that's left of his life but at close quarters I found myself seeing it realistically and wondering who could have left it there. Surely it is not props from the last scene of the play he was performing and no responsible stage crew would leave such detritus behind them! It seems ill-judged beside the naturalistic performances of Malcolm Rennie as the actor and Anne Lacey as Nikita Ivanova, the considerate prompter who finds him, here played as a middle-aged woman not another old man, and who herself secretly sleeps in the theatre because she has no home to go to...
Rennie begins with a performance of whining self pity, very much the old thespian who acts life rather than lives it, until a point where the real emotion breaks through and he bursts into tears. From there on his performance begins to build as he recaptures old glories in renderings of Lear, Hamlet and Othello.
Fewer Emergencies
By Martin Crimp
This is in fact three separate plays, not necessarily linked, in which the characters have no names and Crimp specifies no time or location but Dan Ayling's production makes them very definite personalities in the same group of people gathered around a dinner table. It becomes on one level a satire on the banality of middle class dinner party conversation, more about vying to be part of it than real communication, but what actually are these people talking about?
Are they discussing real events? Making up story plots or movie scenarios? Making confessions? It is not so much reality as a way of reflecting on responsibilities, marriage, child rearing, and a massacre of school children. Things are getting better say the characters, there are 'fewer emergencies' so the world for our children will be a better place but you know that these are mere words, things are being driven depressingly downward in a world all too recognizable as here and now.
Emma Dallow, Ross Ericson, Nicola Harrison and Simon Scardifield play it so that Crimp's fragmented surreal conversation sounds perfectly normal. The timing is brilliant; especially Harrison's fast talking character in the first play, total clarity at great speed. Scardifield's husband may get talked down in that play but he stutteringly becomes the centre of the next one; could he actually himself be the child killer? Emma Dallow seems to be an ever present best friend and though Ross Ericson is largely a feed to the others in the third play he eventually takes over breaking into song. How you interpret all these things and what stories you think are being told will probably be different for everyone in the audience but they are not going to leave you feeling comfortable.
Of The Things We do Not See
By Petra Jean Philipson
I had to leave without seeing and taking part in Philipson's installation. I can tell you however that it uses colour, sound and music to tune the vibrational rate of participants' bodies into a state of wellness. She asks her audience to don white paper suits to avoid interference with the colours and explains that effects may not be felt until some time after the experience.
She employs Mongolian and Tibetan under- and over-tone singing and lighting by Sally Ferguson (who lights all these shows with precision) that follows the colour of the Western Chakra System.
The experience will necessarily be very subjective and perhaps not something that can be criticised as performance. It should certainly prove an antidote to the unsettling nature of Crimp's play.
"Kanaval", "Swan Song", "Fewer Emergencies" and "Of the Things We Do Not See" are paired in repertoire at The Print Room until 1st July with all four together on 2nd July 2011.
Reviewer: Howard Loxton