Dorian Gray
Written & directed by Linnie Reedman, adapted from Oscar Wilde's The Picture of Dorian Gray
Produced by Ruby in the Dust
Leicester Square Theatre
(2009)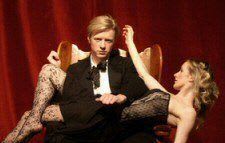 Oscar Wilde's The Picture of Dorian Gray is the tale of a man who effortlessly charms everyone who encounters him and is seduced by his own vanity. As he sinks further into the depths of depravity, he drags others down with him and claims them as his victims.
Dorian Gray at the Leicester Square Theatre is a rather unremarkable adaptation of Wilde's only published novel. Linnie Reedman's actor/musician production starts of well with a decadent set, draped with lavish red velvet curtains, and ivory snaking its way around the stage. However the performances are somewhat less impressive.
It is difficult to understand why all the characters are so captivated by Matthew James Thomas's Dorian as his dull portrayal of this Casanova is anything but seductive. Vincent Manna as the deplorable Lord Henry who is responsible for leading Dorian down the dark road of corruption is a complete caricature as he hams up Wilde's already colourful character. Ilan Goodman as the tortured artist Basil who pours all his love into his portrait of Dorian is the exception. His sensitive portrayal of a man crippled by love is incredibly touching; even if we don't feel the same about the object of his desires.
The beauty of Wilde's writing is that it does all the work for you and yet this production over-compensates in its dramatisation with moments such as a group movement piece with a walking picture frame to illustrate Dorian's opium induced state.
An Oscar Wilde play (even if it is an adaptation) should be many things but dull is certainly not one of them. Unfortunately this lacklustre production is exactly that. To quote Wilde himself, "If one hears bad music it is one's duty to drown it in conversation." I just hope the audience at the Leicester Square Theatre are a little more courteous.
Running until 2nd August
Matt Boothman reviewed the first outing of this production earlier this year
Reviewer: Rachel Sheridan