Dial 'M' For Murder
Frederick Knott
Fiery Angel in association with West Yorkshire Playhouse and Colchester Mercury Theatre.
Yvonne Arnaud, Guildford
–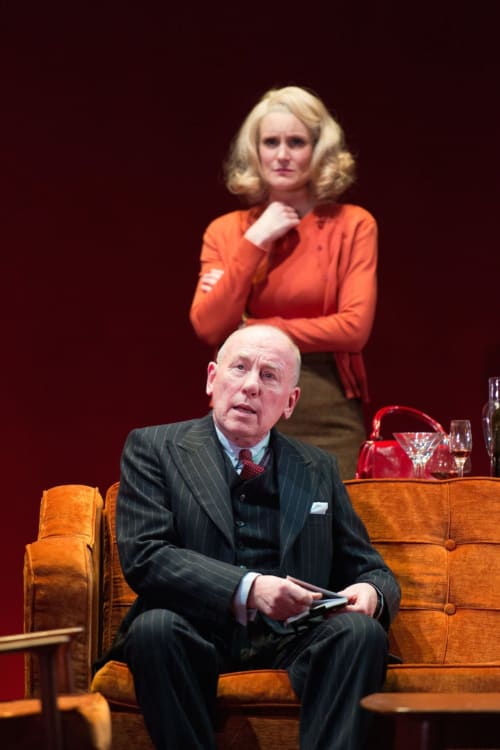 Famously a 1954 Hitchcock film with Grace Kelly, Ray Milland and Robert Cummings, which was adapted from a successful stage play by Frederick Knott, director Lucy Bailey has taken her play from the original Knott script yet used a cinematic style with the help of a revolve and some wandering gauze curtains.
This gives the effect of a scene shot from different angles and focuses in on the action giving claustrophobic intensity. This is a crime thriller, but not a whodunnit as we not only know the murderer almost from the beginning, but he describes exactly how the act is to be committed.
What keeps the audience glued to their seats (with the odd gasp of shock) is watching the psychological aspect of a cold-blooded killer planning his deadly deed and hoping he won't get away with it!.
Stylishly set in a Maida Vale flat in the 1950s (beautifully designed by Mike Britton), we only see the living room, with hall and stairs vaguely visible through the backdrop.
The flat belongs to Sheila and Tony Wendice, a couple in a marriage which has long gone stale. Tony, an ace tennis star at a time when Wimbledon had amateur status and no money changed hands, has become used to a lavish lifestyle thanks to his wealthy wife but has discovered she is having an affair. Supposing she leaves him for thriller writer Max, where will his luxurious lifestyle be then?
No prizes for guessing what's coming next, but the plot is complicated, involved, and very ingenious with plenty of surprises to keep the audience guessing.
Early in the play, Max is asked, "Do you believe in the perfect murder?" "Absolutely" he replies, "on paper, because things turn out as the author plans—in real life they don't". A thought that Tony disregarded.
Daniel Betts as Tony gives us a seemingly cool and calm personality, making the sociopath lurking beneath the surface all the more sinister, while Kelly Hotten is impressive as Sheila, the glamorous, sophisticated wife who turns into a shattered wreck as the play progresses.
Philip Cairns's Max seemed a little stilted at the beginning, but soon comes into his own, especially with his impassioned plea for Tony to confess in a very neat little ironical twist to the tale.
Last to arrive on the scene is the accomplished Christopher Timothy as a mild but persistent Inspector Hubbard. He has the unenviable task of sorting out the truth from a crime involving duplicate keys, an incriminating stolen letter, blackmail, a crucially important phone call, vast amounts of cash and a handbag lost at Victoria Station. Does that last one seem familiar?
Highly dramatic, as you would expect from Lucy Bailey's direction, most particularly the shock opening of act 2, and the murder scene in act 1, although perhaps a little over-extended, is very graphically realistic and extremely well performed.
As always with a thriller, sound and lighting are of the utmost importance to intensify menace and suspense. Chris Davey and Mic Pool excel in both respectively with slight bursts of jazzy or bluesy music to intensify the mood.
Superbly presented and totally involving.
Reviewer: Sheila Connor