Dial M for Murder
Frederick Knott
Middle Ground Theatre Company
Gala, Durham, and touring
(2004)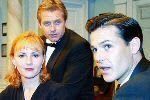 For the first half of Middle Ground's production of the 1952 classic (first seen as a BBC TV play before going on to the Westminster Theatre before being filmed by Hitchcock with Ray Milland and Grace Kelly) left me feeling that I was in a time warp. It was like being back in the theatre of the 60s - or, at least, that part of theatre which resolutely ignored Look Back in Anger and what came after (and yes, I do remember it. I was there!).
A well-made play, with an ingenious if unlikely plot, performed here as a period piece - with set, costumes and the actors' accents absolutely spot-on - was what I had expected and what we (I thought) got. There was just one thing that worried me: the attack on leading lady Sheila was not, shall we say, convicing. Accompanied by gasping that would not have been out of place in a rather tame porn movie and carried out in semi-darkness, it moved the audience to laughter rather than horror.
But then, in the second half, director and designer Michael Lunney arrived as Inspector Hubbard from Dudley, complete with Black Country accent, and suddenly the tone shifted, comedy (but not laugh-a-minute comedy: rather the comedy that arises from character) came to the fore and we had what you might almost call a deconstruction of the piece.
Lunney's take on the play subverts the expected and gives us, instead, a much more complex theatrical experience. It's the classic thriller from a post-Stoppard perspective! But unlike Stoppard's parody - and Inspector Hubbard is emphatically not Inspector Hound - it remains respectful and, although it subverts the genre, it leaves Knott's play untarnished. In fact, it's hard to imagine how else one can play a classic thriller such as this one today and make it more than a period piece.
The actors did exactly what they should in this kind of production: they played it absolutely straight. It would have been very easy to go over the top but subtlety was what was required and so, instead of a parody, we watched a classic thriller from a slightly shifted perspective: we were able to look at Knott's play and appreciate its strengths while finding amusement in the theatrical conventions of a much more innocent age.
And that, of course, brings us back to the attack on Sheila. It was a clue! Or, at least, the way it was played (and hence our reaction) was a clue, a clue telling us "Hey! Remember, this is 2004, not 1954."
Good performances from everyone in the cast - Joy Brook (I cannot get her as Kelly Holmes in The Bill out of my mind. Sorry Ms Brook, but I was a fan!) as Sheila; Brookside's Stephen Pinder as her husband Tony; Richard Grieve (Neighbours and Home and Away) as lover Max; Richard Walsh (London's Burning) as Captain Lesgate, the murdered man, and Michael Lunney as Inspector Hubbard - contributed to a very enjoyable evening's theatre.
"Dial M for Murder" is at the Gala until 26th November when the current tour ends. It starts touring again from January to July, visiting Cambridge, Poole, Worthing, Taunton, Aberdeen, Brecon, Swindon, Ayr, Blackpool, Chester, Newport, Crawley, Stevenage, Belfast, Eastbourne and High Wycombe.
Reviewer: Peter Lathan