Dial M for Murder
Frederick Knott
Richmond Theatre and touring
(2009)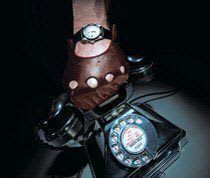 This elegant revival of Frederick Knott's television play and post-war theatre hit is set firmly in its original place and period: a smart Maida Vale apartment in the summer of 1952. Money is pre-decimal and a garage bill for £60 paid in £1 notes arouses the suspicions of the cops.
The play was famously filmed by Hitchcock but director Lucy Bailey sticks to the stage version while happily admitting that her concept owes something to the movies.
She and her designer Mike Britton use a stage revolve and a red gauze curtain on a circular track to give us different "camera angles" on the events taking place within the confines of a living room; plus the entrance hall and stairs glimpsed through a scrim backdrop to reveal the various comings and goings.
A fading tennis star, Tony has discovered that his wealthy but unloved wife Sheila has been enjoying an on-off affair with the younger Max, a successful television thriller writer with 52 fictional screen murders to his credit.
Tony, played with power and panache by Richard Lintern, has spent months setting up what he hopes is a foolproof scheme to have his wife murdered by a third party so that her death looks like a burglary that has gone badly wrong.
His chosen assassin is a shifty crook with heavily Brylcreemed hair, portrayed behind a significant moustache by Daniel Hill, who is only doing it for the money. But the plot misfires when Sheila stabs the intruder in self-defence and lands herself in the dock at the Old Bailey accused of murder.
Happily an inspector calls in the shape of Des McAleer's dynamic, sharp-eyed Hubbard of the Yard who, while putting Sheila behind bars, continues to work on the case.
This leads to a famous closing scene, reminiscent of Gaslight, when the true villain is revealed with a plot device that I must confess I've still never quite understood. Just me I guess, because it bristles with suspense right up to the final moments.
Like Grace Kelly in the Hollywood version, Aislin McGuckin (a name to watch) is the perfect Hitchcock blonde in beautiful retro fashion, playing the selfish Sheila with a strong appeal to our sympathies but also with an undertow of unhappiness and vulnerability that gives her character a fully rounded presence.
Nick Fletcher as Max has less to go on than Lintern's Tony, but the two men have a terrific third act duologue as the buoyant Max pieces together the hidden plot as if it were one of his small-screen murder mysteries.
It will be fascinating to see whether director Bailey will enjoy another of her West End transfers (including Baby Doll and The Postman Always Rings Twice) with this well-made, strongly cast production that held a midweek Richmond audience in thrall.
Touring to Everyman Cheltenham (November 10-14) and Theatre Royal Brighton (November 17-21).
Reviewer: John Thaxter