Diana of Dobson's
Cicely Hamilton
Orange Tree, Richmond
(2007)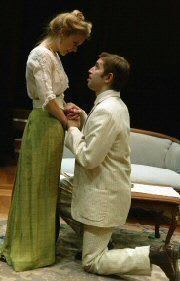 The Orange Tree's season of plays by Bernard Shaw and his contemporaries continues with Cicely Hamilton's charming romantic comedy, spiked with a dash of feminist polemic.
An actress as well as an author (she created the role of Mrs Knox in Fanny's First Play), Hamilton rebelled against the identification of womanly success with marriage and maternity.
Her play was successfully revived four years ago at the Shaw Festival in Canada, but this is the first London production since it was staged at the Kingsway in 1908 by actress-manager Lena Ashwell — the only woman of theatre whom Charlotte Shaw could trust with her husband GBS!
The Diana of the title, beautifully played by Cate Debenham-Taylor, is a shop assistant in the hosiery department of Dobson's Drapery Emporium, working 14 hours a day for 'five-bob a week', who becomes the author's spokesperson for the thousands of exploited shopgirls, trapped by poverty and the cruel 'live-in' system imposed by department store managements at the turn of the century.
We first meet her at bedtime in Dobson's female dormitory as she and her weary colleagues doff their day clothes, easing themselves out of their stays, while moaning about the supervisor who fines them for the vague sin of 'unbusiness-like behaviour.'
Amusingly enough this opening scene flustered one of its original critics, who questioned the propriety of young actresses undressing on stage. But it provides the heroine with her working-class credentials, and also a chance to hit back at the hated bosses — cheered on by her nervous workmates — when quite unexpectedly she receives a £300 legacy from a distant cousin.
Diana decides to blow her windfall (equivalent to perhaps £20,000 today) on a sumptuous wardrobe of fashionable silks and satins, plus a once-in-a-lifetime holiday in the Swiss Alps and to hell with the future.
This spirited decision takes her to the swanky Hotel Engadine in Pontresina, masquerading as a wealthy widow, where she rubs rubs shoulders with the 'ornamental' English set, who soon become intrigued by her lavish life-style.
There she meets and falls for Edward Bennett's attentive but brainless Captain Bretherton, an ex-Guards officer, unable to live on his £600 yearly allowance. He is clearly in need of a rich wife to help support him. Or at least that is the strongly held view of his matchmaking Aunt, played with terrific attack and vocal verve by Lavinia Bertram, who at the point of her parasol forces him into making a gauche proposal of marriage.
Diana is also being stalked by a lecherous Northern drapery baron, played with gruff directness by Geoff Leesley, who believes his hard-won millions entitle him to pick a girl of style and spunk like Diana to become his young, decorative wife.
Neither chap would seem to make a suitable partner, but in Edwardian times working class women, lacking capital and a reliable income, had limited career choices of shopgirl, barmaid, servant, streetwalker or wife. So while Diana's fortune is quickly running out, how does the author resolve the dilemma?
I shall avoid giving the game away. But the great heart and best written scenes come after the interval as her two would-be suitors are given short shrift by Diana and, in the younger man's case, a severe duffing-up by his exasperated aunt — powerful passages, powerfully played for comic, dramatic and social effect, prompting spontaneous applause from a delighted first-night audience.
Caroline Smith's in-the-round staging, with a design by Jude Stedham, makes amusing use of the extended scene and costume changes with two entr'acte music-hall ballads for solo voice and chorus, plus the cast in choreographed mode, shifting the furniture in a series of jaunty dance sequences, all part of the evening's entertainment.
Her production continues at the Orange Tree until March 17th, when it will be replaced by a revival of John Galsworthy's "The Skin Game".
Reviewer: John Thaxter