Dick! Comes Again! Bigger, Longer, Harder
Stuart Saint
Leicester Square Theatre
Leicester Square Theatre Lounge
–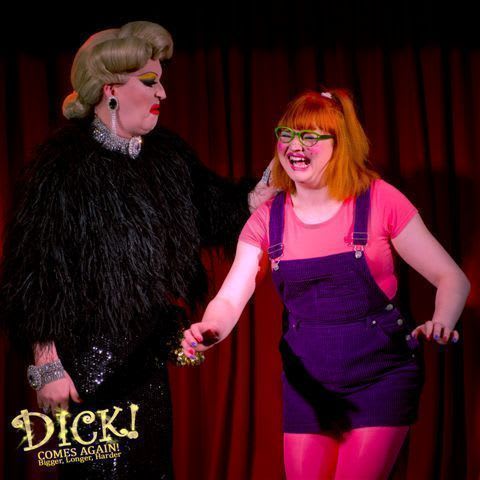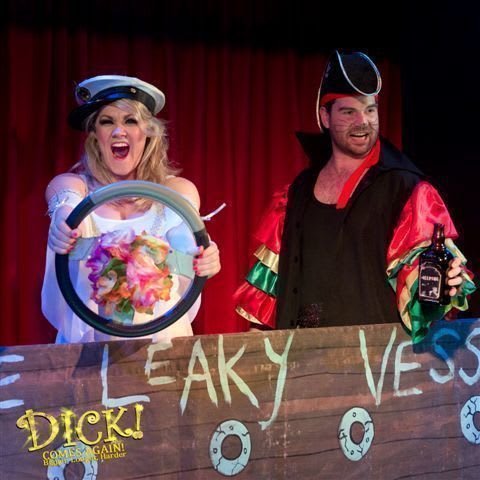 Leicester Square Theatre's raunchy panto in the Lounge is billed as Dick! Comes Again! Bigger Longer Harder. I scarcely need to tell you more.
This "adult" panto indeed returns after a great success last year with an audience that lapped it up—you will know if it is likely to be your kind of show at this address. It has a Dick and a cat called Dave (though they are hardly speaking to each other at the moment), but its Soho-ho not Highgate Hill and there's no Lord Mayor in sight, just a very smart Dame called Sofonda Cox who runs a sex club.
It is not exactly the Whittington story, though there is indeed a great deal of Dick, including one large black one, and lots of pussy and plenty of audience participation, including a song sheet, a wicked fairy and a good one—and no, they are both female, while the jokes (certainly not quotable on such a respectable web site) are multi-gendered but mainly filthy.
Dave Bibby is no thigh-slapping Dick but, though sounding very posh (public school he says), his is a very coarse kind of charisma. He and Laura Curnick's Fairy Bell-End could double as the broker's men if it were a different panto. Paula Masterton's evil Scots Queen Runt is much more sophisticated but all of them know how to get the audience involved, even those punters who may not want to be.
Prudes beware. It's not for you. Two pairs of very proper-looking pensioners in the front row walked out fifteen minutes into the performance I saw. Those not worried about plot or needing subtleties might find it the naughty kind of Christmas indulgence that's right up their street.
Nick Read's frisky Cat and Laura Hyde's freckled Alice are full of energy and personality and my personal favourites but, unsurprisingly, it is Dusty 'O' as Sofonda who dominates the show. Even without the gorgeous gowns, immaculate wig and make-up, she would fill the place with personality and does the perfect put-down.
It is in the West End but don't expect big-budget production values or even a proper plot: this is a show that depends upon the performers and an enthusiastic audience, but go on—take a risk and have a giggle—after all it's Christmas!
Reviewer: Howard Loxton