Dick Whittington
Alan McHugh
Qdos Entertainment
Bristol Hippodrome
–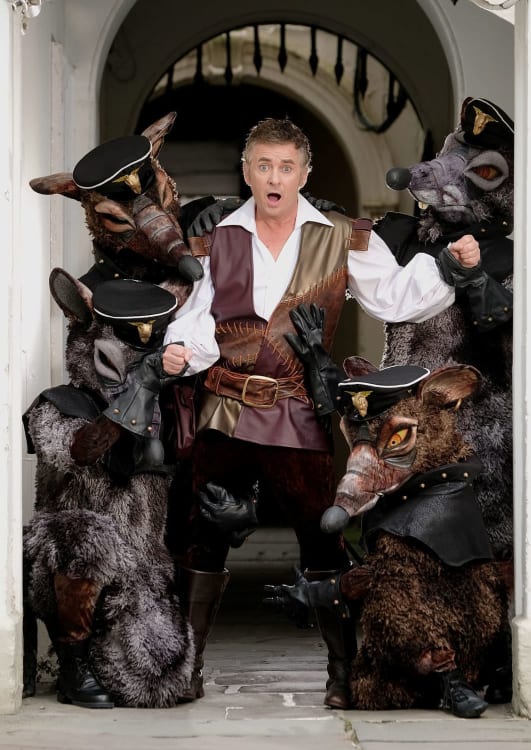 The rats are taking over. Is there anyone out there to make sure these nasty vermin don't eat all the candy and biscuits in London?
With a crack of her enormous black tail, Queen Rat (Jennie Dale) sets out her evil plan to steal Sarah The Cook's (David O'Reilly) delivery of goodies. Just at this moment, huge ominous red eyes pierce through the underground mists below the London streets, growing larger as they approach front stage. Behind them, the most enormous rat emerges from the black gloom, extending beyond the stage, occupying half our field of vision repeating the evil intentions. The inevitably initially wriggly panto audience, young and old, are now most certainly settled in their seats.
Contrast to candy colours of the sweet life above ground and we find Sarah's daughter, Alice (Christine Tucker), helping her mother with her candy orders and planning her approaching birthday. It's the perfect set-up for this year's pantomime at the Bristol Hippodrome, with Shane Richie as the plucky hero and star attraction, Dick Whittington, in search of fame, fortune and… love.
That's enough of storyline.
This year's pantomime at Bristol Hippodrome is a visual extravaganza. There is another huge surprise from special effects company The Twins FX which provides as many thrills as the shivers created by the giant rat, although with all the obvious budget and technology available it does irritate that no effort is made to lip-synch the rat's mouth to its words.
Adding to the effects are the magnificent costumes and set. Qdos Entertainment production teams treat the audience to every vibrant colour and accessory imaginable for the extravagantly opulent and comically ridiculous costumes worn by the principals and the huge supporting cast.
The evening contains all the guaranteed elements the audience come to expect from their festive night out: impossible tongue-twisters, gags, fight scenes, pop songs and some fantastically choreographed dance sequences (choreographer Aaron Renfree), supported by the local Bristol School of Dancing. This production also includes some fun tumbling scenes from gymnastic group The Acromaniacs.
It seems the cast still need some time to draw the best out of each other with many interactions feeling sadly sterile. While postcard humour is always a part of these events, some of the gags oddly take the show over the line of comfort. Production-wise, sound delivery is also a problem. It seems to be a struggle for balance with the orchestra and pop numbers throughout and many of the cast resorted to shouting more than singing which is a disappointment.
But the incredible spectacle makes up for many shortcomings; almost all is forgotten in a happy ending.
Reviewer: Joan Phillips