Dick Whittington—A New Dick in Town
Jon Bradfield and Martin Hooper
Above the Stag
Above the Stag
–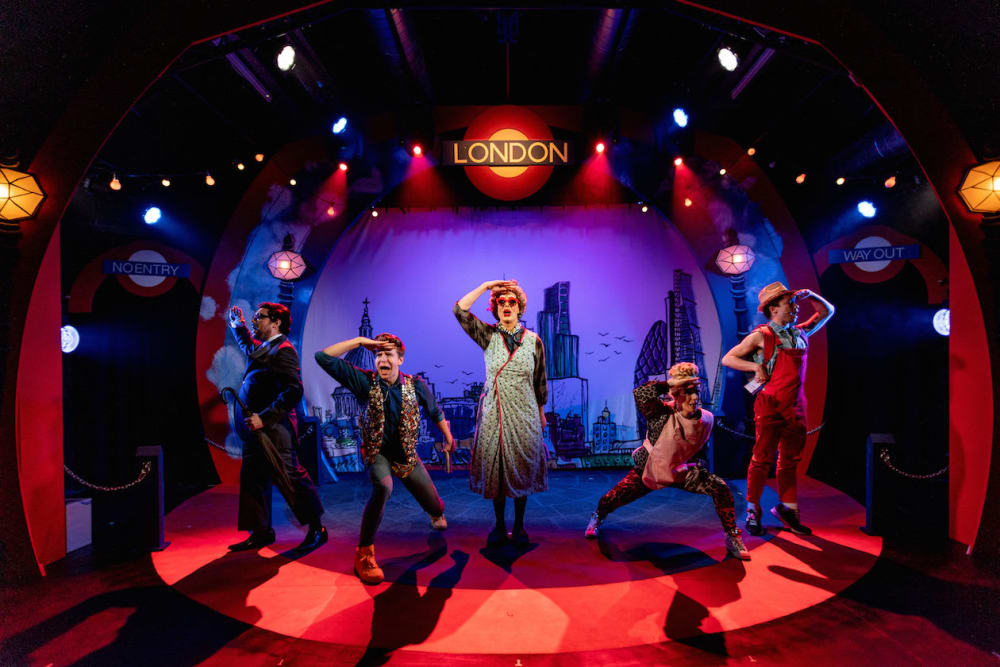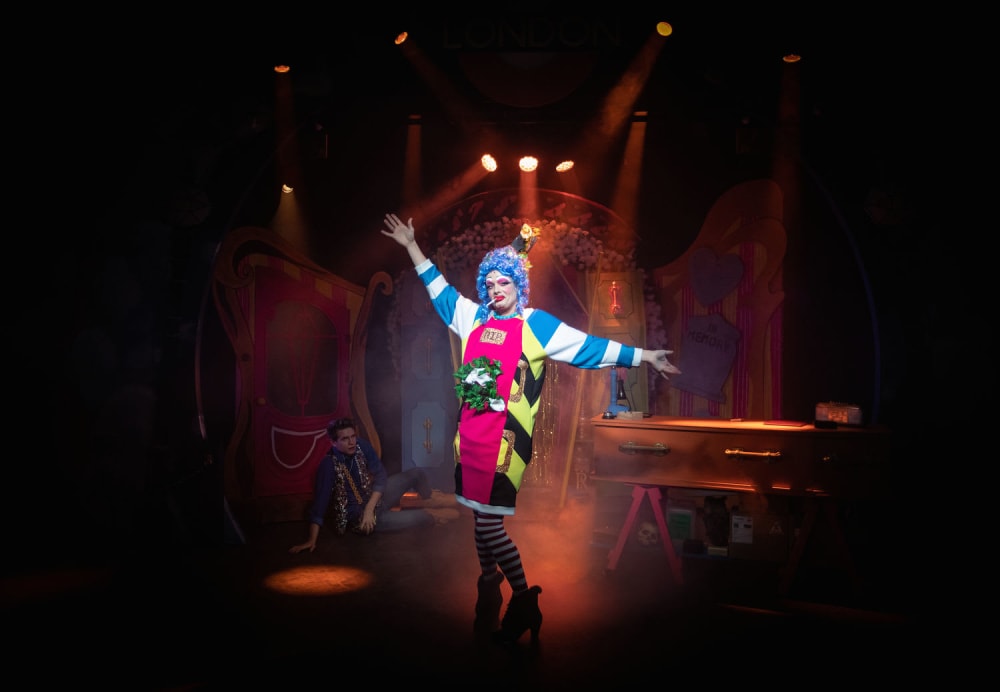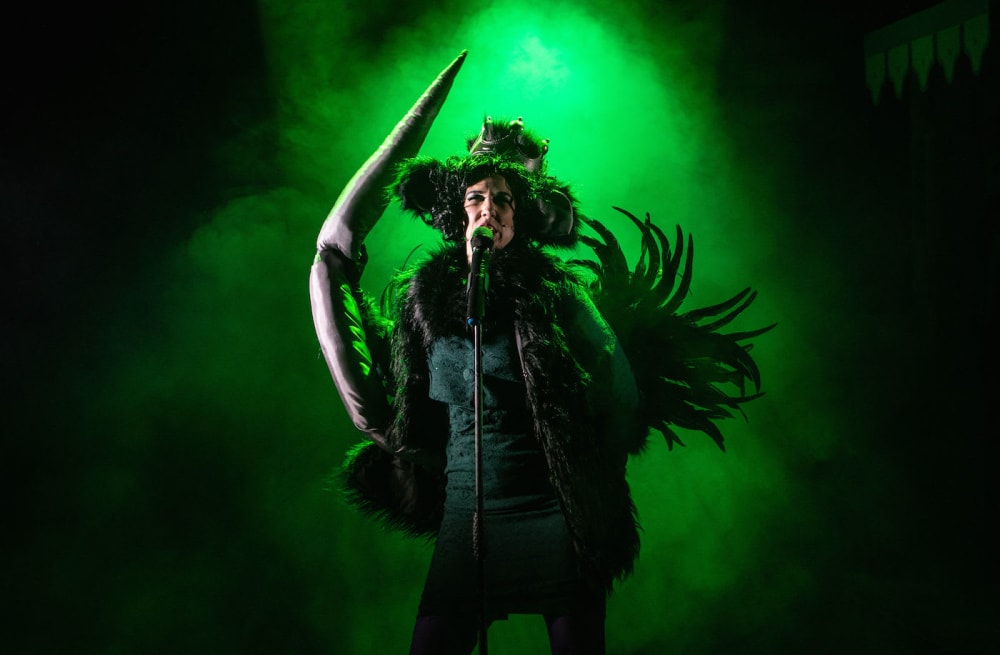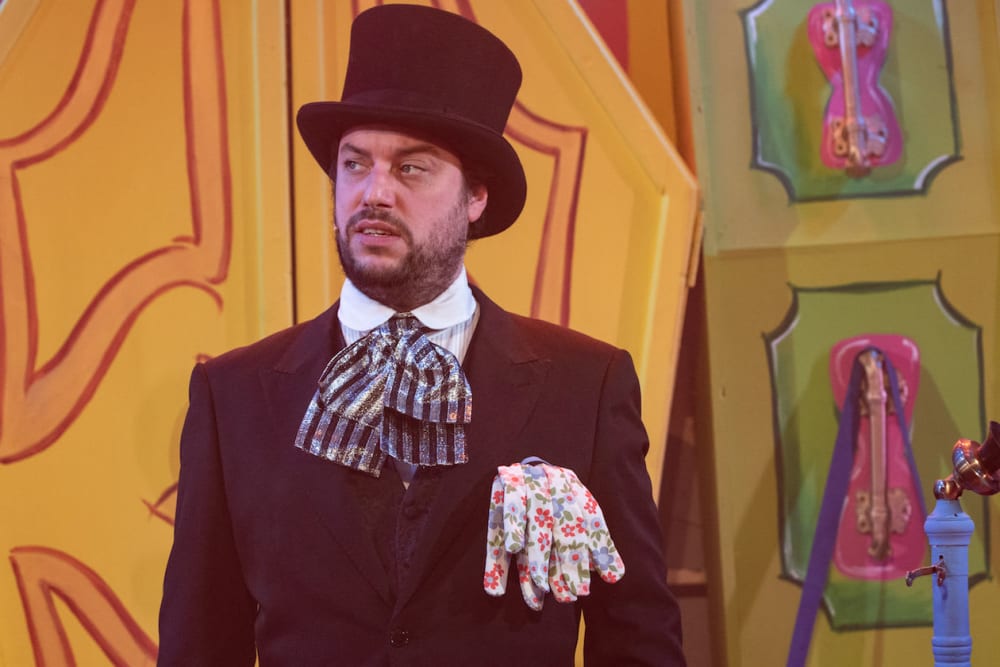 Being back again in a theatre sharing a live show with a room full of people (well half-full, following government guidelines) feels good and this friendly, light-hearted romp makes this a real celebration.
Written by the pair that have regularly scripted ATS's pantos and with a cast that includes a couple of newcomers as well as some old hands from past audience-pleasing successes, this is not quite the traditional tale. As you'd expect at this venue, this panto is gay in both senses.
This young Richard Whittington is a lad come up from Gloucestershire as much for its gay scene as for making a fortune and it's the Fitzwarrens' son Alex, not a daughter, whom he meets up with leading to a job in their family funeral business. Yes, they are undertakers, but after Dick has been framed as thief by the wicked Queen Rat, the plot still gets everyone off to a tropical island to the tourist resort run by outrageous uncle Cecil, who has a key role in the story.
Alex (Tom Mann, already in a pearly waistcoat), who replaces traditional Alice, is given the job of being the Spirit of London, but it's his mum Sarah (Matthew Baldwin, one of this venue's favourite Dames) who is more effective in facing up to the evil Queen Rat of Briony Rawle and her (glove-puppet) rat hordes. Sarah has her eye on a man in the front row and a rapport with the audience that gives her licence to make fun of them, especially the grey-hairs.
While Sarah may put the fun into funerals, husband Cyril tries to be solemn and dignified but Christopher Lane, who plays him, has a ball as his outrageous brother and a delightfully contrived confrontation in which he plays both of them is a high spot.
Anthony Rickman gives his Dick a charming innocence, despite the importance he puts on dick with a small 'd', and has clever control of his canine companion. This Whittington lacks a cat: instead there is Ariana, known as the People's Pug, with an online reputation and thousands of followers.
COVID compliance has the audience being asked to whisper ever more softly instead of the usual shouting and (though there's a bit of "Behind You!") Alex puts a new twist on getting an audience greeting and there is a clap routine instead of a song-sheet singalong.
This is a panto without a princess or an underwater ballet with a chorus of tots from a local dance school. This is on a scale that matches the intimacy of the venue but it is stylishly designed by David Shields with a succession of fresh frocks for Sarah and is full of laughter at both awful bad jokes and awfully good ones. Director Andrew Beckett keeps it simple and straightforward giving it a welcome directness and it moves swiftly and smoothly.
Though the audience are addressed as boys and girls, this is not one for the kiddies, it's decidedly "Adult", but it's a family show in a very real sense in the way that it brings the audience together in a sense of belonging. It wears its heart on its sleeve and captures the true spirit of panto with its traditional edge of misrule while upholding good triumphing over evil. Above the Stag Theatre promises a treat and it delivers.
Reviewer: Howard Loxton