Dick Whittington and His Cat
Susie McKenna
Hackney Empire
–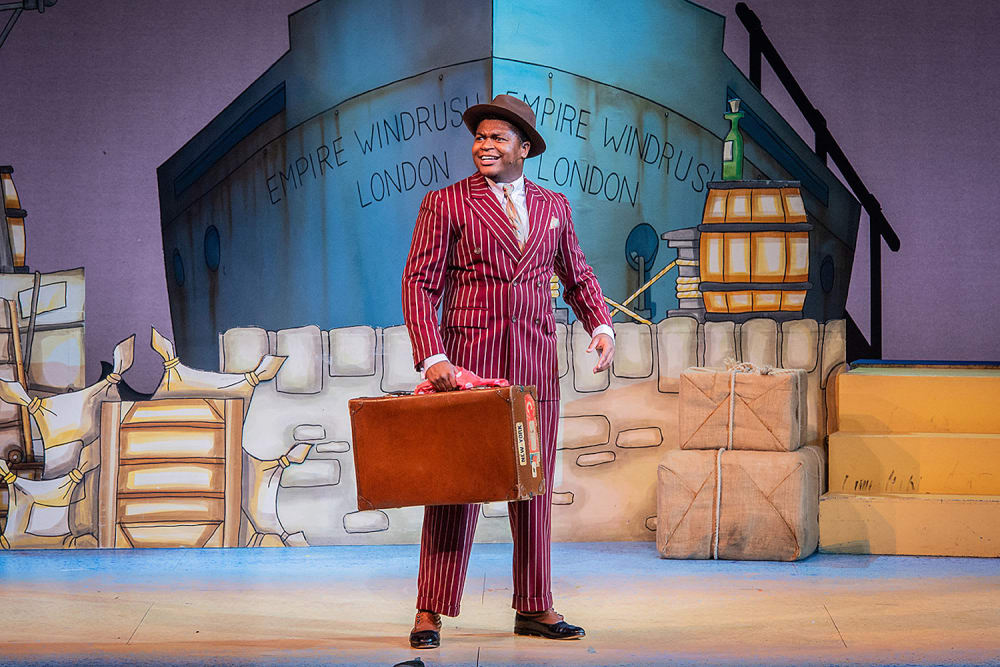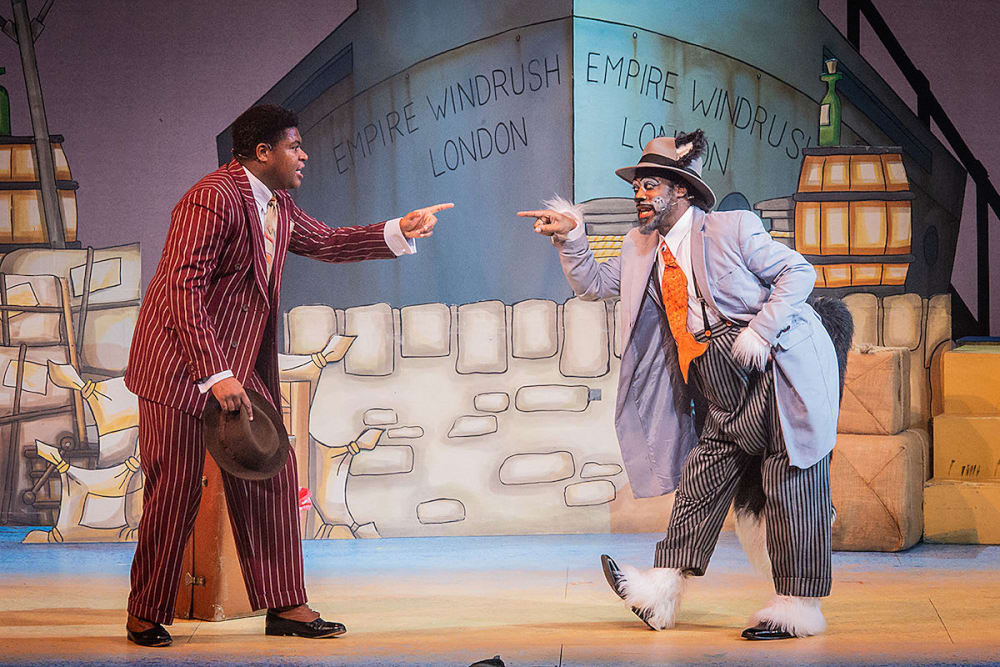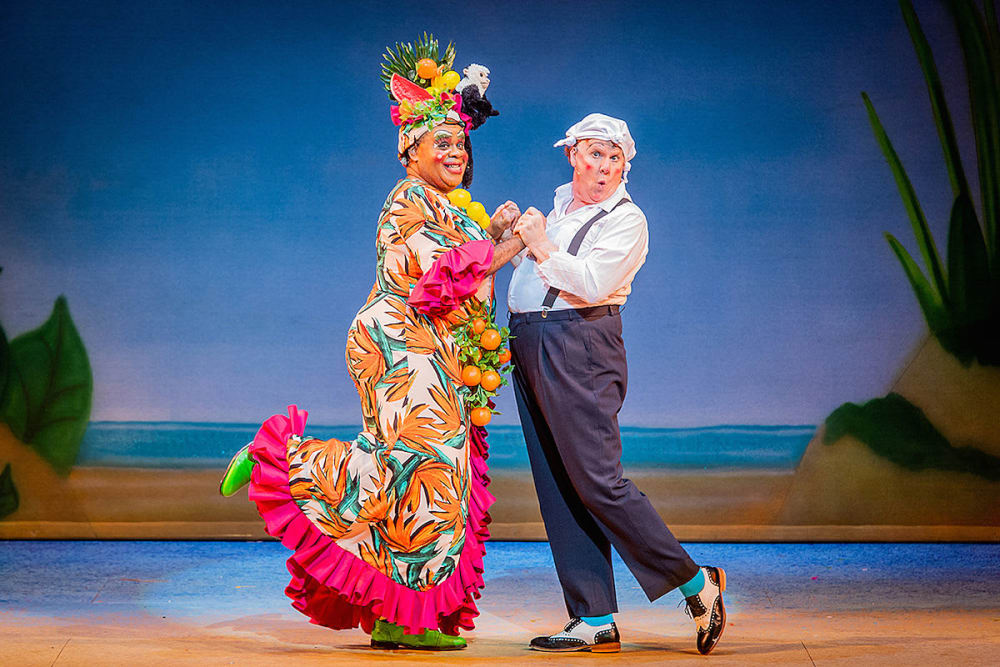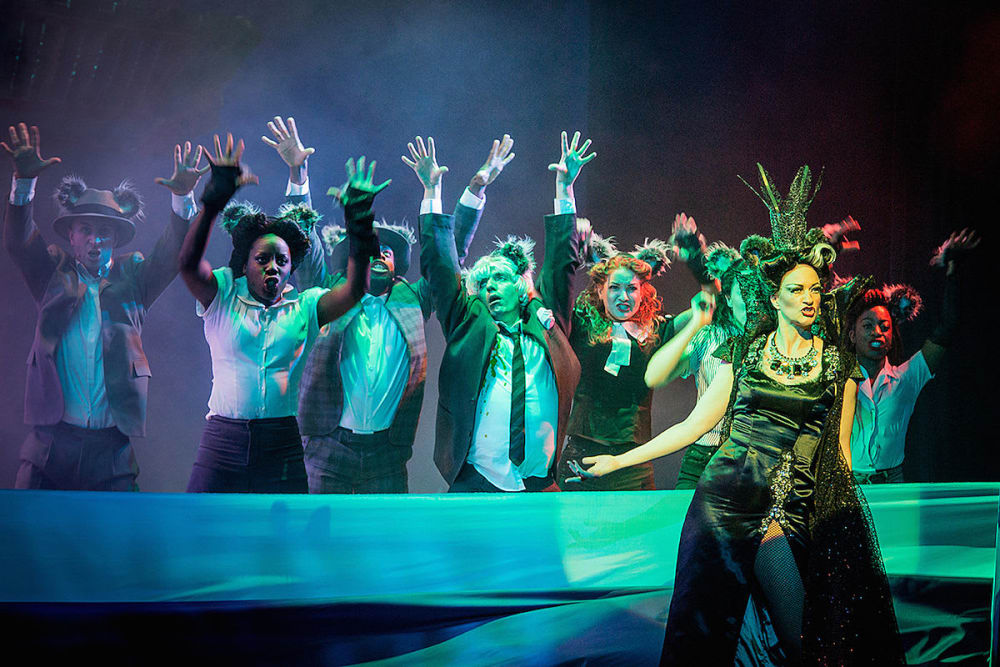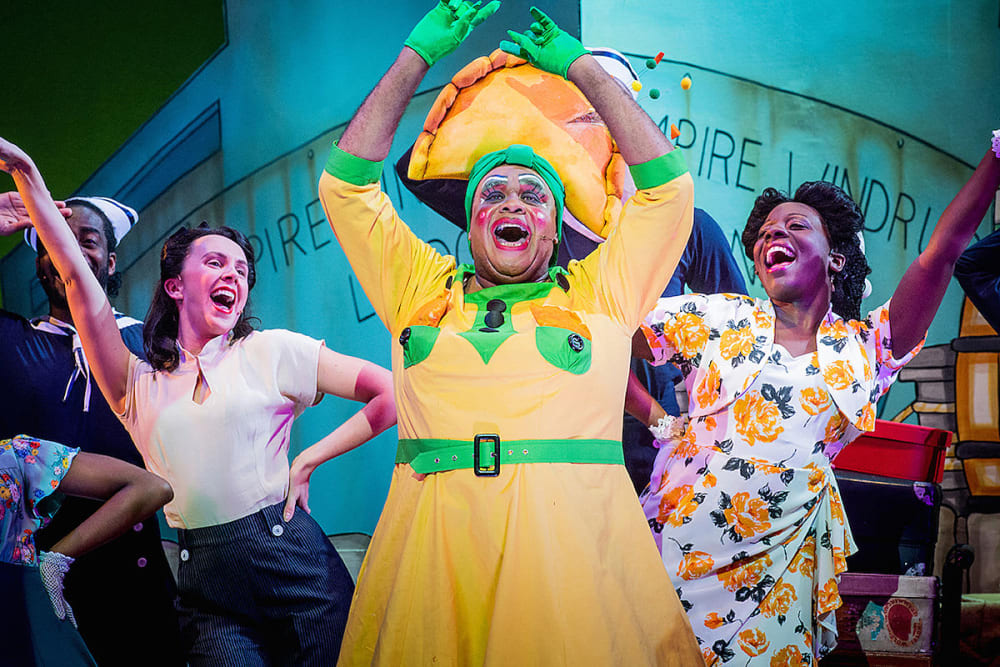 Writer and director Susie McKenna took her inspiration for this year's Hackney panto (her 21st) not from the fourteenth century Lord Mayor of history but from the achievement of Jamaican-born Sam Beaver King. One of the 802 from the Caribbean who crossed the Atlantic on the Empire Windrush in 1948, in 1983 he became Mayor of Southwark. So, after a brief introduction from Sue Kelvin's bubbly Fairy Sophia Bowbells, the story starts with Tarrin Callender as Dick at the prow of the Windrush singing "I Dream an Impossible Dream" with the ship's cat beside him.
He's got a great voice and an infectious warmth that makes him a great new addition to the Hackney panto family and once ashore, when a little fairy magic makes the Windrush kitten a grown-up cat, he is joined by regular family member the inimitable Kat B (16 pantos here) as Uncle Vincent.
Alderman Fitzwarren is another old Hackney hand, Tony Whittle, and as Dick's mother, the cook Sarah, Clive Rowe is back for the 13th time bringing his big voice, deft delivery and a personality that strains the seams of his multiple costumes, especially a silvery number that appears in an undersea episode, even outdoing Jemma Geanaus's charming Maia the Mermaid.
These are performers who have panto in their DNA and they are joined by lively newcomers in Annette McLaughlin making Queen Rat a dangerous, long-legged diva and Christina Tedders as Alice Fitzwarren whom Dick falls for.
Here is a scenic reminder that the Second World War was not long over, a reference to rationing and a reminder that black faces were not always welcome. Alice warns Dick that people may look askance at their budding relationship but the plot doesn't dig deeply into past prejudice, sticking to the traditional tale with the later part somewhat simplified.
This Dick Whittington and his Cat moves quickly, looks good, is strongly sung with a great band and with Rowe's flirty dame full of innuendo and anachronistically topical gags that embrace Boris and Donald it is great fun. Choreographer Richard Rowe keeps everyone on their toes, especially the rats, including one truly tiny little fellow whom wicked Rat Queen turns into a great gorilla.
It's not perfect. The cream-pie slapstick didn't make me laugh (perhaps I've just seen it too many times) and Queen Rat's vomiting is a little misjudged but there is a warmth to Susie McKenna's work that carries you with it and this Dick Whittington keeps up the Hackney tradition that she and her team have created.
Reviewer: Howard Loxton