Dick Whittington and His Cat
Susie McKenna
Hackney Empire
–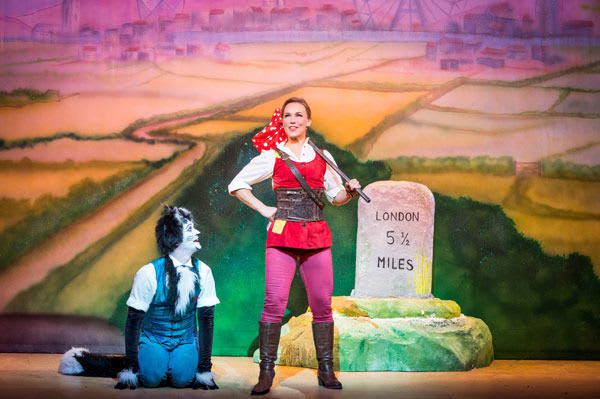 This Susie McKenna's fifteenth pantomime at Hackney Empire so you can take it she knows what works with her audiences. The team she heads as writer and director has Steve Edis in charge of the music, as he has been all those years, and musical director Mark Dickman and designer Lotte Collett have been past collaborators too.
There is a new Dame with Steve Elias bringing great personality and a good voice to Sarah the Cook (he's also the show's choreographer) and a new thigh-slapping principal boy in Joanna Riding's Dick, tunefully paired with Alexia Khadime's lively Alice but Hackney favourite Kat B is back, this time as the baddie, beautifully boo-able King Rat.
Other returning old Hackney hands are Tony Whittle's Alderman Fitzwarren, Darren Hart as nano-napping Idle Jack (relying on the audience to keep him awake), Stephen Emery making a very acrobatic puss as Tommy the Cat, all meow and mime, Sharon D Clarke voicing the Queen of the Fairies and Rina Fantania very much in the flesh (instead of just a voice as previously) making a bouncy trainee fairy Bowbells. Bradley Cumberbatch who began aged 15 on the Empire's ADP programme, is Bobo, the Rat King's son, and there's a great team of dancers amplified by members of co-choreographer Sam Francis's X7 Heaven Academy.
The whole company goes at it with gusto, delivering enormous energy, especially the break-dancing rats. The emphasis is on creating a strong bond with the audience which goes way beyond shouting "He's behind you" or joining in the song sheet number, which comes with lots of lively gestures. Every character's entrance seems to demand an audience response and there is an additional monkey dance to join in as well. If audience participation is not your thing then this is not your panto for it dominates.
Telling the story takes second place and becomes a very simple outline of the plot, but that is the way the panto tradition has developed, but it comes complete with cream pie slapstick, lots of songs and a succession of scenes that whisk you from the streets of London, Highgate Hill and Alderman Fitzwarren's shop down into the sewers, under the sea and off to a tropical island where King Kong (Leon Sweeney) is the huge ape ruler.
Visually it impressed me less than some earlier Hackney pantos and it seemed a little light on jokes but the Empire has set itself a high standard and if I was just a tad disappointed this year the audience with which I saw it, made up largely of primary school parties, absolutely loved it.
Reviewer: Howard Loxton