Dick Whittington
Kevin James and Scott Ramsey
Scott Ramsey for Harlow Playhouse & The Fitzwarren Partnership
Harlow Playhouse
–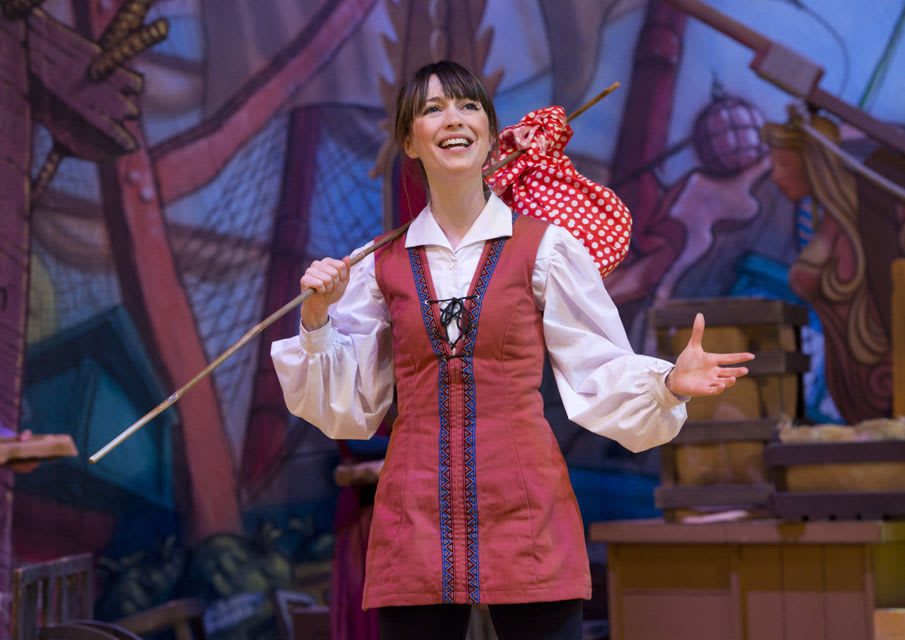 A true British legend, Dick Whittington is the sixth most produced pantomime this season. With productions ranging from Dick McWhittington in Glasgow to Ipswich's rock 'n' roll version, the Harlow Playhouse has come up with its very own take on the tale with some welcome alterations to the usual plot.
In Kevin James and Scott Ramsay's script, Sarah the Cook and Idle Jack are replaced with Captain Barnacle Babs and Bosun Willie Wontie of the Saucy Sal who frequently set sail for Fitzwarren to fetch supplies for his stores. This provides the piece with great narrative clarity and a real purpose for the voyage, which is often glossed over.
Kevin James's friendly Willie is a big hit with the kids as he wobbles on ladders and dives overboard to scrub barnacles from the Saucy Sal's bottom. Juxtaposed against the Noddy Holderesque voiced Babs, played by director Nicholas Collett, the Dame / Comic partnership works perfectly, especially as the Captain role for the Dame permits her to comically bark orders at others, which Collett does with great matriarchal merriment.
Although the comics drive the show, it is the Immortals who frame the narrative by way of a good versus evil battle. In casting Paul Leno as Queen Rat, the production embraces a second type of Dame which adds yet another performative layer to proceedings.
A fallen Fairy intent on ruining London with Wonga-style loans, Queen Rat embodies greed and the sisterly relationship between the Fairy of the Bells and Queen Rat works well due to their sibling rivalry and Leno and Jen Pringle's contrasting characterisation.
Whilst Leno's Queen Rat gives the Wicked Witch of the West a run for her money in the mean stakes, Pringle's bubbly Fairy embodies all that is good, which makes Queen Rat's final payoff even more effective as she recants villainy and takes up a new position in Fairyland.
In the role of Dick Whittington, Rebecca Keatley creates a character in whom the audience want to invest as he journeys from Wales to London to make his fame and fortune, meeting many a merry Londoner along the way including his future wife, who has just graduated from boarding school. Danielle Black's strong-minded Alice demonstrates that Principal Girls don't have to be passive in 21st century pantomime as the character stows aboard the ship in order to join the adventure she so longs for and in doing so is re-united with her lover.
With Fitzwarren no longer required aboard the Saucy Sal due to Barnacle Babs's captaincy, actor James Parkes transforms from his groovy wheeler-dealer Fitzwarren in act one to camp Rio De Janeiro TV host Dom Pedro, who greets the shipwrecked crew upon arrival in act two and invites them to participate in Rio's very own talent contest after the original contestants get kidnapped by monkeys.
This allows for a small variety segment to the show, which, although a little long, permits the audience to marvel at the sudden appearance of a motorbike, laugh at comedy magic and revel in the skill of Yana Rodionova's contortionist cat as she spins a never-ending stream of Hula Hoops having previously wowed audience members with her aerial skills amongst the Saucy Sal's sails.
The production is filled to the brim with inventive takes on the classic tale, including an underwater Ghost Gag complete with impressive sea monster and assistants for both the Fairy of the Bells and Queen Rat, which take the Principal Cast quota to eleven. The luxury of so many characters brings great richness to the production, which, coupled with slick direction and an electric Copacabana inspired finale, makes this Dick Whittington a pantomime adventure full of fun.
Reviewer: Simon Sladen