Dick Whittington
Paul Hendy
Kings Theatre Trust
Kings Theatre, Portsmouth
–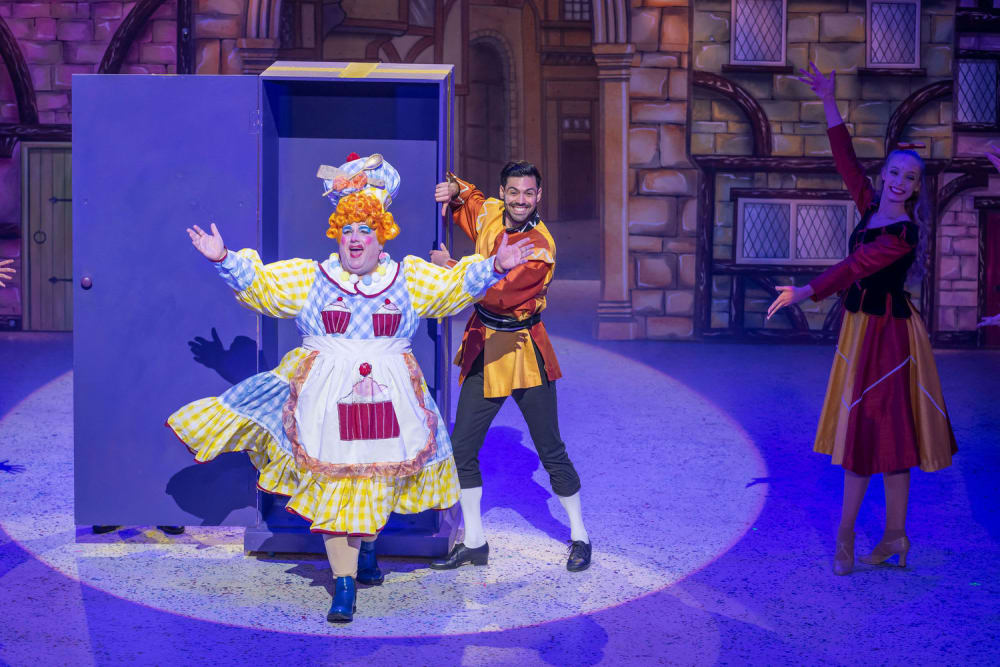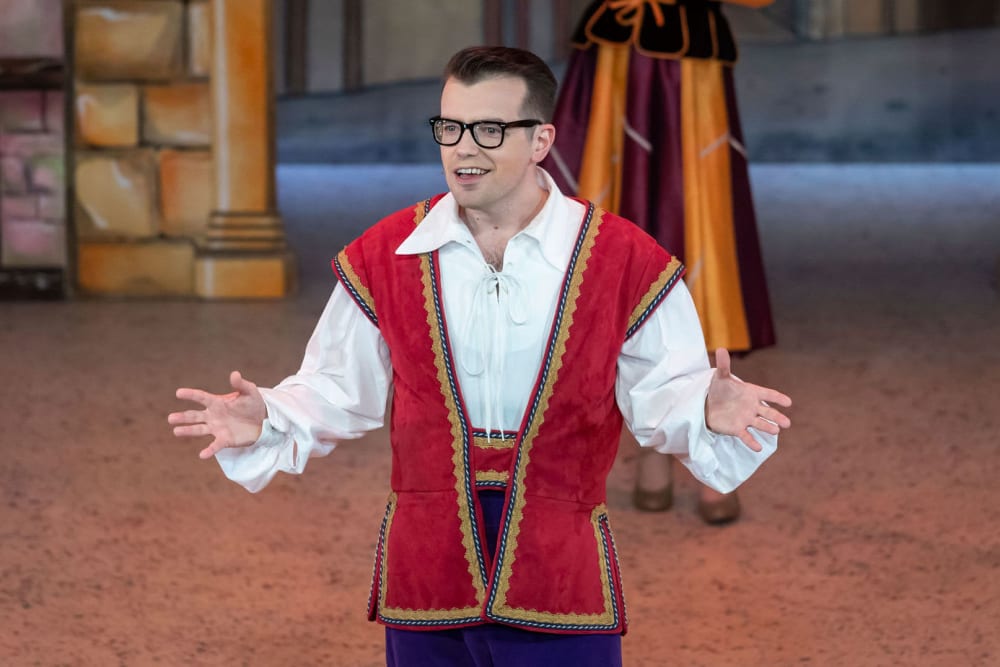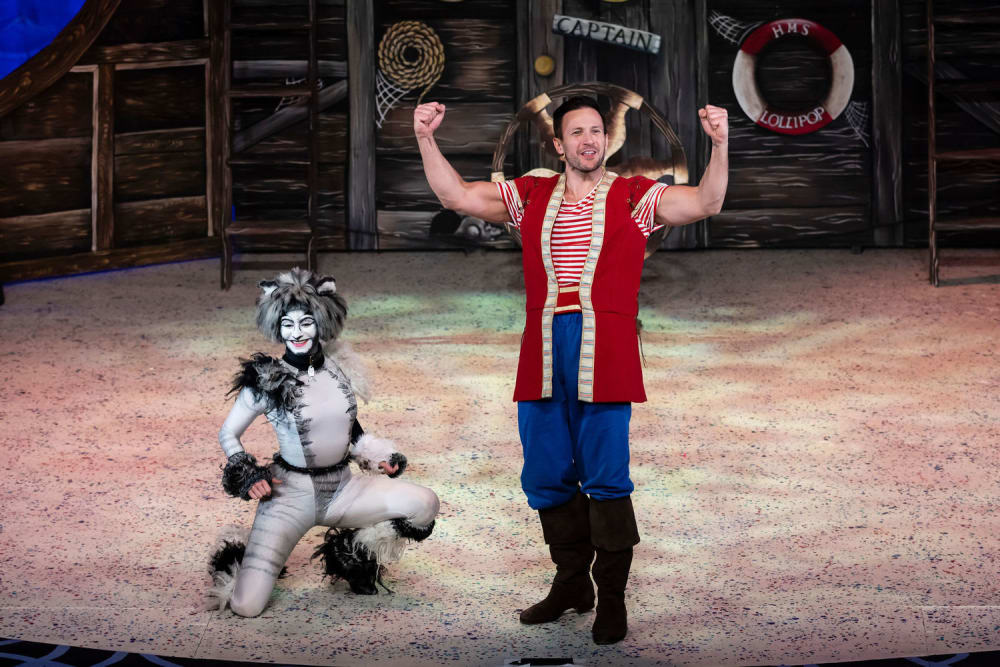 Like many of the pantomimes on offer in the UK this Christmas, Portsmouth's Kings Theatre had to move its production of Dick Whittington online after this area of the country was moved from tier 2 to 4 fairly rapidly.
It is testament to the creativity and flexible response of theatres up and down the country that this production could move to a high quality screened version of the live event, available for seven days for those purchasing online passes. What a wonderful way to keep the family and particularly the youngsters entertained at home as well as supporting a great local venue. This is a high quality pantomime which deserves to have an audience larger than those that got to see it live.
Any performance which opens with a Hamilton dedication fills you with a warm glow inside that this panto is going to work for all of its socially distanced audience members, no matter what age, or musical knowledge. Indeed, the panto trick of covering well known songs works well throughout this production, with a version of Martha and the Vandellas' "Dancing in the Street" transposed to include local areas and streets—who would have expected "Hayling Island" to appear in place of "New Orleans"?
This has all the ingredients for a great panto night out; lots of audience participation, a range of jokes from the terrible to the topical (I particularly enjoyed the "Not Dominic Cummings" moment!) and great energy from the supporting cast, right through to the lead characters. Watching online, one can still experience the fun and energy of the production, though perhaps not joining in with pointing at live members of the audience or shouting back at the characters on stage as much as we would if we were there in person.
Jack Edwards as Dolly, the pantomime dame, steals many of the scenes. A highlight is his version of "Sit Down, You're Rockin' the Boat" from Guys and Dolls as the opener to act 2 which is performed with terrific commitment and is very convincing. There are some excellent moments and the jokes seem to go from terrible to laugh-out-loud as the show progresses. The highlight for me is the 'accidental' knocking of the theatre light, bringing technical help from Darren, whose cameo brought rapturous applause from the Pompey audience.
Edwards develops a brilliant relationship with the loveable Silly Billy played with a cheeky swagger by James Percy. Their rendition of "The 12 days of Christmas" takes toilet roll chucking to another level and it is clear to see even on screen that this was a moment that was enjoyed by every socially distanced audience member, even if they did end up with a soaking (from two metres, of course!)
Imogen Bailey as Alice and X-Factor finalist Sean Smith as Dick work well together as the hero and heroine of this story, a highlight being their mash-up duet of "Edge of Glory" and "It Must Be Love". Who would have thought that Lady Gaga and Madness would combine so brilliantly? Bailey and Smith create likable performances and both show a strong singing range making their songs positive contributions to the piece rather than unwelcome distractions from the story. They are joined on the 'good' side by Peter McCrohon as Alderman Fitzwarren who delivers lines with great timing, Marlene Little Hill as a rhyme-speaking fairy narrator and Billie-Leigh Roberts as the sleek-moving Eileen the cat. There are no weak links in the performance, from the ensemble to those leading the company in bringing joy to Portsmouth.
Of course, for every 'good' character there has to be the 'evil' counterbalance and, in this performance,Julia Worsley seems to revel in the role of Queen Rat. Worsley manages to create a particularly dark interpretation, turning "Don't Rain On My Parade" into an embittered anthem against those who are in her way.
My only grumble is the finale at the end of act one which is even more Misérables, than Les Mis itself. "One Day More" becomes a 'set sail' song complete with flag waiving and marching on the spot. Whilst this works as a great way of including the company, it is perhaps a step too far in terms of turning this panto into a tribute act. Okay, grumble over…
However, this does not detract from a very strong performance with an excellent script full of lighthearted fun and jokes. How brilliant that we are able to still see this quality pantomime in all its vibrant colours and with terrific sound recording to boot. This online version is just as enjoyable as seeing the performance in person and I would certainly have no hesitation in recommending this panto online or (fingers crossed) in person during half term from Wednesday 10 to Sunday 21 February.
Tickets are also on sale already for the Kings' 2021 panto, Jack and the Beanstalk, and if this year's offering is anything to go by, you will not be disappointed.
Reviewer: John Johnson