Dick Whittington (and his Meerkat)
Berwick Kaler
York Theatre Royal
National Railway Museum, York
–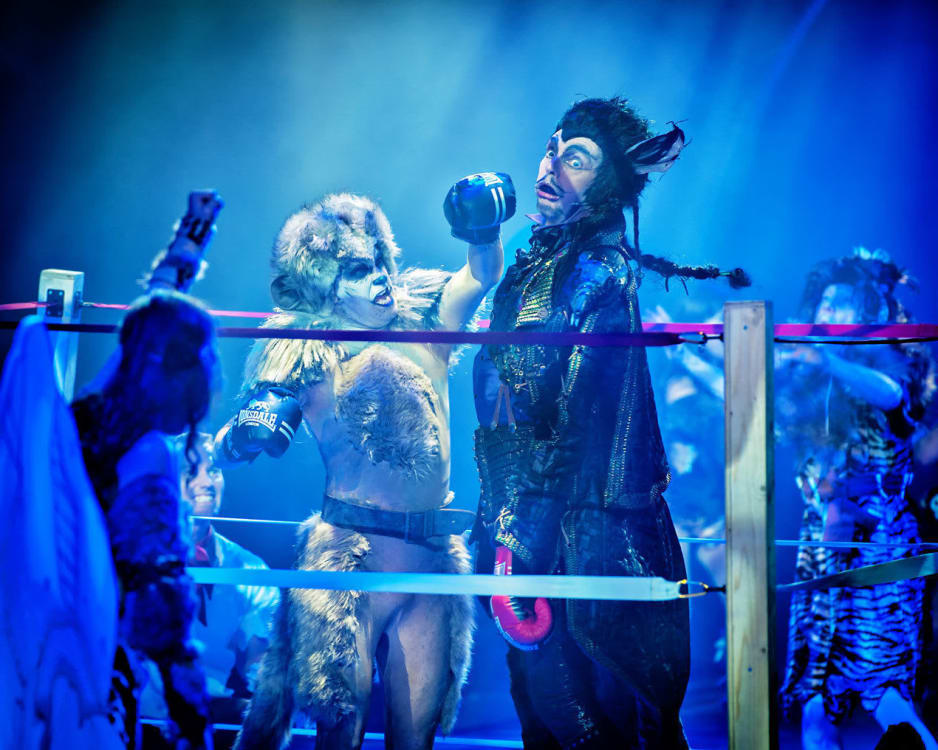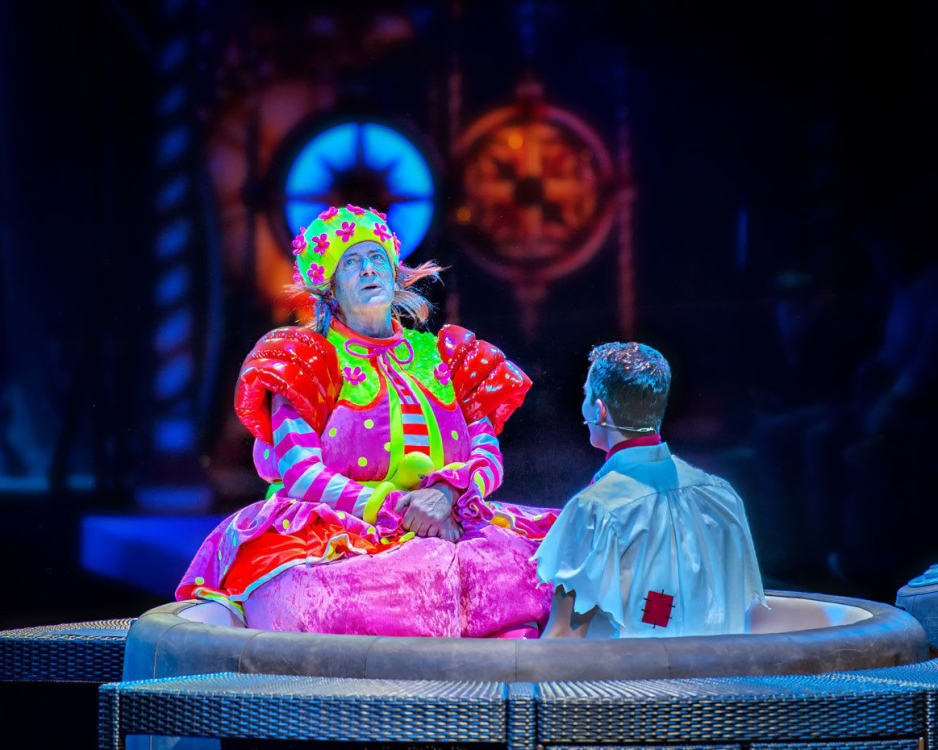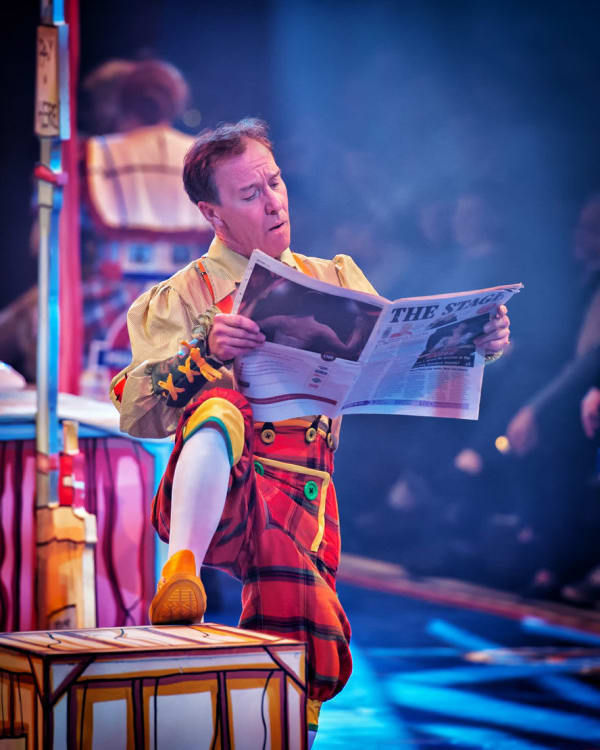 Due to the long-running renovation and archaeological work at the York Theatre Royal, this year's pantomime has been moved to another local institution, the National Railway Museum. This gives us a rare opportunity to witness the familiar and well-loved stars in close proximity, and in a traverse setting unusual for a panto.
The whole cast takes the bull by the horns, with the opening ensemble number directly referencing the way the ground beneath their feet is shifting as they perform, as hard-working stage crew shunt weighty platforms back and forth along the line of track dividing the two halves of the audience.
Berwick Kaler is fast approaching his 70th birthday (and well into his third decade of pantomime appearances), but this dame nonetheless covers a lot of ground with an ease that belies the difficulties of performing in such a cavernous, wide space. His long-standing sidekick Martin Barrass is similarly nippy, and the cast as a whole seems comfortably at home in the temporary venue.
The script, also by Kaler, is the traditional York mixture of Goon Show-esque oddities and wide-ranging, oddly topical jokes (a reference to Jeremy Corbin will doubtless go over the heads of the younger members of the audience). Paying homage to everything from The Force Awakens to Henry V, and from Cats the musical to ancient Abbott and Costello routines, the jokes bubble along with a generally joyous sense of (not especially Christmassy) merriment.
The cast is likewise on great form, and it's more evident than ever how in sync they are with each other. All credit to the abovementioned regulars, as well as to Suzy Cooper, David Leonard and A J Powell, all of whom flow effortless around each other. Damian Cruden directs in collaboration with Kaler, and it seems evident that his multiple experiences of working in this traverse configuration have led to a smooth and unfussy awareness of how to ensure great viewing angles and dynamic staging throughout.
The story (such as it is) is typically batty, and clings only tenuously to the Dick Whittington tale—not that this is a problem when cast and audience alike are having such fun. There are digs at Barrass's thespian aspirations and in-jokes about Suzy Cooper's supposedly dwindling status as an object of desire (though as ever she has timing and wit enough to fuel an army of lesser leading ladies).
David Leonard gets to make a fantastic entrance as Herman Vermin, king of the rats, and he is reliably brilliant as the panto villain par excellence, Tim Curry-ing it up in high boots and an almost vampiric hairpiece.
The band, led by Elliot Styche, again puts in a fine turn, and Grace Harrington's choreography showcases a flexible range of styles and an energetic set of performances by the dancing troupe. The production even manages to work in the traditional projected film and ultraviolet light sequences—no mean feat in the enormous 1000-seat marquee auditorium.
There are odd lulls, where it feels like the story is waiting for some backstage business to be complete before it can power on to the next set piece, but overall the evening, while long, certainly doesn't drag. Some of the musical numbers are lacking in real toe-tapping soul (unfortunately including a somewhat un-funky version of "Uptown Funk" which falls a little flat). I was also slightly uncomfortable at some of the odd and unnecessary racial caricatures which start to emerge in the second half.
But the main note here is one of positivity and celebration—a production which makes this unquestionably massive undertaking, in an unfamiliar but great space, seem never less than boundless, gleeful fun.
Reviewer: Mark Smith