Dick Whittington
Eric Potts
First Family Entertainment
New Victoria Theatre, Woking
–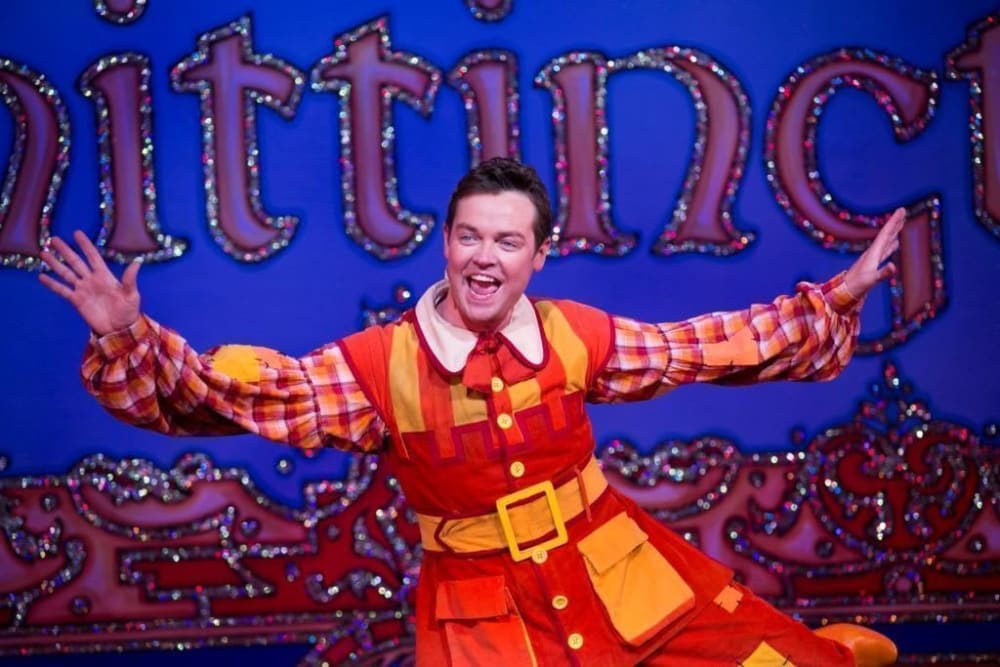 Pantomime has always embraced the present as well as the past as it seeks to remain contemporary yet classic. Since winning Britain's Got Talent earlier this year, Ashleigh and Pudsey the dancing dog have become overnight sensations and a much sought after act in the eyes of pantomime producers. This year they find themselves at the New Victoria Theatre, Woking with First Family Entertainment in Dick Whtitington.
Woking's production of Dick Whittington started life at the Bristol Hippodrome in 2010 with Barbara Windsor and has since also been seen at the New Wimbledon Theatre with Dame Edna Everage. Without a celebrity in the role of Fairy this year, Woking's production is perfectly framed by a bubbly Bowbells in the form of Kimberley Ensor, who seeks to guide Dick Whittington to fame and fortune upon his arrival in London.
This season sees celebrated drag performer Dave Lynn out of frocks as the piece's villain King Rat, having played Wicked Queen, Wicked Stepmother and Ugly Sister in panto before. His husky voice makes him a mean immortal, but it is shame he's not giving his Queen Rat instead. As Wimbledon proved last year with Dame Edna as the Saviour of London, you can never have enough cross-dressing on stage in panto.
Eric Potts plays Sarah the Cook for the third year running and delights the audience with Sarah's cheeky dumplings and asides. Even though Potts's Sarah celebrates a hat-trick of consecutive panto seasons this year, the production feels as fresh as it did on opening night in Bristol, with original cast members Potts, Anthony Houghton (Fitzwarren/Sultan) and Ben Goffe (Captain Titchworth) still obviously enjoying the material and characters they have grown to love.
Having played Buttons last year in Canterbury, Stephen Mulhern takes on the role of Idle Jack and is, yet again, a firm favourite with the audience. One of the most skilled Comics in Pantoland, he has a passion for performing and it shows. Mulhern is completely at ease on stage, whether bantering with the audience, performing a magic trick or merely playing the fool.
The title Dick Whittington is well known for its magnificent moggy, but in this production poor Tommy, played by Kayleigh Wilson, is completely overshadowed by the star of the show: Pudsey. He receives the largest cheer on entering the stage and more jaws drop at his canine capers and doggy dancing than during the impressive 3D underwater sequence courtesy of Accolade Productions.
As Alice Fitzwarren, Ashleigh Butler proves she has a good singing voice, but it is obvious this is her first professional acting engagement and her elbows appear constantly glued to her torso. However, as a double act, the pair steal hearts and where else other than in Pantoland would you find the absurdities of a cat taking a dog for a walk?
In the title role, Michael Pickering is the perfect Principal Boy with an impressive voice that belts out 'Rule The World' to bring the first act to a stunning close. Dick Whittington's transformation sequence is a fantastical dream of song, dance and spectacle with Terry Parson's glitter-encrusted set slowly peeling away as it builds to a stunning crescendo to reveal Dick Whittington's ultimate destiny.
Song choices mix the popular with panto-staples, but it is a shame that the sound levels are so high during Act Two's opening number that none of the cast can be heard singing their individual lines. In fact, with a band of five, it is somewhat unacceptable that click tracks are so heavily and frequently relied upon, reducing the notion of 'live' theatre immensely when coupled with the 3D sequence.
A pantomime with shades of cinema, circus, magic, music hall and musical about it, Dick Whittington captures the very essence of the genre; a mixed bag of magical moments with something for everyone.
Reviewer: Simon Sladen