Dick Whittington
Ray Spencer and Graeme Thompson
The Customs House, South Shields
–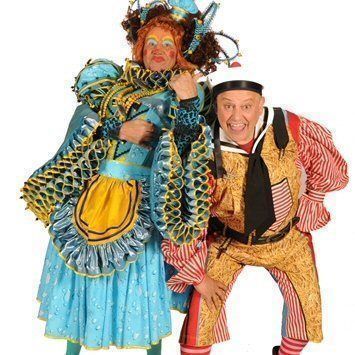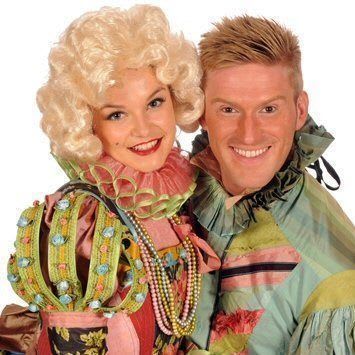 They call it "the little panto with the big heart" and there can be few professional pantos in the country which are so firmly rooted in their local communities. There is always a feeling at the Customs House panto that this is a family occasion, not just in the sense of it being a family show – which it obviously is – but because (to use an expression with which we have become depressingly familiar) we're all in this together.
But that's in the best possible way, of course!
For a start, we know so many of the performers: Ray Spencer (Tommy) and Bob Stott (Dame Dotty) have appeared in every panto at the venue and an awful lot more besides in a partnership that goes back more than thirty years; Peter Darrant (King Rat) has played the villain (if my maths are right) seven times; Graham Overton (Alderman Fitzwarren and the King of Sweden) makes his eighth appearance; Steven Lee Hamilton (Dick) plays his fourth Principal Boy and Alice Stokoe (Alice) her third Principal Girl.
And it's not just the cast: Dave Bintley has been Musical Director for as long as I can remember and Paul Shriek again designs both set and costumes. His arrival as Designer three years ago signalled a quantum leap forward in the show's design: this year I particularly liked his costumes for King Rat and Alice Fitzwarren.
And that continuity is a really good thing, because we already have a relationship with the cast. Jokes don't have to be laboured (unless that's the point of the joke!): Stott, for example, only has to turn his head, look at the audience and smile and the laughter starts, and when Spencer, at the end of a song and dance routine, gasped "There's never a defibrillator around when you need one", we all fell about, whilst wincing in sympathy.
And as for audience participation, the Customs House's variations on "Oh yes it is!" are multitudinous. And it's not just the kids; the adults (and especially the men at last night's performance) are hugely enthusiastic.
Local references abound - in the set as well as the dialogue: Tyne Dock seems to have migrated to London – and even the obligatory references to the sponsors are grist to the comedy mill, being followed by the sound of a cash register!
There's a lot of music (well chosen and well performed) but comedy is always at the heart of the Customs House panto and Dick Whittington is a non-stop laugh-fest. There's slapstick, atrocious puns (the best kind), innuendo, a slosh scene, a take-off scene, a very funny under-the-sea video scene which got lots of applause – all the expected comic ingredients.
Earlier we mentioned the King of Sweden. Sweden? Why Sweden? It's because there are two Swedish performers in this year's show: Ola Karlberg as the sea-captain Karl Gustav Von Wrangler and Mia Wallin as Dick's trusty sidekick, Mia Cat – cue more puns and TV-related jokes. Both handle the unfamiliar form with aplomb and totally enter into the spirit of panto.
Luke Middleton as Seaman Weight and Jonathan Lee Wharton as Seaman Anchor, along with members of the South Tyneside Dance Workshop, complete a hugely energetic cast.
The little panto with the big heart does it again!
Reviewer: Peter Lathan