Dick Whittington
David Vickers and Richard Chandler
The Plaza, Stockport and Extravaganza Productions
The Plaza, Stockport
–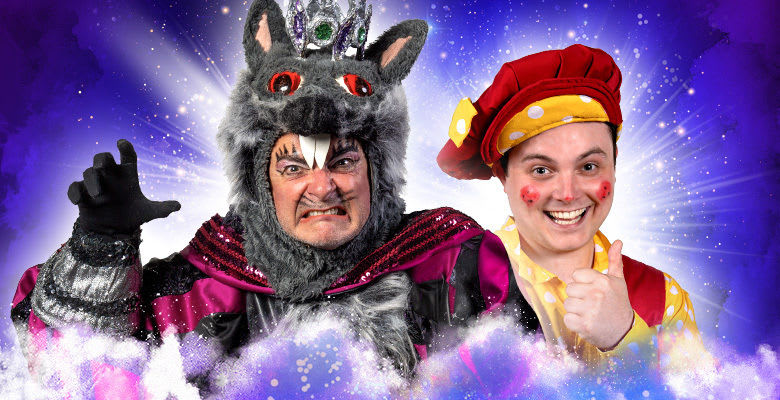 Walking into Stockport's Art Deco Plaza Theatre is like stepping back in time (other than the modern fashion for bag checks on the door) from the decor inside and out—restored from the 1932 original for the theatre's grand reopening in 2000—to the wonderful Compton organ that rises out of the orchestra pit for the audience to be greeted with a medley of Christmas tunes and songs from popular musicals.
Extravaganza's panto could also have come from a different era for the most part. Many of the roles and scenes that have become traditional exist in some form and most of the jokes could well be ones I read in The Beano's readers' pages in the 1970s (when my dad no doubt would have responded, "that's an old one," when I read them out). That doesn't mean they don't still work with kids of the age I was then—although does anyone under 60 still know what cod liver oil is?
So, after an introduction from the Fairy of the Bells—Bella Antinoro, standing in for Katie Paine at the reviewed performance, giving a perfectly solid performance—and evil King Rat—Brian Capron, clearly relishing his role—Dick Whittington (Tyler Sargent) arrives in London to make his fortune. He meets Tommy the Cat—a very athletic and expressive Maddison Kimber, also a champion gymnast—and falls instantly in love with Alice Fitzwarren (Becky Bennett), who gets him a job with her father, the Alderman (Tristan Carter).
Also working—or avoiding work more like—in the Alderman's shop are Idle Jack (Bradley Thompson) and the cook, Sarah Suet (Richard Aucott), both of whom have a call and response for the audience to remember whenever they come on. However, the Alderman has been doing deals with the very dodgy Captain (Robert Laughlin) and his Mate (in the nautical sense: Daniel Rawding), who frame Dick for stealing money from the till.
Dick is sent away and ends up shipwrecked in Morocco with most of the rest of the cast where he finally makes his fortune by helping the Sultan (Carter again) to get rid of his rat infestation, courtesy of Tommy. Here, some of them enter with the moves from Wilson, Keppel and Betty's Egyptian sand dance, a routine older than this theatre.
There are chances to shout out "oh not it isn't" and of course "he's behind you" as a rat picks them off one-by-one. There is a cookery scene, neither the characters nor the stage get covered in gunk, disappointingly. There is a song sheet number led just by Idle Jack but with no song sheet as the song is "I Like To Move It", which is easy to remember and move to if not particularly interesting to sing. Jack also got to read out a list of birthdays at the performance I saw that seemed to go on forever.
The show opens with "Who Will Buy" from Oliver! and also includes a variety of songs including "Somewhere Out There", "Boiled Beef and Carrots", "In The Navy", "Wherever We Go" and, most interestingly perhaps, a variation on Motörhead's "Ace of Spades" for King Rat, but not much that's current. The four musicians, including musical director Andrew Saunders, also supply some atmospheric underscoring, although it sounds like there's some recorded or sequenced music as well.
The design, credited only to the production company, is colourful, glittery and at times spectacular, creating lots of locations with varied costumes to match, especially the impressive creations for the dame.
Thompson's Jack has a big personality and controls the stage whenever he is on, appearing to genuinely connect with and respond to the audience in a way that Aucott's dame rarely does. Capron is a great baddy, while Laughlin's Captain is an effective secondary bad guy. Some of the other parts are a bit underwritten, including the principal boy and girl who both do fine in roles that don't require much of them.
The signer (Andrew Higgins), however, deserves a mention as he was not just translating but acting every role in his corner of the stage, as well as dancing along with the song sheet number and communicating directly to members of the audience—a great panto performer in fact.
There's nothing innovative about this show and only very occasional references to the locality or anything topical—although I did like the line about the cheese and wine at Number 10—and they could have got a lot more out of some of the traditional routines, but if you want to see the expected elements of panto, they're all present and correct.
The theatre seems to be catching up after missing out last year, so if you can't wait until next year's Cinderella, the same production team are bringing Mother Goose to the Plaza in April—both are now on sale.
Reviewer: David Chadderton