Dick Whittington, The Puuurfect Rock 'n' Roll Panto
Christian Patterson
Theatr Clwyd
Anthony Hopkins Theatre, Theatr Clwyd, Mold
–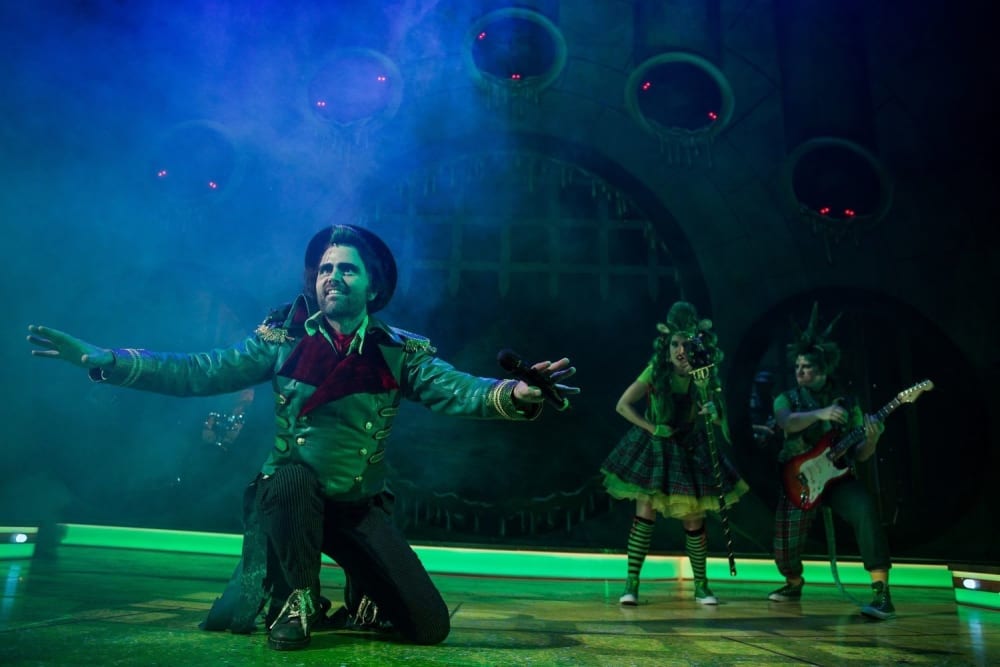 Seasonal high-jinks and jolly-japery return to Theatr Clwyd with a lavish production of Dick Whittington and just a little bit of Christmas magic from the assistant director.
The script is the first written by Theatr Clwyd favourite Christian Patterson and what an impressive debut he has made. It is warm, engaging and full of knockabout fun; lots of "ooh err" titters but always staying the right side of the line of good taste. There are also plenty of local references which will always play well, particularly any mention of Buckley Tiv for some unknown reason.
Placing a strong script on Adrian Gee's beautifully designed stage is the perfect setting for the return of another well-loved Theatr Clwyd stalwart, Phylip Harries as Sarah the Cook. With a wardrobe full of outlandish outfits and a bag full of knowing winks, double entendres and ad libs, Harries is up an at 'em to leave the audience in stitches. Bouncing off him throughout is the excellent Daniel Lloyd as Wally Fitzwarren and between them, the audience are in very safe hands.
The standards of performance of the "Rock 'n' Roll Panto" at Theatr Clwyd are traditionally high with the a versatile cast of multi-instrumentalists and this year is no exception. Lynwen Haf Roberts returs from a leading role last year to offer fine support and a blinding turn when her chance comes in the second half of the performance. Newcomer to Mold Peter Mooney brings brings his Commitments-honed power and energy to the role that is rivalled by Royce Cronin's King Rhydian the Rat, a sewer-dwelling slimeball determined to thwart Jack at every turn.
However, in the circumstances, maybe the performance of the night is delivered by someone who is not a member of the original cast. The role of Alice Fitzwarren was meant to be played by Emmy Stonelake who had unfortunately suffered injury during rehearsals and was unable to perform so assistant director Francesca Goodridge stepped in at a few days' notice. The audience were with her all the way and her performance is superb in any situation, but, when the circumstances are considered, it really is quite outstanding.
With a great collection of songs, the obligatory chases round the auditorium and a soaking from the stage, this production is set to delight through the darkest days of winter.
Reviewer: Dave Jennings