Dick Whittington
Eric Potts
First Family Entertainment
Milton Keynes Theatre, Milton Keynes
(2010)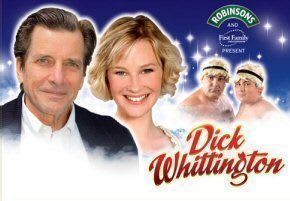 If it is a traditional Panto you wish to experience this winter, then Milton Keynes does not disappoint. Perhaps Dick Whittington was formulaic but ATG and Milton Keynes Theatre do tend to churn out what you would expect, and perhaps this isn't such a bad thing.
We have the Pretty Maiden Alice played by Gavin and Stacey's Stacey (Joanna Page), the Evil Rat causing trouble (the A-Team's Face Dirk Benedict) and the handsome hero Dick, portrayed by Joel Montague. Add in some humour, by cheeky chappy Tucker as Idle Jack and Graham Hoadley as the Panto Dame and you have what you would expect.
That is if you don't count the nice, sometimes surreal surprises waiting around the corner. The washed up Dick Whittington and chums seem to be in India, with 'Jai Ho' being belted out and an Eastern backdrop setting the scene. But no! This is the kingdom of Cyprus and here are the Cypriot Royal Family - two well built blokes who like to dance. I told you it got surreal!
For those of you who didn't experience Stavros Flatley in Britain's Got Talent in 2009, let me elaborate. A father and son combo dance-comedy act who create Irish/Cypriot dance routines together in blonde Michael Flatley style wigs. Are you following?
They bought fun and energy to the show and it is a shame we didn't see more of them - though perhaps their act can only go so far. With their joyous attitude to performance, it does seem they were made for Panto.
Perhaps the nicest surprise was the excellent Shona Lindsay, who created a lovable but ballsy Fairy Bowbells - Lindsay's excellent range in vocals was supported by a character that seemed not only to narrate but to be involved in our hero's story; her numerous face-off moments with the King Rat worked particularly well.
This Dick Whittington also had 3D film - yes, that moment where the whole audience put on ridiculous glasses and try and work out whether it's started or not! I shouldn't grumble, as this was a really nice touch and offered a cinematic experience that drew 'oohs and aahs!' from the audience as fish swam towards them. This was an added on extra that did seem to fit the plot line.
So there you have it - a formulaic Panto with some nice little surprises to make sure that all the family, from young to old, leave smiling and content that what they went for, they got in bucketfuls.
"Dick Whittington" plays until Sunday 16th January 2011
Reviewer: John Johnson