Dick Whittington
Eric Potts
First Family Entertainment
Bristol Hippodrome
(2010)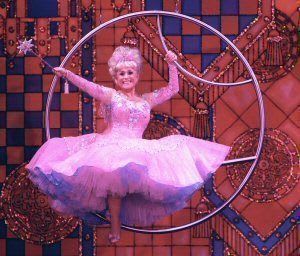 After their first Dick Whittington last year in Stoke-on-Trent, 2010 sees First Family Entertainment producing the title in two venues this season. Whilst Milton Keynes has Joanna Page and Dirk Benedict, Bristol is home to Barbara Windsor as Fairy Babs in what will be her first pantomime in 15 years and the 28th of her illustrious career in show business.
After a long monologue detailing the reasons behind Windsor's absence from the pantomime stage, the show finally commences in all its glory. However, quite a few entrances are stalled and it takes just under forty minutes until Fairy Bab's arch nemesis King Rat appears and the two commence battle.
Having played Principal Boy, Principal Girl, Fairy and even Ugly Sister before, it is obvious that Windsor fully enjoys being back on the pantomime stage and performing in front of a live audience. Windsor is a perky Fairy, with plenty of charisma and even manages to sneak onboard the Alderman's ship to help out with some drill á la Carry On, whilst her EastEnders roots are alluded to when she appears behind the bar to offer the Sultan of Morocco a pint of bitter.
Dick Whittington is a wonderful pantomime story; a tale of pure adventure encompassing a range of different locations from Cheapside, London, to the swashbuckling Seven Seas and even the exotic paradise of Morocco. Jumping on the 3D bandwagon, First Family Entertainment have created an underwater sequence for the shipwreck, complete with characters straight out of Disney's Finding Nemo. Unlike Qdos' sequences however, the cast of Dick Whittington do not interact with the 3D projection and although the animation is well rendered and exciting, the lack of interaction means that it adds little to the narrative, apart from spectacle.
Writer Eric Potts gives his first Sarah the Cook for First Family Entertainment and what a glorious bundle of fun she is. Potts' bespectacled Dame is most definitely a man in a frock and cooks up a treat with her sausage pie recipe.
With naughty sausages in abundance, standing to attention when they should be laying down, Dick Whittington goes into visual innuendo overload. However the production is surprisingly light on its 'dick' jokes, even though Potts' version seen in Stoke last year seemed to embrace them completely.
Owain Williams plays an overtly Welsh Dick dressed in a Robin Hood-esque costume. His sing-song voice quickly seduces Alice Fitzwarren, played by Carly Day, who could do with lowering her pitch a few octaves to avoid coming across as squeaky clean and annoying.
There is great comic acting from Chris Nelson as Bosun Bill, but the show's real laughs stem from Andy Ford as Idle Jack. The mere repositioning of an arm or leg, an expressive look or friendly utterance of "me lover" sends the audience into fits of laughter. Ford plays his Comic as if an innocent child, full of energy and enthusiasm, who at the same time still has a lot to learn in the world. This makes his Comic endearing and there isn't a seated audience member for his Bristolian songsheet as everyone wants to join in the fun.
The musical numbers are a good mix of contemporary and classics, although Granville Saxton as King Rat struggles with his song 'Going Underground' which seems only to have been chosen due to its semantic link to King Rat's lair. Likewise, the cast sing 'Go West' aboard the Alderman's ship, when their destination, originally China, is East and the Sultan's palace orientally undulates to 'Jai Ho', which is not Moroccan, but of Indian origin and so once again Orientalism reigns supreme.
As Windsor states in the show's triumphant conclusion, "It's all about family" and as the producer's name rightly suggests, this production of Dick Whittington really is first class family entertainment all round.
Playing until 9th January 2011
Reviewer: Simon Sladen