Dick Whittington
Jonathan Kiley
Qdos Entertainment
Hippodrome, Birmingham
(2010)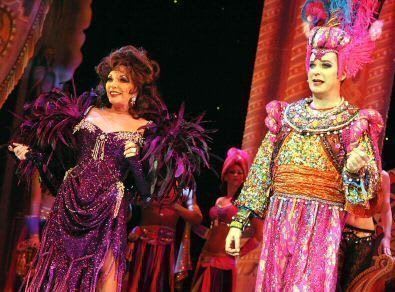 There aren't many shows that can boast Julian Clary in bed with Orville the Duck, and indeed even Clary himself can't quite believe it, proclaiming, as he does, "What have I done to deserve this?" Yes, weird and wonderful things happen in the wacky world of Pantoland .
As the Spirit of the Bells, Clary becomes what must be the first male benevolent agent in the history of pantomime and Qdos thereby demonstrate their keenness to embrace new ideas and test out new narrative configurations.
Their festive treat is full to the brim with barminess as Clary enters in a giant Thunderbird One and, at the show's conclusion, ends up duelling Queen Rat (Joan Collins), not with swords, but with handbags. But whilst Clary sparkles onstage in his outrageous outfits and saucy humour, Collins appears staid and along way off settled.
As Queen Rat's long suffering husband, Nigel Havers makes for a wonderful rotten rodent. He snarls at the audience, receives boos in abundance and isn't afraid to send himself up when proclaiming, "I don't do electric shocks!"
There are, perhaps, too many I'm A Celebrity references as Havers' career has encompassed so much more than reality TV and Corrie, but at least they do not divert too much attention away from the plot, which cannot be said for Keith Harris' involvement in the show.
No one doubts that Harris is a talented ventriloquist, but he seems only to be on stage to deliver his Orville/Cuddles ventriloquist act and contributes almost nothing to the show's narrative.
Harris even gives a rendition of 'I Wish I Could Fly' and indeed there are a number of musical numbers in the show which don't contribute or have anything to do with the plot. They are merely there to showcase the star, and although Clary's hilarious rendition of 'Wandering Star' is a hit with the audience, the plot suffers from continual pausing to allow for yet another star turn.
In the title role, Liam Tamne is everything you could want from a Principal Boy: heroic, charismatic, handsome and is set for panto stardom.
As his feline helper, Lukus Alexander is an extremely expressive Maureen the Cat and Jeffrey Holland makes a welcome return to the Hippodrome stage as motherly man-in-a-dress, Dame Felicity Fitzwarren.
These characters' names signal a change in the usual Dick Whittington narrative and, in Kiley's production, Sarah the Cook and Idle Jack are nowhere to be seen. Harris, Orville and Cuddles as the Ratcatchers and Holland as Dame Felicity fulfil these roles and even end up an item, meaning that Harris' Ratcatcher also has shades of the usual Alderman role about him.
The problem with this production is that, as celebrities vie for their own spot to deliver their own material, gaping holes are left in the narrative. For example, Alice's reason for travelling to Morocco is never explained and therefore it appears slightly odd that the Fitzwarrens and friends should be setting sail for an unknown cause.
Dick Whittington is full of high octane performances from the ensemble as they dance their many routines alongside a glittering array of stars; it is just a shame that the narrative has to suffer as a result of it.
Playing until 30 January 2011
Reviewer: Simon Sladen