Dick Whittington
Jamie Greaves
The Camberley Theatre
(2009)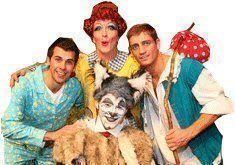 Every principal boy needs a Fairy to help him out when times get tough and a crowd-pleasing bubbly Bow-Bells, played by Linda John-Pierre, kicks off the Camberley panto full of energy and determined to protect Dick against evil King Rat's wicked plans.
Philip Olivier in the title role takes a while to warm up and, although his singing does not always hit the right note, he sets hearts aflutter, especially after the shipwreck when the audience see that it's not only his shirt that's ripped.
Live music accompanies an array of musical numbers, but the song choice caters rather to the tastes of grannies than grandkids. No songs from the current top forty make an appearance at all and in their place stands a plethora of music hall tunes and cockney-knees ups. There is also a cheese infested version of 'My heart will go on', complete with stretched out arms and fake smoke, and a Sister Act inspired ending to the First Act. These quibbles aside, the band, comprising only two musicians (Machiel Roets and Jason Wallis) are fantastic and were you not to read the programme you would believe a small orchestra existed in the pit.
King Rat sings a variety of Rat Pack numbers throughout the night, and although a witty idea, there's only so much crooning the audience can take. His costume, resembling a Rat Pack member, seemed a little simple for the dastardly demon: a smoking jacket, bowtie, cummerbund, trousers and a pair of rose-tinted circular spectacles, which, together with his make up, left him looking like a cross between Batfink and Suggs from Madness. After the interval King Rat tells the audience that he poisoned their ice creams and it seems that he may have been meddling with the microphones too; there are still a few problems here and at one point in the evening an off stage conversation was fully audible.
Mark Slowey returns to Camberley for his second outing as Dame here and hopefully this is the beginning of a wonderful tradition for the theatre. Those wanting to make it into the Damehood should study Slowey and how he remains child friendly, but every now and again manages to deliver some wonderful sauce with a knowing wink to the adults amongst the audience. There's enough Dick jokes without overstepping the mark and Slowey's patter about his dumplings is a great lesson in innuendo.
Jonathan Stewart playing Idle Jack resembles a young Chris Jarvis of Cbeebies fame and encourages the audience to shout "Bottoms Up" whenever anyone goes to sit on his chair. Stewart is a wonderful comic to Slowey's Dame and could easily carve himself a career in children's television should he so wish; he already has many fans in the audience.
Camberley boasts the smiliest of juvenile choruses and the all-male professional ensemble is superbly led by dance captain Matthew Wesley; an extremely talented and expressive performer who executes every choreographed move with precision.
Projection is used to great effect in the second half of the show when Dick explores the ocean seabed. Flying behind a gauze, Olivier interacts with the projection, cleverly choreographed and designed so that it looks as though he really is swimming with the fishes, dancing with jellyfish and battling with a scary octopus. This is technology at its finest and Camberley should be praised for using what must have been a large percentage of their budget on this very special effect.
Plenty of audience participation in Dick Whittington means that audience members feel completely involved in the show from start to finish, which is where Camberley manage to trump their larger rivals. This is a good all-round pantomime which will most definitely have pleased Camberley's loyal audience and convinced them to book up for next year's festive treat.
Playing until 3rd January 2010
Reviewer: Simon Sladen