Dick Whittington
Andrew Pollard
Greenwich Theatre
(2007)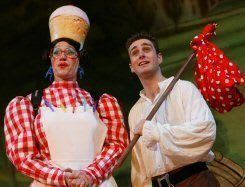 Its slightly thrust stage and lack of a proscenium puts Greenwich Theatre ahead in establishing that audience-performer contact so essential to making traditional panto work. It feels an intimate family affair (and I was sitting in the very back row because a held-up train meant I had to slip in a couple of minutes after the show had started), helped by a minimal cast of only essential characters plus four ensemble performers - three of whom are still in training, though you would never guess it. They give intimate scenes a very direct rapport while the vitality of the full cast's hoofing manages to fill the stage in chorus numbers.
The whole show moves rapidly with Ralph Oswick's settings, simply drawn like illustrations in a children's early story book, opening out on a revolve. This version makes the story local: its Dick gets only as far as Greenwich, London is still in the distance behind Canary Wharf in a cloth with a local view from Observatory Hill. Fairy Bowbells (Linda John Pierre) makes sure he stops there to meet his Alice and get taken on at what Alderman Fitzwarren, in his persistent rhyming slang, calls his cheese lollipop. The shop provides a slapstick routine with cream cheese instead of custard pies and is an obvious target for a rat invasion.
Dick is Bradley Clarkson, a finalist in ITV's Grease is the Word and he is paired with Laura Sicurello as Alice, a finalist Maria on the other channel. They make a fine pair: it is good to know that there is life after these shows even if you are not the winner. Jade Anouka is Tabby the Cat, and a fine hissing and fighting machine she proves to be, but why, given her name and a beautifully tabby painted on the front cloth, does she have an all-over brown coat with no vestige of a tabby pattern? She is up against a rather suave King Rat from Michael D'Cruze, who is found not just in London and as a pirate captain but also ruling the Island where they all end up after shipwreck, disguised as a sultan and in a very un-sewer like palace. There is a nice touch when he is vanquished: his palace turns into a one-armed bandit, with rat portraits spinning into three matching cherries and cash spilling from a slot in the wall. I wonder whether that idea came from the designer or the writer, Andrew Pollard, who also plays Dick's mother Willamena Whittington ('Oh! I am a silly Willy!) with the smooth confidence of the experienced dame he is. After seeing a string of other pantos I do wish Dames could think of more original questions to ask the children they get up on stage than 'How old are you?' and 'Which bit did you like best?'!
Director Kieron Smith seems to have correctly gauged what suits the Greenwich audience and kept most things lively, greatly helped by choreographer Ellen Jakubiel and the band under MD Steve Markick, but one scene interrupted the flow the night I saw it (not the press night). The second slapstick number, with Alderman, Dame and disguised King Rat knocking each other of a rock, went on far too long. Repetition is one of the traditional techniques of panto but it can go too far! That was a minor blip in a cosily enjoyable show which got lots of enthusiastic youngsters on their feet and dancing.
Until 5th January 2008
Reviewer: Howard Loxton