Dick Whittington
Fine Time Fontayne and Kevin Shaw
Coliseum Theatre, Oldham
–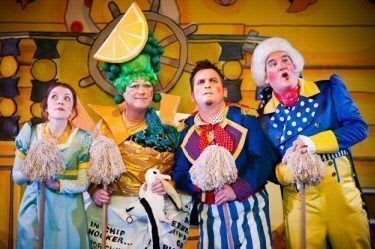 The Coliseum brings together a team familiar to regular Oldham panto audiences mixed with a few new faces in what it always refers to as "a traditional pantomime" to set it apart from the non-panto Christmas shows and vehicles for TV stars at other theatres in the region over the Christmas period.
This year's offering, for the first time co-written by regular pantomime dame Fine Time Fontayne with Coliseum artistic director Kevin Shaw, is based on Dick Whittington, the story of the young man who goes to London to seek his fortune to find that the streets are overrun with rats rather than being paved with gold but who decides to stay and make the best of it when he falls in love with Alderman Fitzwarren's daughter Alice.
The story is played out on a beautiful set designed by Celia Perkins that looks like a three-dimensional children's picture book, with little visual or word gags in every corner to keep audiences entertained if their attention wanders from the actors. The costumes are also great, with some exceptionally-elaborate off-the-wall creations for the dame that mostly seem to be based around food.
Justine Elizabeth Bailey is a very strong, feisty Dick Whittington with a powerful voice, although she doesn't really connect with the audience in the participation moments such as "it's behind you". This is certainly not an issue for Fine Time Fontayne as Sarah the cook, who is at his best when bantering with the audience or improvising around his own mistakes. Richard J Fletcher also revels in getting the audience on his side with his usual physical tumbling act as Silly Billy, and Adonis Anthony as evil but elegant King Rat, with a posture reminiscent of Russell Brand and a voice that sounds like a parody of Alan Rickman, glows with smugness at every "boo" from the audience.
The climax of the show is a superb fight sequence with swords, sticks and fists choreographed by the great Renny Krupinski that is way above the standard of stage fighting normally expected in a pantomime.
The audience has lots of fun around the usual set pieces such as "it's behind you", "oh no it isn't" and the community song, but there are a few issues. Some of these elements are not particularly imaginative even within the confines of the pantomime format, such as the messy scene—in this case the old cooking a cake routine—which consists mostly of throwing buckets of foam over one another rather than a cleverly thought-out comedy routine. Some sections of dialogue are just strings of gags fired off one after the other at high speed, and these are often greeted with silence from the audience as they go over the heads of the younger audience and are far too old and corny for the adults to laugh at them.
The main issue, as with past pantomimes at the Coliseum, is that it seems very long, and with the start time set to the usual 7:30pm we were leaving the theatre at around 10:20. I overheard one parent say, "it was very good but next time I think we'll come in an afternoon as it's a bit late for her". Nearly three hours is a long time for young children and for adults it is all a bit too familiar to sustain the interest, but at two hours it shouldn't outstay its welcome for anyone.
Having said that, that parent was talking about "next time", and many will no doubt already be booking for next year's Cinderella at the Coliseum for which tickets are already on sale.
"Dick Whiittington" runs until to 14 January 2012
Reviewer: David Chadderton