Dictating to the Estate
Nathaniel McBride
Special Measures
Maxilla Social Club
–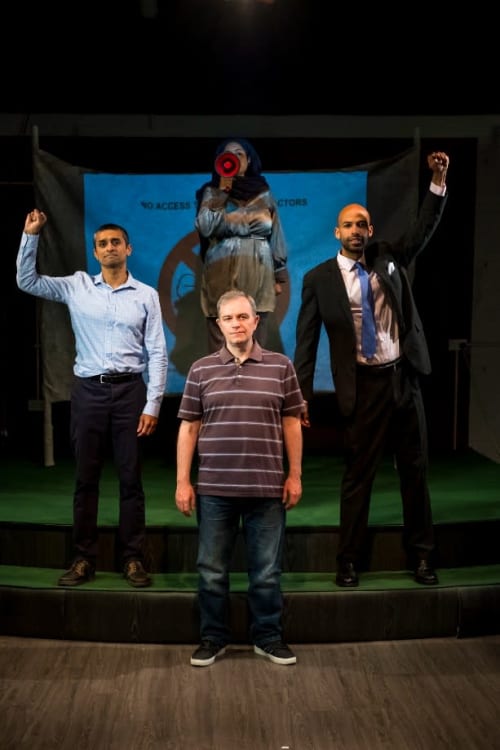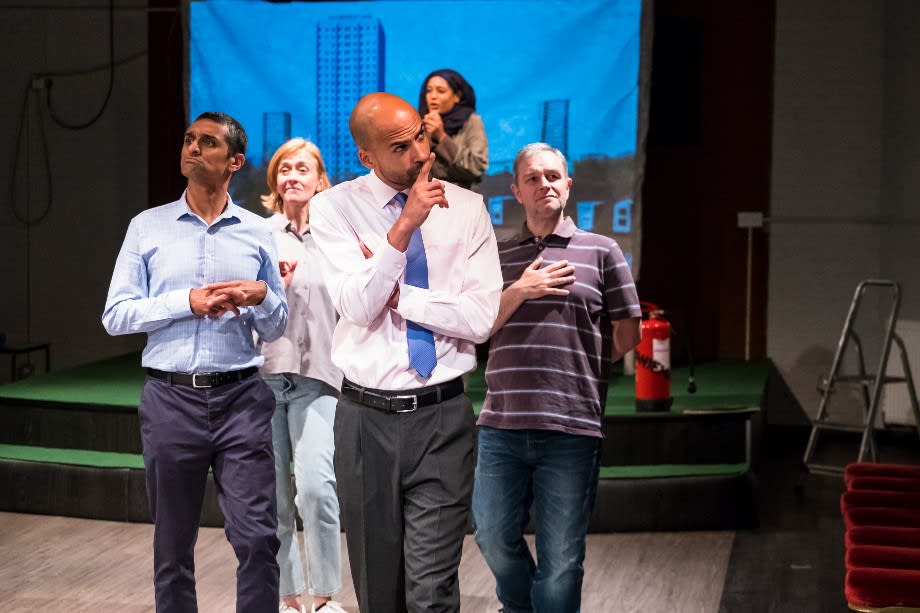 On 14 June 2017, a fire engulfed Grenfell Tower in Kensington killing 72 people.
Edward Daffarn, a resident who guides us through this play, begins by recalling the horror of that night. "As I opened my door, a gush of thick, swirling, acrid smoke came rushing into my flat. The smoke was so thick I couldn't see beyond the end of my nose... I held my other hand out in front of me trying to find the emergency exit stairs but I couldn't find them. I couldn't see anything. I was now in sheer panic... I thought I was about to die."
Nathaniel McBride's powerful, well-researched play performed by five actors (Tamara Camacho, Lucy Ellinson, Jon Foster, Nathan Ives-Moiba and Avin Shah) taking multiple parts gives us many reasons why that fire needn't have happened.
The mood music for the disaster is evoked in a speech by Prime Minister David Cameron promising that his Tory Lib-Dem Coalition government would "kill off the health and safety culture for good... We need to realise collectively that we cannot eliminate risk and that some accidents are inevitable."
This was a period that promoted the market regeneration of properties which required Grenfell to look better. That meant cladding the ugly exterior, but the original safer zinc cladding proposal was replaced by the highly flammable but much cheaper aluminium cladding.
We see a long line of officials from the companies involved in the work deny the cladding is a risk despite a French laboratory refusing a certificate because of "widespread fire on the surface reaching critical values."
Not that inflammable cladding was the only problem. As a result of power surges from 2013, residents' electric equipment "literally exploded with smoke seeping out from the back". To compound that problem, the ventilation system was malfunctioning to such an extent it seeped smoke into the hallways. And residents wouldn't have had much luck with using the fire extinguishers, many of which were stamped with the word "condemned".
These and other contributing problems continued. The residents responded with petitions, mass meetings, protests and repeatedly contacting officials and elected representatives. All these were continuously brushed off. The Director of Housing for Kensington and Chelsea asked for a background check on a leading Grenfell protester's right to tenancy.
Of course, the government and Kensington didn't need these early warning signs to know about the terrible danger to come. They could just have paid attention to the inquest into the Lakanal House fire of 2009 which criticised the cladding. But to the frustration of MPs and the Coroner who wrote to the government, the lessons were ignored.
Since the Grenfell fire, there have been no arrests. There are plenty of high-rise blocks still fitted with the lethal inflammable cladding and the companies responsible for the work continue to make vast profits.
Meanwhile, there are Grenfell survivors who lack suitable accommodation and, on Tuesday 14 June this year, there will be a silent march in Kensington by people objecting to the government's refusal to implement a recommendation from the Phase 1 report of the Grenfell Inquiry.
The play ends with Grenfell survivor Hanan Wahabi describing her desperate phone calls from outside the building to her brother's family on the 21st floor still trapped in the burning tower. Police "told us it was unlikely they had survived. We didn't get final confirmation until weeks later that Abdulaziz Faouzia Yasin Nur Huda and Mehdi had all died in the fire."
Reviewer: Keith Mckenna