Dido and Aeneas
Henry Purcell, libretto by Nahum Tate
Fondazione Teatro Comunale di Modena
Teatro Comunale Lucio Pavarotti, Modena, Italy
From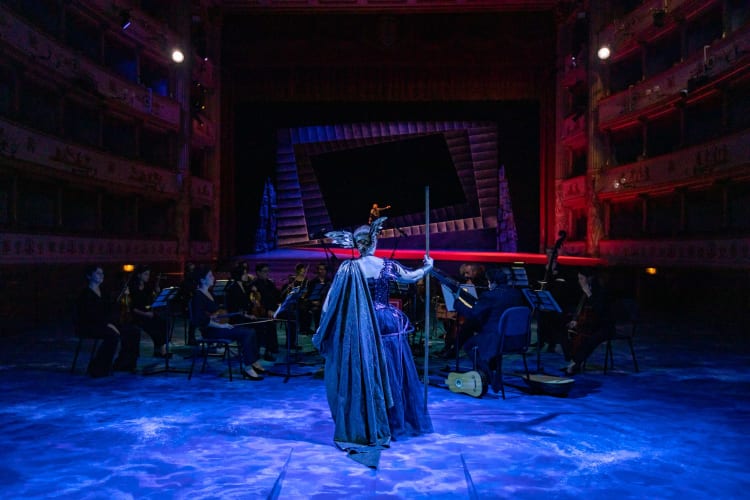 Dido and Aeneas, Henry Purcell's only opera, was first performed in a girls' boarding school in 1689. The librettist Nahum Tate, infamous for his rewriting of Shakespeare, takes his inspiration from Virgil's Aeneid.
Dido, the founder and first queen of Carthage, is miserable. All her friends agree that what she needs is some sex and sex she has with Aeneas, a shipwrecked Trojan prince. Unfortunately, after a brief fling, Jupiter says he must leave her and found Rome. Dido takes his departure very badly and commits suicide. In this production there is no funeral pyre. She jumps in the sea.
Stefano Monti's production, conducted by Mario Sollazzo at Modena, is straight to streaming. The theatre is totally empty. All the seats have been removed from the stalls. The orchestra sits in a tiny circle in this open space. The cast uses both stage and auditorium.
Monti has stated, "now is not the time for sumptuous staging, these times require simplicity. The staging had to be elastic and adapt to a fluid situation dictated by regulations, epidemiological trends, and above all emotional perception. In order to make physical distancing possible, a necessary condition for practising theatre in COVID times, I had to take a different look at the theatre building and its architecture."
But dances and sumptuous spectacular costumes, sets and machinery are an essential part of Baroque opera. The lack of choreography and the absence of The Masque of Diana and Acteone diminishes the opera.
Michela Antenucci (wearing a caged, hooped skirt without any garment on top of it) is Dido. Mauro Borgioni is Aeneas. The performance is notable for its total lack of eroticism. I never felt I was watching a great tragic love story. I remained uninvolved and unmoved.
The major problem, however, is the cameraman has no idea how to film the production and what to show the audience at any given time. The result is a mess.
The one scene which does have a big emotional impact comes after the opera is over when the cast takes an extended curtain call, which ends with them exiting, single-file, arm raised, waving to the empty boxes in total silence. There is no audience, so there is no applause. Finally, all that remains is a deserted theatre, an iconic COVID statement in its own right.
Modena's Dido and Aeneas can be watched free on the Opera Streaming YouTube channel.
Reviewer: Robert Tanitch