Dido, Queen of Carthage
Christopher Marlowe
Angels in the Architecture
Kensington Palace
(2008)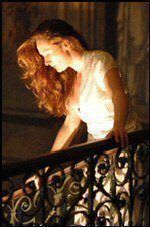 Marlowe's early play about a queen whose heart was conquered by the Trojan hero Aeneas, is promenaded through twelve rooms of Kensington Palace. It is a fitting milieu for a tragedy about heart-broken royals.
The security arrangements for the Palace alluded to the anticipated drama. There are also the psychological associations with the house's most famous 20th century resident princess, Diana Princess of Wales.
The audience are summoned into a hall with a steep winding staircase. There renaissance paintings are projected onto a large white screen covering the upper part of the wall. The audience, standing in a room described in the programme as the 'World of the Gods', views the projected images of mythical gods. Then Venus' voice issues from the top of the stairs. The audience is told to hurry up and move to the next room 'otherwise you'll lose the plot'. Fortunately the encounter with the gods is brief and benign.
The progress from room to room felt at times more like a child's trip through a dull museum where one cannot properly engage with what is said. The delivery of the lines often dissipated, with no dramatic trace, into the high painted ceilings. There was no available cloakroom in the palace for coats so these had to be dragged along, compounding the awkwardness of the occasion.
Angels in the Architecture is ambitious in its choice of play and location. The actual play is Marlowe's first stab at drama, written while he was still at Cambridge, and it has none of the power and iconoclasm that characterizes Tamburlaine. The location imposes high expectations on the performers and director, but Rebecca McCutcheon's direction and the overall performance rather lacked the ingredients essential for a cohesive dramatic experience. Only occasionally were there glimpses of drama when some doors opened to the light and sounds that momentarily flooded the large chamber one happened to be in.
The passionate love story was rather unconvincing. Jake Maskall was a temperate Aeneas while Sarah Thom's Dido moved from an affectionate, gentle woman to a violent and desperate one receding into oblivion, uttering "Yes, it pleases me to go into the darkness." Thom's performance in the last act was moving.
The dominant theme leading to Dido's ultimate abandonment is echoed in the music drawn from Purcell's Dido and Aeneas and the haunting lines of 'Remember me, but ah! Forget my fate", which follows one to the final hall.
Reviewer: Rivka Jacobson