Die Walküre
Richard Wagner
Sofia Opera, Bulgaria
Released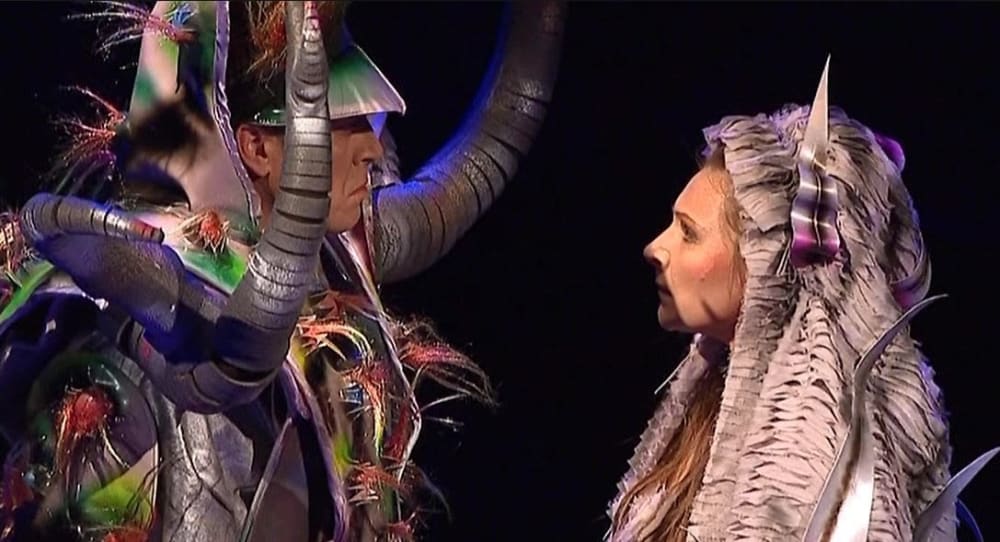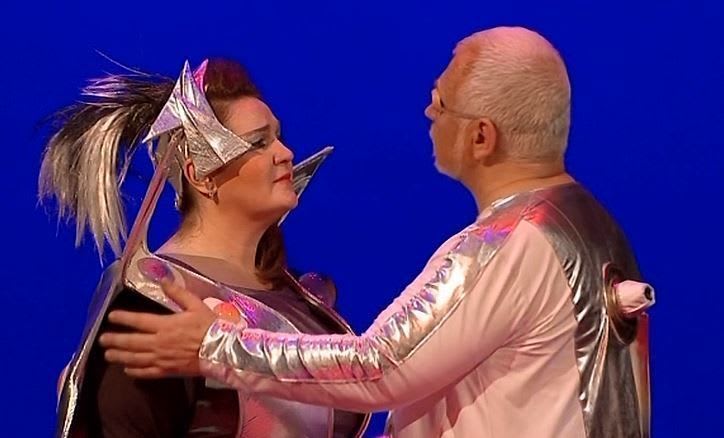 Trampolining Rheinmaidens in Rheingold, now nuclear-armed Valkyries. Whatever the shortcomings of this Sofia Ring cycle so far, one could not say it lacks originality.
Even so, not a lot happens: Wotan's ex-marital children Siegmund and Sieglinde meet, have an incestuous relationship and are pursued by her murderous husband Hunding. To respect conjugal decency, Fricka prevents her husband Wotan from protecting his son and he reluctantly sends daughter Brunnhilde to ensure Hunding's victory.
The latter, however, is moved by pity and is about to defy pater when he turns up. Siegmund dies, but Brunnhilde leads off the distraught Sieglinde, telling her she is pregnant and will give birth to a hero. Furious that she has defied him, Wotan condemns Brunnhilde to be the bride of the first mortal man who sees her, then relents, so that only a hero with no fear can claim her.
That takes about four hours. It's not the longest of the Ring episodes, it just seems so, especially as Wotan is called upon to recount what has gone before in Rheingold, rather as in one of those 'Previously in…' TV thrillers.
That, in director Plamen Kartaloff and designer Nikolay Panayotov's interpretation, was about the corrupt influence of money. Here, in Die Walküre, they are more concerned with the crude exercise of power.
The cones that formed the fortress of Valhalla, seen in Rheingold, tip downwards symbolising the authority that descends from the gods, and armour-clad ancient warriors run across the rear of the stage.
Most strikingly, Brunnhilde arrives aboard what looks like the nose cone of an ICBM, the latter mounted upon what might be a noisily trundling hostess trolley. The sight might be described as highly conical, but as her Ho jo to ho entrance seems to me one of the most ludicrous in all opera, I'll forgive almost anything.
Happily, the redoubtable Mariana Tzvetkova is not one to be put off by riding an unsteady nuclear warhead. The very top of her register can seem a little shrill, but she has power a-plenty through most of her range without sacrificing either clarity of diction or warmth of tone.
Nikolay Petrov's Wotan also emerges at one point dressed with array of spikes like mini-rockets of his own. He is never over-dramatic, his rich fatherly baritone sounding just right for a rather dispirited god. And if the voice comes across a little wearily in some of the trickier conversational passages of the final act, his performance achieves a certain grandeur in his farewell to Brunnhilde, Wagner's glorious finale which I exempt from my reservations above.
The other female leads are excellent, Tsvetana Bandalovska capturing Sieglinde's passage through hesitancy to passion, passion to terror and hysteria caused by her incestuous affair, and Rumyana Petrova as a confident and resonant Fricka, as commanding over Wotan as a dominatrix with a whip.
The bass Angel Hristov makes an immediate impact as a monstrous Hunding, his sonorous, sneering tones enough to scare any ordinary mortal. Were that not enough, his costume makes him half-man, half-lobster. It seemed wonderful in a barmy sort of way.
Tenor Martin Iliev is an expressive Siegmund, his voice having a shimmer, with the ability to be heard over the orchestra. He goes briefly astray in the long duet with Sieglinde, but is on top form in the angry outburst to Brunnhilde after he learns that he and Sieglinde cannot be reunited in death.
The Valkyries whirl around, each on their own private missile launcher, a scene that works rather better than their sister's solo routine. They maintain their balance splendidly, physically and vocally.
The costumes and stage machinery are so bizarre that one comes to accept other oddities as part of the show—Sieglinde and Siegmund rising on a love platform covered in what looks like an old plastic shower curtain, or the sword Notung, supposedly immovably implanted in a tree, that is so loose it is ready to fall out.
It's harder to make allowances for some questionable tempi, dodgy intonation and tired playing in the orchestra. Conductor Pavel Baleff uses the slightly reduced Lessing score with fewer woodwind and horns, but this can only partly account for a scrappy sound, for example in the "Ride of the Valkyries", and a general lack of snap.
The sound quality is better than on Rheingold, recorded a year earlier, in 2010, but the balance can favous singers too much over a fuzzy orchestra, and there is a degree of extraneous noise that better engineering might have reduced.
Reviewer: Colin Davison