Die Zauberflöte
Wolfgang Amadeus Mozart, libretto by Emanuel Schikaneder
Glyndebourne Opera House
Glyndebourne Opera House
–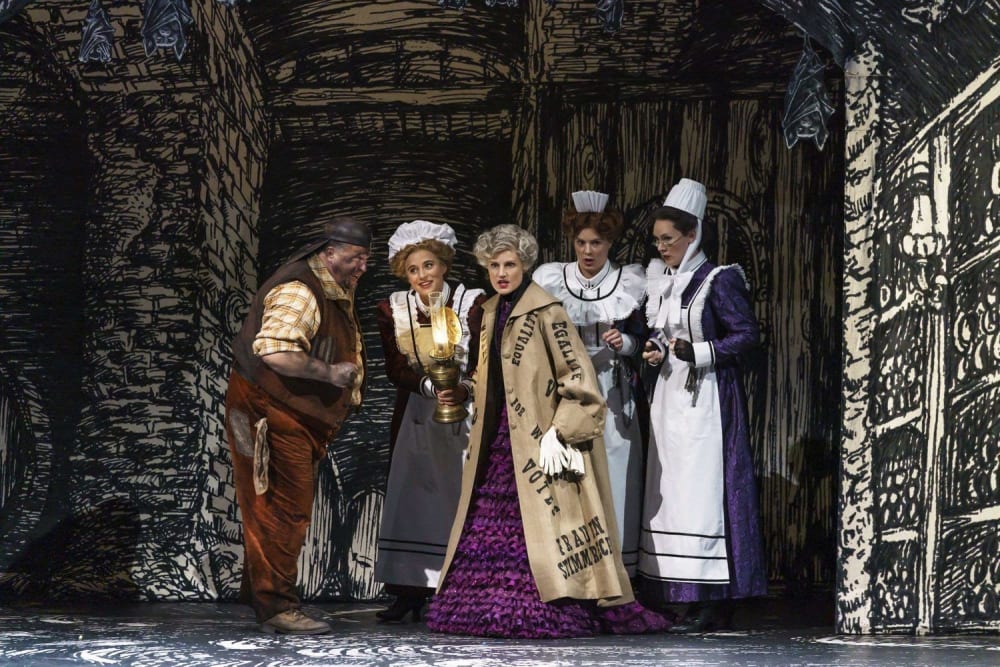 How Enlightened (with a capital E) are you? André Barbe, costume and set designer, and Renaud Doucet, director and choreographer, decided not take the Freemasonry in Mozart's most successful opera too seriously.
Their production, which was seen at Glyndebourne in 2019 with Ryan Wigglesworth conducting The Orchestra of the Age of Enlightenment, is a lot of fun. The costumes and the paint and ink cloth sets are particularly delightful.
We are no longer in Egypt and there is no Temple of Wisdom, Reason and Nature. The opera is set entirely in a grand hotel in Vienna at the turn of the 20th century. Tamino makes his entrance in striped pyjamas, sleepwalking, wondering if he has been dreaming. His journey to manhood is taking place in his head. He dreams three women are saving him from a serpent and fondling him.
The Queen of the Night and Sarastro, the High Priest, are transformed. She is the proprietor of the hotel. He is the Head Chef. Brindley Sherratt has sonorous authority and is to be taken totally seriously. Caroline Vettergreen makes her entrance from a hotel lift and gives a dazzling display of cruelty and coloratura fireworks.
The rest of the characters are all hotel staff: chambermaids, chefs, bellboys, kitchen maids. Monostators (Jorge Schneider) is no longer a blackamoor. He is a sooty dustman. Suffragettes invade the hotel, waving banners.
Puppeteers play a major role and there are puppets of birds, pig and giant skeletal soldiers. A serpent's body is made entirely out of plates. Vegetables lying on a table rise to form a human head, a tribute to the 16th century Italian painter Giuseppe Arcimboldo's famous portrait
There's fine singing, too, from David Portillo as Tamino and Sofia Fomina as Pamina. Their final journey through fire and water is purely culinary, involving cooking and dishwashing. Bjõrn Burger in a green suit, and looking very birdlike, is very funny as Papageno. I enjoyed the production very much.
Reviewer: Robert Tanitch