Diego y Ulises
Marcelo Diaz
CASA Festival 2012
Ovalhouse Theatre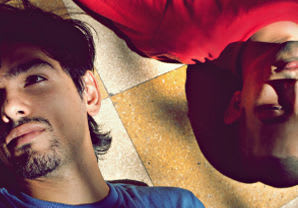 Diego y Ulises is simply one slice of the CASA Latin American Theatre Festival which has just concluded its 10-day run of many different productions at the Ovalhouse Theatre. This particular piece hails from Argentina and is a fusion of contemporary dance, b-boy breaking and contact work.
It tells the abstract story of Diego and Ulises, two young male lovers, who meet, begin a romantic partnership, argue, fight and finally repair their relationship. Performers Diego Stocco and Ulises Fernandez are tightly choreographed by Marcelo Diaz, and this story of love growing and struggling is told clearly through a combination of detailed movement and an excellent soundtrack.
The work is inspired by Gus Van Sant, art house film director known for Good Will Hunting and his interpretation of the Columbine school massacre Elephant amongst many others. Van Sant often looks at those on the fringes of society, and Diego y Ulises gives us a heightened insight into the world of a blossoming gay relationship.
It takes a little while to fully immerse oneself in the action, but the portrait of power and struggle within the relationship quickly becomes extremely enthralling. A repeated motif of one young man lying with his stomach resting on the arm of the other becomes an important symbol of tenderness which is cruelly rejected when tempers rise.
Synchronisation of movement is also used to great effect, and as the conversation and relationship finds greater common ground the exuberance is visible through athletic displays of b-boy tricks and balances. In the earlier sections, one young man continuously whispers conversation whilst the other listens and together they use contact work to playfully shift the direction of their positioning and the conversation.
Most powerful is just after the violence and anger; each performer plays dead as though the argument has reached the point whereby no words can be said. After this painful silence, in a harsh white spotlight, the pair return to their opening positions leaning against the black brick wall of the studio theatre.
Diego y Ulises showcases some intriguing contemporary dance fusions and clearly thought through choreography which translates easily into any language.
Reviewer: Anna Jones