Dietrich: Natural Duty
Peter Groom and Oliver Gully
Jimmy Jewell
Wilton's Music Hall
–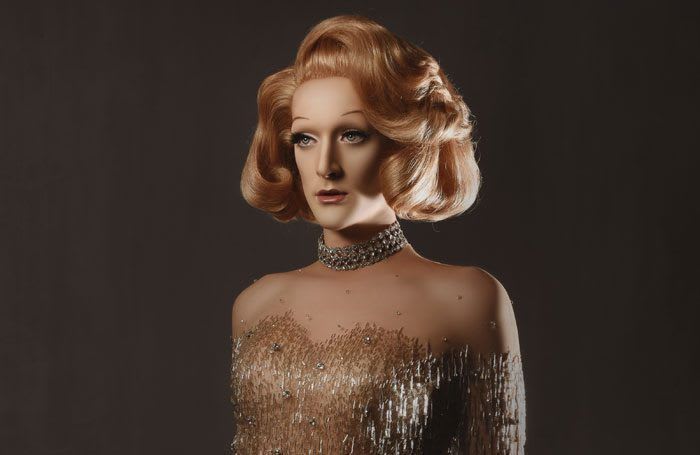 Peter Groom is an actor, dancer and choreographer who also does drag and here, in what is billed as a one (wo)man show and in a dress by Kathleen Nellis that is dripping with shimmering gold bugle beads, he becomes glamorous Marlene Dietrich.
Though it opens like a cabaret performance, this isn't your standard drag act, singing (or perhaps miming) a gay icon's signature songs. Groom gives us Marlene's elegance and hauteur but this isn't impersonation, it's characterisation and he offers a much deeper person as an interruption from an unseen journalist supposedly in the audience turns this into a sharing of her personal story.
She speaks of her childhood in Germany, of drama school and auditioning (amusingly badly) for famous director Josef von Sternberg yet finding herself cast as Lola in The Blue Angel. This is a no-nonsense Dietrich telling it how it was, and is, with no pretentions to deep psychological acting, to living the part, but working hard, doing as told: "look left, start the line, look front, then slowly right and back and continue."
It's a rather simplified version of her early career, she already established in theatre and film before Hollywood stardom. Back in Europe and needing to renew her passport, she finds herself being awkwardly interviewed by Nazi minister Goebbels who wants to her to make films for his Ministry of Propaganda. She claims she is under contract in Hollywood and not available. He ominously reminds her that her mother is still in Berlin, yet back in the US she takes American citizenship and after Pearl Harbour she helps sell war bonds.
In 1944-45, given the US Army rank of Captain, Dietrich goes out to entertain front-line troops in the war zones and there is a glimpse of such a performance, including a rather risqué mind reading act, and she speaks of the destruction she saw, the conditions, the dirt including catching crabs and her concern for her mother as the allies advance on Berlin and bomb it more heavily.
There is an ironic contrast between the glamorous teller and what she is recounting in this central part of Groom's performance that manages to encompass both matter-of-factness and compassion.
Dietrich – Natural Duty goes beyond the glamorous illusion Dietrich created to show the real woman. Songs sometimes are part of the story, sometimes introduced to match the mood and Groom delivers them skilfully, reflecting Marlene's style of presentation in iconic numbers from Lola's Blue Angel numbers to "Lili Marlene" and Pete Seeger's "Where Have All the Flowers Gone", a song that meant much to her, and as a coda "Falling in Love Again".
This is a performance that is only an hour long but it is an hour full of emotion, humanity and humour that seems strangely more revealing because Groom creates such a complete illusion.
Reviewer: Howard Loxton