Dig for Fire
David Priestley
Laboratorium-33
Traverse Theatre, Edinburgh
(2005)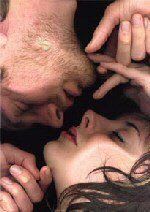 Dig for Fire is a compelling, yet slightly confusing story about the breakdown of a relationship in a war-torn society.
Two lovers, Irina (Laura Cameron-Lewis, who co-directs with Kieran McLoughlan) and Alexander (Simon Tcherniak), spend a whirlwind summer with one another before leaving the idyllic countryside and heading into the city, away from a shadowy conflict that threatens to overtake their country. Their relationship seems perfect at first, but as the war draws nearer to both their lives, they become unable to reconcile their relationship to one another.
What confuses things is that Cameron-Lewis and Tcherniak also play two other characters, Alice and Ian, who also reminisce about the times they're leaving behind. The actors' physicality doesn't change from one character to the next, although when speaking as Ian, Tcherniak's accent becomes identifiably Scottish. Are these older versions of the same characters, with the changed names signifying how both Irina and Alexander have struggled to break with their former selves? Or are the four characters completely separate identities, showing how universal the torment caused by war can be? According to one website, it is a "double story of two failed love affairs," but if this is the case then one wonders why the actors and director failed to make this clearer.
Both Cameron-Lewis and Tcherniak are charismatic actors, and although the script is engaging and far from just another story about relationships that don't work out, it is really the performances of these two that keep the story moving along.
In the story of Irina and Alexander, Priestley has captured a snapshot of a relationship in decline: destructive and upsetting, but equally difficult to leave. Coupling this with the story of a country falling to pieces makes for interesting contrast, although the balance of the stories shifts drastically from the beginning to the end of the play, with war and its effects on the characters taking center stage near the midpoint of the play.
Mark Ritchie's set design and Andrew Richardson's musical direction fit the piece to a T. The set is decrepit and versatile, adjusting to fit the changes in relationship and setting. As the piece involves several sections in which the story is told through dance and movement, music is obviously critical to the success of this endeavor, and Richardon never fails to deliver.
.
Reviewer: Rachel Lynn Brody