Dim Sum Nights
Jeremy Tiang, Thanh Le Dang, Victoria Shepherd, Simon Wu and Clare Sumi
Yellow Earth Theatre
New World Restaurant
–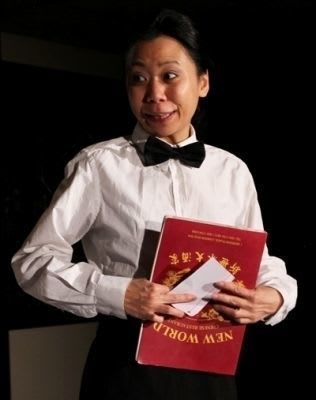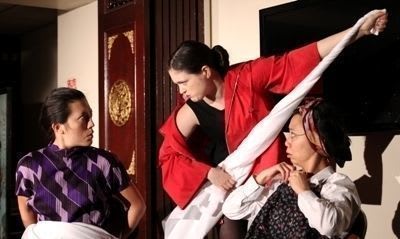 This Yellow Earth presentation offers a few mouth watering bites of dumplings and other dim sum dishes followed by a programme of five short equally tasty dramas.
Following a first similar presentation last year it looks like becoming an annual feature of Yellow Earth's season and this year will be touring until 23 November, including visits to some other London venues.
It is a programme that showcases the work of British East Asian writing and directing talent with new plays written in English and performed by some excellent actors with family origins in East Asia.
Butterfly by Jeremy Tiang
When everyone has been served with a steamer of dumplings and Chinese tea, the show begins with a welcome from a waitress who calls herself Butterfly. Her real name is far too difficult for Western tongues, they always get it wrong. She saw the opera, well half of it, she hadn't realised the interval wasn't the end and thinks Butterfly so lucky to find a man who bought her a house and wasn't the wedding lovely?
This Butterfly is thirty-something and already divorced. Her mother had warned her not to marry a European, but she's met another one she likes. He takes her to the opera—Butterfly again, she stayed and saw it all. It turns out Bernard prefers men, no new husband there. Her friends said "opera, she should have known".
This first piece, directed by Kumiko Mendl, is beautifully played by Tina Chiang who is both touching and funny, engaging the whole audience. Her character stays around to link the plays as rearrangements of the setting are smoothly choreographed to become part of the action.
Nui Ah by Thanh Le Dang
Nui (as Butterfly tells us) means daughter and this play presents us with Ma (Mai Newberry) eager to celebrate the seventh birthday of her daughter (Jennifer Tan) as they eat together, but her husband (Matthew Leonhart) wants to ignore it.
It is much more than a picture of marital discord as a dark story emerges of the sacrifice they had to make to leave China. It can be taken as a macabre, surreal presentation of actual experience or as a metaphor for what any emigrant has to give up yet can still carry inside them.
To tell you more would spoil it, but its gradual revelation is effective.
The Clean Up by Victoria Shepherd
This presents us with two teenagers at the end of a family party.
The boy (Oliver Biles) is chatting up the girl (Jennifer Tan) whom he has not noticed earlier but she doesn't want to know. He keeps on putting his foot in it as he battles against her disinterest.
There is an interesting twist that gives the whole scene a different emphasis and this is a delightful picture of young people attracted to each other despite the barriers between them.
Tam Sing by Simon Wu
Here the couple eating are two men. They are guests, or actually gatecrashers, at a wedding celebration.
One (Oliver Biles) used to be the bride's boyfriend and the wedding has also upset the plans of the other (Matthew Leonhart). As they are brought course after course of the wedding meal, commenting on the symbolism of each dish, they gradually reveal their individual situations and a bond develops between them.
It is cleverly written, and directed by David Tse Ka-shing so that what could be glaringly obvious takes time to unravel. What could be just a brief anecdote becomes something much more entertaining and along the way suggests some wry questions about relationships.
It would be even more effective if Leonhart's performance were a little more, restrained but the audience do find him very funny.
Nighthawks by Clare Sumi
Set in a Japanese restaurant, this takes a farcical look at a girl being stood up by a boyfriend and a money market dealer who's in trouble.
Restaurant proprietor Atsuko (Louise-Maui Newberry) thinks she can read people's auras, but she doesn't get those of the girl (Jennifer Tan) or the suicidal man (Matthew Leonhart) quite right.
Its black humour pokes fun at some stereotypical behaviour as the two diners draw closer and as Maleoh Tina Chiang, now turning her waitress into one of those head-bowed older ladies, turns out not to be so subservient as one thought.
Polly Graham directs it to stay light-hearted to end this well-matched group of plays with more humour.
In all, an enjoyable demonstration of short plays that seem exactly the right lengths for their content.
Reviewer: Howard Loxton