Dim Sum Nights 2013 (Gala Performance)
Jeremy Tiang, Victoria Shepherd, Pizza Lee, Clare Sumi and Simon Wu
Yellow Earth Theatre
New World Restaurant, London
–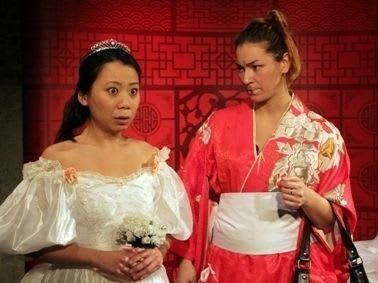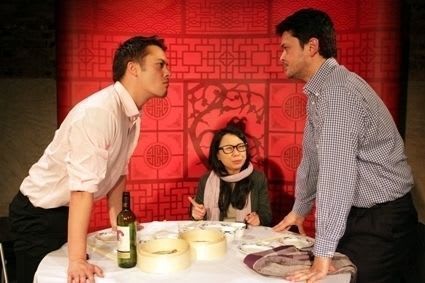 Once again, Yellow Earth Theatre has presented an entertaining evening of new writing by British East Asian dramatists in the relaxing ambience of eating dim sum and drinking tea in a Chinese restaurant in London's Chinatown.
There was not just one programme but 14 short plays were spread over five nights, of which this was the last. It presented six plays, four of which were commissioned and two the audience favourites from preceding nights. The commissioned plays and one other will now go on tour.
Dim sum are a selection of light dumplings with all kinds of fillings and that is what these evenings set out to be. Writers are invited to submit short plays of ten minutes or so that can be staged with no more than a table and two chairs. The programme has been built from those received and some commissioned work from earlier Dim Sum Nights writers.
This gala night began with songs from actress, singer and songwriter Kristina Lao as dim sum was served. The plays began when Tina Chiang rushed in as Butterfly in her wedding dress to start Butterfly's Wedding, Jeremy Tiang's story of a wedding gone wrong for waitress Vera Wang who has planned a Madam Butterfly-styled wedding.
The wedding cake is there and the audience are the guests, the best man is there in US navy officer rig complete with sword but it is a no-show from the bridegroom. Even the wedding cake turns out to be two layers of polystyrene: "Fake, like my love life" says the wailing bride. The best man left the stag night and his responsibilities to rush home and catch the television Bake-Off final; obviously his mates didn't stick to his plans.
Tina Chiang is an actress who can play things full blast but still stay real. She and director David Lee-Jones achieve a blend of the hilarious and touching to makes this a riot with Kristina Lao as a kimono-clad bridesmaid and Ashley Alymann the gormless best man.
The Flash by Victoria Shepherd followed. People say that when you die your whole life flashes before your eyes. The girl in this (again Kristina Lao) says that's not true: it is more like slow motion. She should know for she says "I died twice" (though since she survived it was more like a "near death experience").
The first time was in a traffic accident that put her in a wheelchair for seven years, the second choking on a duck roll pancake. We see both. The first slow-motion "flash" looks back to what has been, the second re-enacted looks forward to what she'd like to happen with a man who saves her with the Heimlich manoeuvre, a man she had fancied ten years ago and has re-encountered.
These twisting situations are cunningly plotted and cleverly presented in Lee-Jones's production with Ashley Alymann as her boring date, who freezes when time stops, and Stephen Hoo as the boy she re-encounters.
How I Got Married, written and directed by Pizza Lee, is yet another restaurant encounter with Andy Yau as a man wanting to get out of a relationship with a girl (played by Soraya Chau) getting too like the woman he married ten years before. As she shows concern for how he will cope without her, he realises just how useful a wife she will make and ends up proposing—but it's certainly going to be a marriage of convenience, convenient for him that is.
Theef by writer-director Thanh Le Dang and delightfully performed by Siu-See Hung is a monologue for a fashionable woman who shop-lifts for fun.
Shopping with her lawyer husband who's adopting English attitudes and choosing lemons where she sticks to Vietnamese tastes and wants limes, she pockets one, which starts her on this new life of excitement. It's a nicely satirical piece about a bored pseudo-fashionista who has everything as she looks back from Primrose Hill to when she used to live in South London "with the poor people".
Automat by Clare Sumi, directed by Sophie Winter, is back in the restaurant where Stephen Hoo's waiter keeps trying to get an order from ill-matched couple Hanna (Kristina Lao) and Lee (Ashley Alymann). She wants thrills and fancies them as a contemporary Bonnie and Clyde; perhaps it is just a game but he wants a quiet life. It's a comic comment on incompatibility that Lao plays with panache.
Simon Wu's U-Turn, directed by Kuniko Mendl, is a sort of prequel to a play he wrote for last year's Dim Sum Nights. Still in the restaurant, it returns to weddings, but this time it is Ashley Alymann's Rupert who announces that he's marrying a woman, much to the surprise of his gay partner Marco (Stephen Hoo just avoiding caricature in his queenly outraged reaction).
With Tina Chiang as their mutual friend and Marco's confidante (a calmly reasonable contrast to her Butterfly), this is an accomplished piece of comic writing that allows its antagonists to break into song. Great fun.
The presentation is smoothly linked, mainly by Chiang's Butterfly, and plays without an interval. Tasty morsels indeed.
Reviewer: Howard Loxton